---
U.S.A.A.F. RESOURCE CENTER
>
USAAF ACES & LEGENDS
>
PREVIOUS PAGE
---
Frank Leon Gaunt
---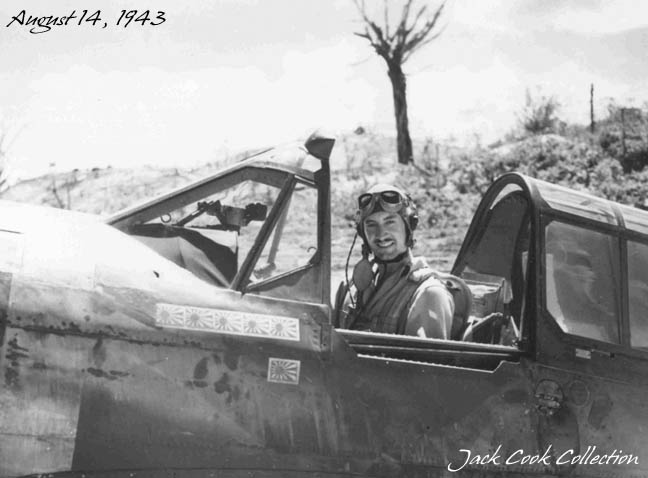 ---
Born:
– April 11, 1918
– North Platte, Nebraska


---

Flying School Class:
– 42E Mather Field , CA May 21, 1942
Last Wartime Rank: Major
Service Number: 0-725144


---

Unit(s):
August 1942 - Hawaii
– 15th Fighter Group
— 72nd Fighter Squadron.

February 1943 - SWPTO - 28 Missions
– 347th Fighter Group
— 68th Fighter Squadron.

March 1943 - SWPTO - 135 Missions
– 18th Fighter Group
— 44th Fighter Squadron.

February 1945 - MTO - 23 Missions
– 325th Fighter Group
— 318th Fighter Squadron.

Decoration:
– Silver Star
– Distinguished Flying Cross
– Soldier's Medal
– 13 Air Medals


Victories: 8 Aerial
– 2 D3A "Val", Guadalcanal, June 16, 1943. (P-40F)
– 1 A6M "Zero", New Georgia, July 12, 1943. (P-40M)
– 1 A6M "Zero" damaged, New Georgia, July 12, 1943. (P-40M)
– 3 A6M "Zero", Vella La Vella, July 15, 1943. (P-40M)
– 1 A6M "Zero", Gizo, Aug. 15, 1943. (P-40M)
– 1 A6M "Zero" probable, Gizo, Aug. 15, 1943. (P-40M)
– 1 A6M "Zero", Rabaul, Jan. 11, 1944. (P-38H)


---

Aircraft Flown:
P-40M s/n 43-5673 #126 "The Twerp"


P-40M s/n 43-5677 #128 "The Twerp II"
P-38H-1 s/n 42-6691 #67 "Tojo Eat Sh*t"

---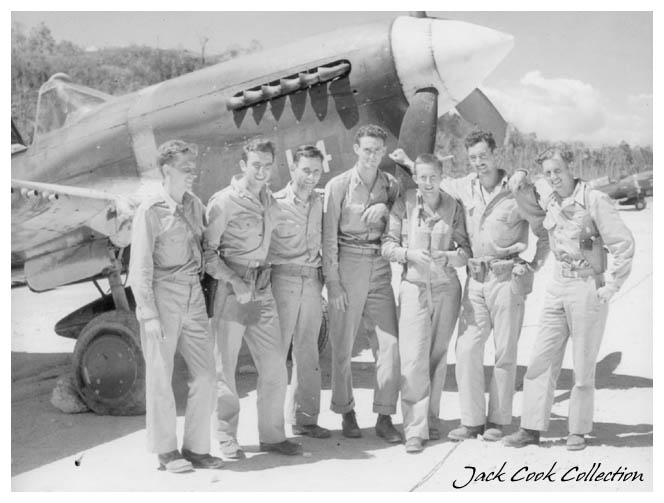 First fighters to land on the newly captured Munda airstrip on New Georgia Aug 14, 1943.
Pilots of the 44th FS. (L-R) Lt Kappy Njus-WIA, Lt Rex Byers-KIA, Lt Jim Reddington,
Capt "Big Theo" Jennings, Lt Frank Crain, Capt Frank Gaunt & Lt John P. Cox-MIA/POW/executed.
"Kappy Njus shared with me (Jack Cook} that they were served lunch while
their planes were refuled. It was stale graham crackers with black fly infested jam."
---
Sources:
Photographs courtesy of the Jack Cook Collection. – Profile data compiled by Jack Cook.
---
---
U.S.A.A.F. RESOURCE CENTER
>
USAAF ACES & LEGENDS
>
PREVIOUS PAGE
---