---
U.S.A.A.F. RESOURCE CENTER
>
USAAF ACES & LEGENDS
>
PREVIOUS PAGE
---
DONALD R. EMERSON
---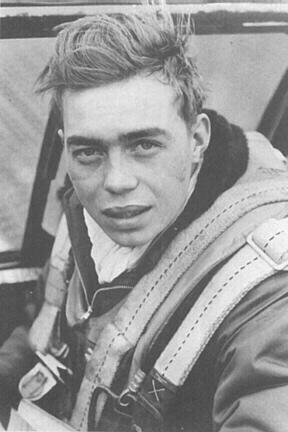 ---
Combat Rank: Captain

Unit(s):
Operations Officer
336th Fighter Squadron
4th Fighter Group
8th Air Force

Theatre(s): ETO

Born:
May 17, 1923
Joliette, North Dakota

School:
Graduated from Karlstad H.S. at Karlstad, Minnesota, May 1941.

Victories:
AIR: 4.5 Air Destroyed
GROUND: 2.5

Total Sorties: 89
Strike Rate: N/A

Decorations:
Distinguished Flying Cross with 2 OLC
Air Medal with with 1 Silver OLC and 2 Bronze OLC
Purple Heart (Posthumous)
Distinguished Unit Citation

Assigned Combat Aircraft:
P-51B-5-NA, SN: 43-6889
VF*(?)

P-51D-5-NA, SN: 44-13317
VF*B (Fighting Donald Duck)

P-51D-15-NA, SN: 44-15054
VF*D (marked data "Capt. Emerson")

Ground Crew:
C/C Larry Jones
C/C Glesner "Weck" Weckbacher
---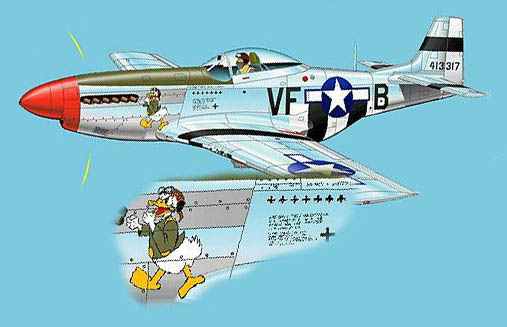 ---
REMARKS/NOTES:
In 1942 Donald Emerson was a 19-year-old North Dakota boy who chose military service over farming. One year after graduating from high school in Karlstad, Minnesota, he enlisted in the U.S. Army Air Corps. Just as he was finishing up training as an armorer, the age and education requirements for aviation cadets were lowered; he immediately filed his application and was soon classified cadet/pilot. By the end of 1943 he was ready for combat flying as a fighter pilot in a P-51 Mustang.

In January, 1944, he sailed on the Ile de France to England where he was assigned to the Eighth Air Force's elite Fourth Fighter Group on March 9. This premier fighting unit had been formed around the earlier "Eagle Squadrons" of American pilots who voluntarily fought with the British before the U.S. entered the war. When Donald joined the group it was under the skilled leadership of 26-year-old Col. Donald J.M. Blakeslee--one of the finest air commanders in WWII. These men were about to make history as the highest scoring group in the war. Two of its top aces--John Godfrey and Don Gentile--were fast becoming stars in the media, with PR tours looming; another--Jim Goodson--the commanding officer of Donald's 336 squadron was being dubbed "King of the Strafers" by the press.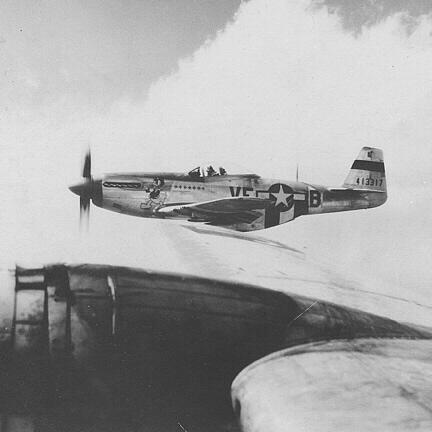 During his eight months of active duty with the 4th FG, Donald completed at least 89 combat missions, including D-Day operations and the Russia Shuttle missions. He most often flew into battle in his P-51 Mustang VF-B #413317, emblazoned with the whimsical but fearless image of Donald Duck--dukes up and fighting mad.

Donald said he was fighting so dreams could come true, and he said he had a few dreams of his own. He looked forward to postwar life when he hoped to make a career of flying, and he dreamed of going back home, of marriage and family, and of owning a house with a fireplace.

On Christmas Day, 1944, while flying another P-51 during the Battle of the Bulge, he was heading back to his base after a mission when he encountered six enemy planes. He managed to shoot down two of them, but as he crossed enemy lines flying close to the ground, he was struck by flak from anti- aircraft guns. His plane crashed in British-occupied territory in Belgium; it is believed that he died before his plane landed. He was buried the next day in a temporary military cemetery near Margraten, Holland, where his body is now permanently interred in the American Military Cemetery.

Capt. Donald R. Emerson earned the Distinguished Flying Cross and the Air Medal, with additional clusters awarded to both, and posthumously, the Purple Heart. He was 21. -- Sandra D. Merrill, 1992.

Sandra D. Merrill, Donald Emerson's niece and biographer, wrote the dedication above for the christening of "The Duck", Bob Tullius' beautiful "restoration" of a Mustang in the markings of Capt. Emerson.
---
NOTES:
On his last mission, Captain Emerson had become separated from the group amidst a massive dogfight in heavy cloud cover. He had no distinct visual contact plus R/T contact with only some of his group as he took on six E/A - Outnumbered by six Fw 190 german fighters, Capt. Emerson managed to shoot down two in a turning fight before running out of ammunition but eluding the others in the clouds. His last message heard was that he was on the deck, and going home. Crew Chief Glesner "Weck" Weckbacher would not take part in the Christmas festivities of 1944 as he sat on a case of ammunition until dark while waiting for his pilot to return.

---
QUOTE:
"This new P-51 is really a flying engine with all that horse power. The P-47 may have more H.P. but it's also twice as heavy. The P-51 is a very small plane. I'd fit into it nicely (Ha). It has a little sign in the cockpit which says - 'Do not exceed air speed of 500 M.P.H.' Hot Dog!" -- Donald Emerson in Basic Flight Training, July 26, 1943.
---
Sources:
Artwork by Rocky Gooch.
---
---
U.S.A.A.F. RESOURCE CENTER
>
USAAF ACES & LEGENDS
>
PREVIOUS PAGE
---