---
U.S.A.A.F. RESOURCE CENTER
>
USAAF ACES & LEGENDS
>
PREVIOUS PAGE
---
JOHN LEARD ELDER JR.
---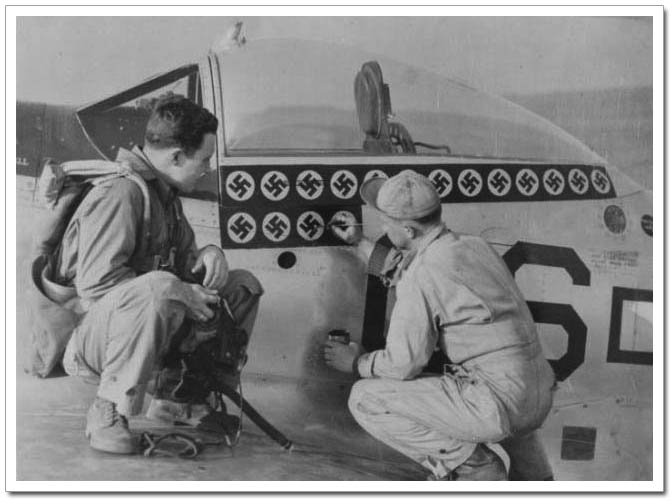 Crew Chief Seidl marking up 357FS CO, Lt.Col. John "Moon" Elder's last air victory in February 1945.
---
Born: April 8, 1919.
Birthplace: Ebensburg, PA.


---

Rank at Retirement: Lt. Colonel
Unit(s):
– 355th Fighter Group
— 357th Fighter Squadron
Theatre(s): ETO
Decoration: SSx2, DFCx4, AMx17
Victories:
– 8 Aerial (+1 damaged)
– 13 Ground (+6 damaged)
Total Sorties: N/A

Aircraft Flown:
– P-47D-2RA 42-22784 OS-R "Moon"
– P-47-5RE 42-8544 OS-R "Moon"
– P-51B- 42-106732 OS-R "Moon"
– P-51D-20 44-63633 OSR "Moon"
– P-51D-25 44-73065 OS-R "Moon"
– Plus at least one more Mustang between
July and November, 1944. Only Marshall,
Hovde and Kinnard had as many a/c
assigned during combat operations
with the 355th FG.

---
John Elder joined Army Reserves after Pearl Harbor and commissioned as Second Lieutenant following pilot training completion at Victoria Field, Texas. Interestingly enough Bert Marshall, Jr – a future fellow squadron commander for the 355th FG was his instructor. He joined the 50th FG which became the 355th FG in May 1942 and shipped overseas with the group in July 1943.

Elder became 357FS Operations Officer, deputy to Szaniawski, and shot down his first Fw 190 in a P-47 on February 21, 1944. After Szaniawski was shot down by flak, Elder became 357FS CO in July, 1944 and remained CO until the end of the war in Europe. Elder became the 355th FG's 13th ace when he shot down two Me 109's SE of Hildesheim on August 16, 1944. He scored one in the air and five on the ground at Wernigerode A/D on November 2, 1944.

Elder got his eighth and last aerial victory on January 14, 1945 in the Munster area. Twelve Mustangs of combined 354/357FS engaged 20 plus 109's and 190's, claiming 11 for no losses, with Elder getting one Me 109.

He destroyed a total of 13 on the ground, scoring his last four on April 16, 1945 near Linz. At the end of hostilites, Moon Elder was 3rd highest total combined scorer for the 355th FG behind Brown and Kinnard.

He became Deputy Group CO when Marshall became Group Commander, then was promoted to 355th FG CO in October, 1945 until 355th disbanded in 1946.

Elder remained in USAF Reserve until 1966 when he retired.

His final tally was 8 destroyed and one damaged in the air, 13 destroyed and 6 damaged on the ground.

---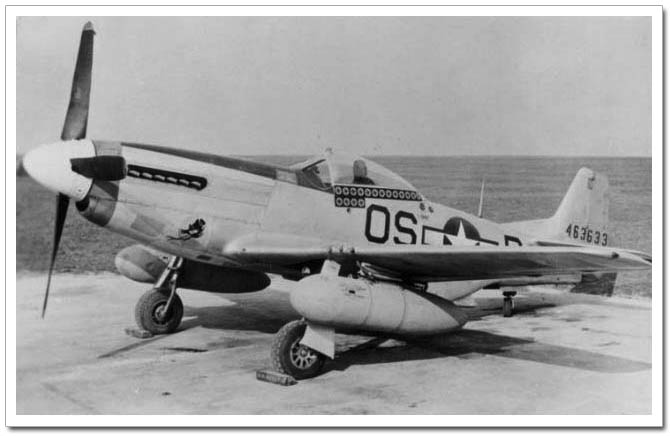 ---
Sources:
Profile compiled by Bill Marshall – Photos courtesy Bill Marshall
---
---
U.S.A.A.F. RESOURCE CENTER
>
USAAF ACES & LEGENDS
>
PREVIOUS PAGE
---