---
U.S.A.A.F. RESOURCE CENTER
>
USAAF ACES & LEGENDS
>
PREVIOUS PAGE
---
James Edward Duffy
---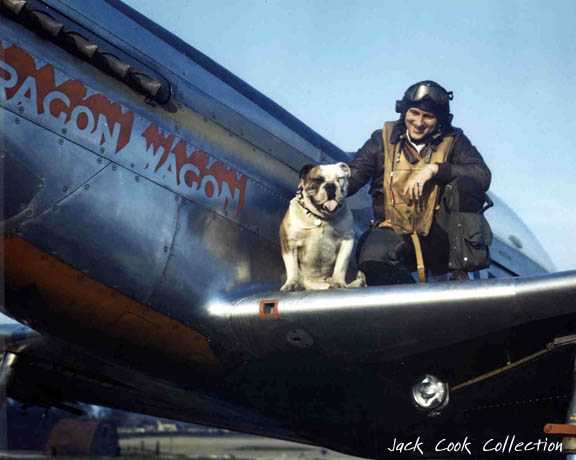 Captain Jim Duffy on the wing of his P-51D "Dragon Wagon"
with the squadron's Bulldog mascot Max.
---
Born: May 31, 1918.
Birthplace: Brooklyn, NY.
James Edward Duffy

---

Rank at Retirement: Major
Unit(s):
– 355th Fighter Group
— 354th Fighter Squadron
Theatre(s): ETO
Decoration: DFCx4, AMx20
Victories:
– 5.2 Aerial
– 9.5 Ground (+6 damaged)
Total Sorties: 101

Aircraft Flown:
– P-47D-2RE, 42-75681
WR-Y "Dragon Wagon"
– P-51B-10, 43-7182
WR-Y "Dragon Wagon"
– P-51D-10, 44-14603
WR-Y "Dragon Wagon"
– P-51D-20, 44-63764
WR-Y "Dragon Wagon"
– P-51D-20, 44-72186
WR-Y "Dragon Wagon"

---
Jim Duffy Jr. joined Army Reserves in 1941, commissioned as 2nd Lieutenant after graduating from flight school at Moultrie Field, GA on Jan 14, 1943. He joined the 354FS/355th FG in spring, 1943 and sailed with group to England in July, 1943.

Duffy scored his first victory in a P-47 on January 21, 1944 NW of Doudan and his last air victory on February 9, 1945 SW of Berlin to become the Group's 18th ace. Except for the shared victory (a stubborn Do 217) all his air victims were Fw 190's.

Following VE Day he became 354FS CO and remained in Germany until 355th FG disbanded in 1946. Duffy was another of the 'originals' that fought with the 354FS from the first to last day of combat operations. He continued his career in aviation as a pilot for Eastern Airlines, retiring in 1978.

Duffy's final total was 5.2 destroyed in the air, plus 9.5 destroyed and 6 damaged on ground in 101 missions.

---
Sources:
Profile compiled by Bill Marshall - Photos courtesy Jack Cook Collection.
---
---
U.S.A.A.F. RESOURCE CENTER
>
USAAF ACES & LEGENDS
>
PREVIOUS PAGE
---