---
U.S.A.A.F. RESOURCE CENTER
>
USAAF ACES & LEGENDS
>
PREVIOUS PAGE
---
Urban L. "Ben" Drew
---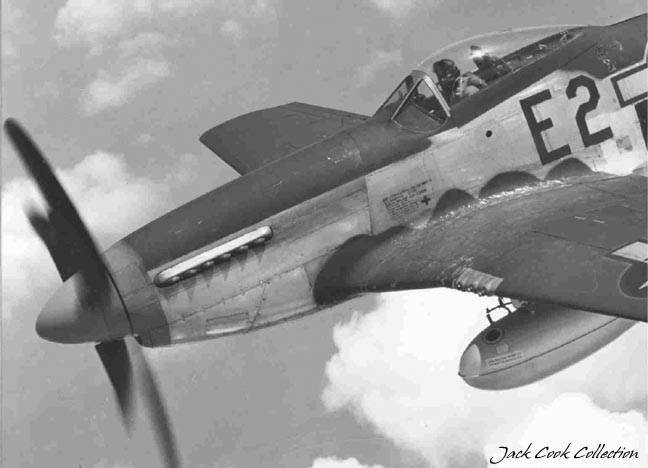 1st Lt. Urban Drew flying P-51D E2*S s/n 44-13926.
---
Last Wartime Rank:
Captain

Unit(s):
8th Air Force
- 361st Fighter Group
-- 375th Fighter Squadron

Theatre(s): ETO, PTO
Victories: 6 Aerial
Total Sorties: N/A
Strike Rate: N/A
Decorations: See below

---
Aircraft Flown:
P-51D-10-NA E2*D-Bar
SN 44-14164
"Detroit Miss"

P-47N-5-RE "682"
SN 44-88492
"Detroit Miss II"

---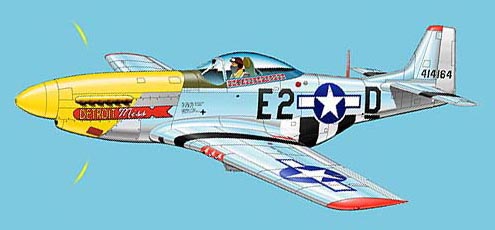 ---
Remarks/Notes:
Urban L.Drew was born in Detroit, Michigan on 21 March 1924. He entered the USAAF in October 1942 and graduated in Class 43-I from Marian, Florida. Lieutenant Drew was assigned to the replacement base at Bartow, Florida and after completion of the course he was retained as an instructor in P-51's. In May 1944 he was given an overseas assignment, sailing the Queen Elizabeth for England. Drew was assigned to the 375th Fighter Squadron, 361st Fighter Group based at Bottisham, Cambridgeshire. Later the group moved to Little Walden, Essex. During his tour with the "Yellowjackets", Drew completed 75 missions, rising to command of "A" Flight and the 375th Squadron. Among his victories, most notable were the two Messerschmitt 262's on 7 October 1944. This combat made Ben Drew the first Allied airman to destroy two German jets in aerial combat, and years later he received the Air Force Cross for the event. Also, with two wingman, he destroyed the only Luftwaffe six-engine flying boat at Bug Se aplane Base in Northern Germany. At the completion of his ETO tour, Drew was transferred to various training bases in the U.S. In 1945 he was assigned to the 413th Squadron, 414th Fighter Group, flying P-47's at Iwo Jima in the Bonin Islands. After the war Drew helped organize the 127th Fighter Group, Michigan Air National Guard. He became deputy group commander and later was appointed the first Air Adjutant General of the State of Michigan. He completed his military service with the rank of major and established an aviation business in Britain and South Africa.

---
Decoration:
Mr. Drew is one of only two men to receive the Air Force Cross for actions performed during World War II. The recommendation for the Distinguished Service Cross was turned down because of insufficient confirmation. The gun camera had jammed and 2LT Robert McCandliss, the Number 2 man, had been shot down by flak and became a Prisoner of War until the end of hostilities. Thirty-nine years later, the total story was confirmed by both the German Luftwaffe archives and the American Air Force archives. The Air Force Board for the Correction of Military Records recommended that Mr. Drew and his wife were flown in an Air Force C-141 from Johannesburg, South Africa for the ceremony. The honorable Verne Orr, Secretary of the Air Force, presented the medal on May 12, 1983.

---
Sources:
Artwork by Rocky Gooch — Profile compiled by Robert Smith.
Photograph courtesy of the Jack Cook Collection.
---
---
U.S.A.A.F. RESOURCE CENTER
>
USAAF ACES & LEGENDS
>
PREVIOUS PAGE
---