---
U.S.A.A.F. RESOURCE CENTER
>
USAAF ACES & LEGENDS
>
PREVIOUS PAGE
---
Benjamin Oliver Davis Jr
---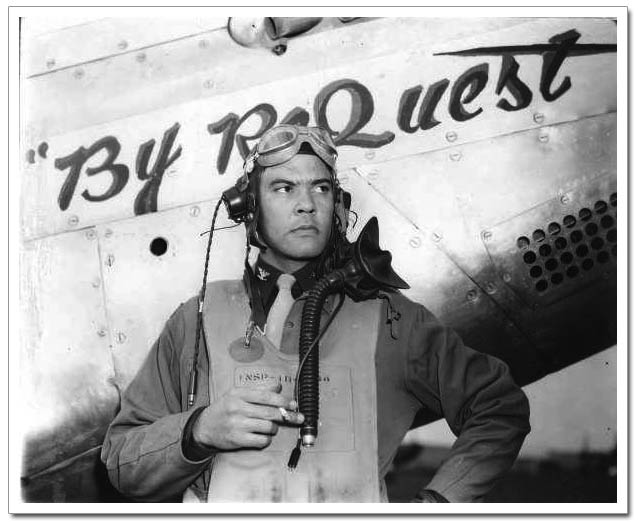 Born: December 18, 1912
Birthplace: N/A


---

Rank at Retirement: Lt. General
Unit(s):
— 15th Air Force
– 332nd Fighter Group, CO

Theatre(s): MTO
Decoration:
– SS, DFCx4
Victories: N/A
Total Sorties: N/A
Aircraft Flown: N/A

---
QUOTE:
"Our mission of escort was really the prime mission to carry out successfully and this we did. The 332nd became known as the best escort operator in the 15th Air Force. We never lost a bomber to enemy action of airplanes."
REMARKS:
Benjamin Oliver Jr. graduated West Point in 1936; Served in the 24th Infantry Division until first flight training program for blacks at Tuskegee, Alabama in July 1941. Received wings in March 1942 to become the first black officer to solo in a USAAF aircraft. Became C.O. of the 99th Pursuit Sq., formed with graduates of the Tuskegee Institute training program. The 99th PS went to war as the 99th Fighter Squadron attached to the 33rd Ftr. Gp. and later as the 99th FS/79th Ftr. Gp/12th AF. Returned to USA to command the 332nd Fighter Group/12th AF (later 15th AF). The 332nd FG later adopted the 99th FS and included the 100th, 301st and 302nd Fighter Squadrons as well. DFC and DUC for escort mission of June 9, 1944 over Munich. Col. Davis led the first MTO-based mission, some 1600 miles, to Berlin. The 332nd FG "Tuskeegee Airmen" or "Red Tailed Angels" never lost a friendly bomber to E/A in the Group's 200 escort missions against the Axis. Commanded the 447th Composite Group and the 332nd FW following WWII. In 1953, Davis became C.O. of the 51st FIW and flew the F-86 during the Korean War. In 1954, became Director of Operations and Training of the Far East Air Forceand promoted to Brigadier General on Oct. 27, first black General of the USAF. In 1955, assigned to develop a headquarters for the 13th AF in Taiwan. In 1957, became the Deputy Chief of Staff of Operations for USAF in Europe. In 1965, assigned as Chief of Staff of US and UN Forces in Korea. Retired as a Lt. General in 1970 to serve under President Nixon as Asst. Sec. of Transportation for Environment, Safety and Consumer Affairs plus other civilian boards and commissions.
NOTES:
Davis was the second black Line Officer in the U.S. Army - the first being his father, Benjamin O. Davis, Sr. first black General in the U.S. Army. Much because of both father's and son's leadership, example, personal struggle, courage and endeavour, the role of black servicemen and servicewomen was secured leading to the end of any official racial discrimination policies in the USAF and throughout the US Armed Forces.
---
Sources:
–
---
---
U.S.A.A.F. RESOURCE CENTER
>
USAAF ACES & LEGENDS
>
PREVIOUS PAGE
---