---
U.S.A.A.F. RESOURCE CENTER
>
USAAF ACES & LEGENDS
>
PREVIOUS PAGE
---
WILLIAM J. CULLERTON
---



---

Born: June 2, 1923.
Birthplace: Chicago, IL.

Last Wartime Rank:
Captain
Unit(s):
– 355th Fighter Group
— 357th Fighter Squadron
Theatre(s): ETO
Decoration:
– DSC, SS, DFCx4, AMx8, PH
Victories:
– 5 Aerial
– 15 Ground (+9 damaged)
Total Sorties: N/A
Strike Rate: N/A
Aircraft Flown:
– P-51D-5, 44-13677, OS-X "Miss Steve".
– P-51D-5, 44-63011, OS-X "Miss Steve".

---
Joined Army Reserves in 1943, became a rated pilot and Second Lieutenant at Foster Field, Texas in January, 1944. Assigned to the 357SF/355th FG in August, 1944 Cullerton quickly started scoring with his first pair of 109's near Hildesheimon August 14, scored 7 on the ground on September 12, 1944 then two more air and six on the ground on November 2, 1944 – receiving the DSC and a SS in the period. Cullerton was the first 8th AF pilot to destroy 7 and 8 in one day.

After returning from leave in US in March, 1944 Cullerton scored one more air and two ground scores to become 355FG 20th ace. He was shot down by flak on April 5, 1945 and captured by SS trooper who shot him in the stomach with his own .45. A German doctor saved his life and he returned to states after VE Day.

Bill Cullerton became the 355th FG 4th highest total scorer with 5 destroyed in the air, 15 destroyed plus 9 damaged on the ground.

---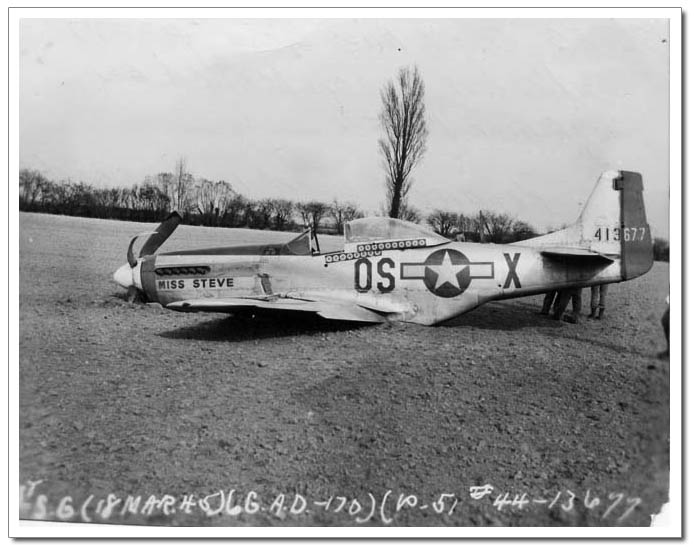 Sources:
Profile compiled by Bill Marshall – Image courtesy Bill Marshall

---
---
U.S.A.A.F. RESOURCE CENTER
>
USAAF ACES & LEGENDS
>
PREVIOUS PAGE
---