---
U.S.A.A.F. RESOURCE CENTER
>
TRANSPORTS
>
C-76 CARAVAN
>
PREVIOUS PAGE
---
Curtiss-Wright C-76 Caravan
Design & Development
In 1941, Curtiss-Wright was contracted by the United States Army Air Forces to design and construct an all-wood military transport aircraft, with performance specifications meeting or exceeding that of the
C-47 Skytrain
then in service.
The Curtiss-Wright CW-27 was designed by Curtiss-Wright's chief designer George A. Page, Jr. as a high-wing, twin-engine, cargo transport aircraft, utilizing plywood construction with a tricycle undercarriage. Though the British de Havilland Mosquito had successfully employed a ply construction using a balsa wood core and birch hardwood exterior, Curtiss-Wright engineers, using research provided by Forest Products Laboratory, rejected this approach, insisting instead on a ply construction of dense mahogany, which greatly increased the plane's weight. At Curtiss' request, Army Materiel Command laid in large supplies of mahogany, and a number of furniture manufacturers, including the Baldwin Piano Company, were subcontracted to build components for the plane, which would be assembled at Curtiss-Wright's new defense plant in Louisville, Kentucky.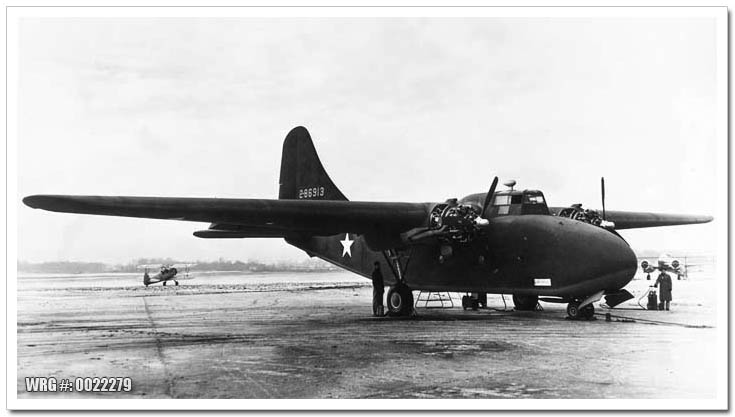 [Source: USAAF Photo]
A radial engine was mounted on each wing, and the aircraft was capable of carrying 23 personnel or a cargo payload. The Caravan had a nose section that swung out to the right to enable outsize loading, including a jeep or small artillery pieces.
The original contract called for 11 YC-76 preproduction aircraft, and the first aircraft would be built and tested at Curtiss-Wright's St. Louis, Missouri Division plant. Subsequently, orders for five C-76 production aircraft and nine revised YC-76As were placed by the USAAF, with line production to commence at the Curtiss-Wright plant in Louisville as well as a Higgins Aircraft factory in New Orleans, Louisiana. To keep the plywood flexible during construction the factory was kept hot and damp. The prototype YC-76 first flew on May 1, 1943.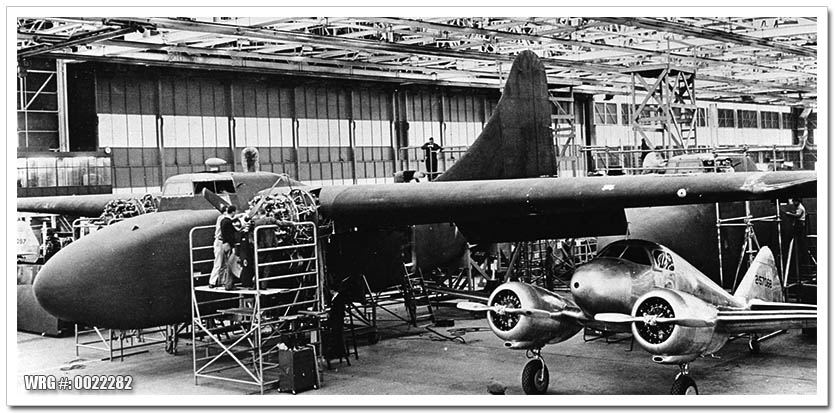 Curtiss-Wright production line for the C-76 Caravan in 1943.
A Curtiss AT-9A Jeep trainer (42-57068) is nestled under the Caravan's wing.
[Source: USAAF Photo]
Only five production aircraft were completed in 1943: three from Curtiss-Wright's St. Louis Division, and two from a new plant at Louisville, Kentucky, which was finished in May 1942. The Higgins Aircraft Co. contract was cancelled by the Army on August 3, 1943 before the Higgins factory in New Orleans had been completed, and Higgins was awarded another contract to produce the
C-46 Commando.

Sources:
Wikipedia

---
U.S.A.A.F. RESOURCE CENTER > TRANSPORTS > C-76 CARAVAN > PREVIOUS PAGE

---