---
U.S.A.A.F. RESOURCE CENTER
>
TRANSPORTS
>
SKYTRAIN
> >
PREVIOUS PAGE
---
C-47 SKYTRAIN
Variants
Douglas DST:
Original model with accomodations for 28 day or 14 sleeper passengers.
Powered by Wright Cyclone engines. 21 Built.
Douglas DST-A:
As DST except powered by P&W Twin Wasps. 19 built.
Douglas DC-3:
Basic day passenger version with accomodations for between 21 and 28 passengers. Powered by Wright Cyclones. 266 built.
Douglas DC-3A:
as DC-3 except powered by P&W Twin Wasps. 114 built.
Douglas DC-3B:
Convertible model with seat/berths in forward cabin and seats in the aft cabin for 28 day passengers or fewer night passengers. Recognizable by small window on each side over 1st and 3rd main windows. 10 built.
C-41A:
prototype military model. Derived from DC-3A with military instrumentation, swiveling chairs and R-1830-92 radials. Used as command transport. 1 built.
C-47:
Initial production military version of the DC-3 with four crew, seats for 27 troops alongside the fuselage interior, revised fuel tankage and addition of small astrodome. "Aerial Ambulances" fitted for casualty evacuation could carry 18 stretcher cases and a medical crew of three. 965 built (including 12 for the U.S. Navy as R4D-1).
C-47A:
Improved C-47 with a 24-volt electrical system, 5,254 built including USN aircraft designated R4D-5.
RC-47A:
Equipped for photographic reconnaissance and electronic intelligence (ELINT) missions. Used in Korea for reconnaissance and flare dropping.
SC-47A:
Search and rescue variant (SAR), redesignated HC-47A in 1962.
VC-47A:
Modification to produce staff transports.
C-47B:
Version developed for use in Chine-Burma-India theater with improved heating and R-1830-90 engines with two-speed superchargers. 3,264 built.
TC-47B:
Navigation trainer. 133 built.
VC-47B:
Conversion of C-47B for use as VIP/staff transports.
XC-47C:
Experimental aircraft used to develop float plane version (1 built). Prototype built from C-47-DL Skytrain/42-5671 (MSN 7365). Crashed during overload tests, lost control, crashed into Jamaica Bay off Floyd Bennett Field, Long Island, NY, November 13, 1943. (150 set of Edo Model 78 floats were built for field installation.)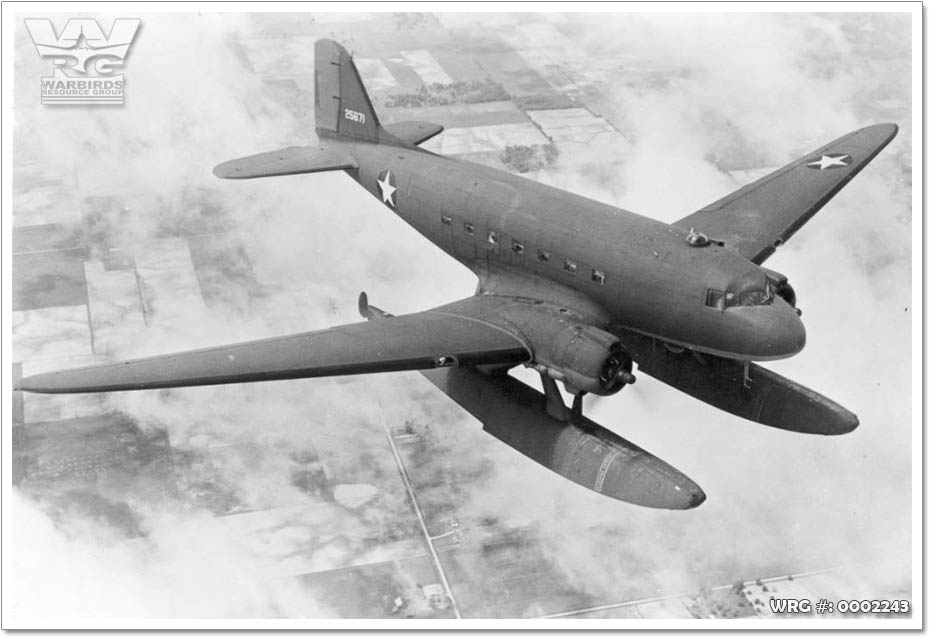 C-47 Skytrain/42-5671 fitted with Edo floats, circa 1944.
[Source: USAF Photo]
C-47D:
C-47B with second speed (high blower) engine supercharger disabled or removed.
AC-47D:
Gunship aircraft with three side-firing .30 in (7.62 mm) Minigun machine guns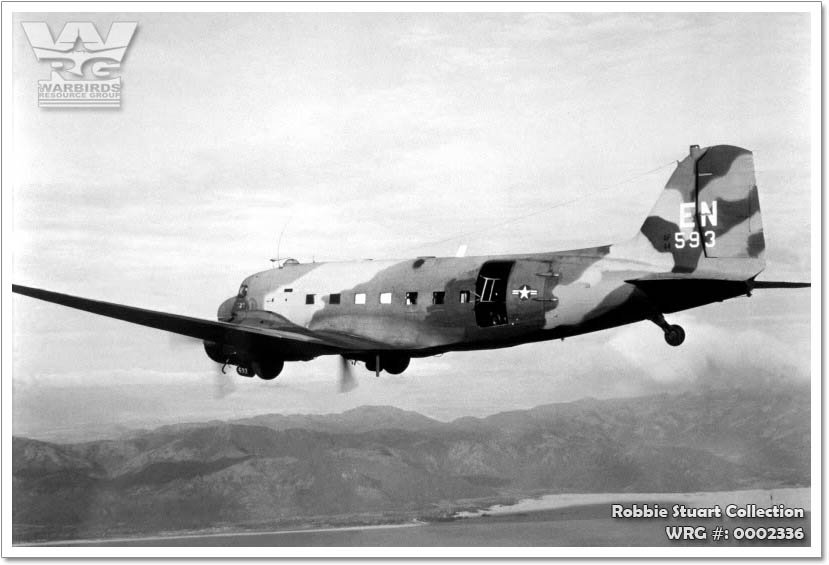 AC-47D Spooky/44-76593 of the 4th SOS/14th SOW,
flying out of Nha Trang Air Base, South Vietnam, in 1968-69.
[Source: Robbie Stuart Collection]
EC-47D
C-47D with equipment for the Electronics Calibration, of which 26 were so converted by Hayes in 1953; prior to 1962 was designated AC-47D
NC-47D
C-47D modified for test roles
RC-47D:
Equipped for photographic reconnaissance and electronic intelligence (ELINT) missions.
SC-47D:
search and rescue variant, in 1962 redesignated HC-47D.
TC-47D:
Trainer modification.
VC-47D:
VIP/staff transport conversion.
C-47E
Modified cargo variant with space for 27–28 passengers or 18–24 litters
C-47F
YC-129 redesignated, Super DC-3 prototype for evaluation by USAF later passed to USN as XR4D-8
C-47L/M
C-47H/Js equipped for the support of American Legation United States Naval Attache (ALUSNA) and Military Assistance Advisory Group (MAAG) missions
EC-47N/P/Q
C-47A and D aircraft modified for ELINT/ARDF mission, N and P differ in radio bands covered, while Q replaces analog equipment found on the N and P with a digital suite, redesigned antenna equipment and uprated engines
C-47R
One C-47M modified for high altitude work, specifically for missions in Ecuador
C-53 Skytrooper
Troop transport version of the C-47 that lacked the reinforced cargo floor, large cargo door, and hoist attachment of the C-47 Skytrain. It was dedicated for the troop transport role and could carry 28 passengers in fixed metal seats arranged in rows in the former cargo space; 221 built.
XC-53A Skytrooper
One testbed aircraft modified in March 1942 with full-span slotted flaps and hot-air leading edge de-icing. Converted to C-53 standard in 1949 and sold as surplus.
C-53B Skytrooper
Winterised and long-range Arctic version of the C-53 with extra fuel tanks in the fuselage and separate navigator's astrodome station for celestial navigation; eight built.
C-53C Skytrooper
C-53 with larger port-side access door; 17 built.
C-53D Skytrooper
C-53C with 24V DC electrical system and its 28 seats attached to the sides of the fuselage; 159 built.
C-117A Skytrooper
C-47B with 24-seat airline-type interior for staff transport use, 16 built.
VC-117A
Three redesignated C-117s used in the VIP role
SC-117A
One C-117C converted for air-sea rescue
C-117B/VC-117B
High-altitude superchargers removed, one built and conversions from C-117As all later VC-117B
C-117D
USN/USMC R4D-8 redesignated C-117D in 1962.
LC-117D
USN/USMC R4D-8L redesignated LC-117D in 1962.
TC-117D
USN/USMC R4D-8T redesignated TC-117D in 1962.
VC-117D
USN R4D-8Z redesignated VC-117D in 1962.
YC-129
Super DC-3 prototype for evaluation by USAF redesignated C-47F and later passed to USN as XR4D-8. Wright R-1820 engines uprated to 1425 hp.
CC-129
Canadian Forces designation for the C-47 (post-1970)
XCG-17
One C-47 tested as a 40-seat troop glider with engines removed and faired over
R4D-1 Skytrain
USN/USMC version of the C-47
R4D-3
Twenty C-53Cs transferred to USN
R4D-5
C-47A variant 24-volt electrical system replacing the 12-volt of the C-47; redesignated C-47H in 1962, 238 transferred from USAF
R4D-5L
R4D-5 for use in Antarctica. Redesignated LC-47H in 1962. Photos of this type show the removal of underslung engine oil coolers typical of the R-1830 engine installation; apparently not needed in the cold polar regions.
R4D-5Q
R4D-5 for use as special ECM trainer. Redesignated EC-47H in 1962
R4D-5R
R4D-5 for use as a personnel transport for 21 passengers and as a trainer aircraft; redesignated TC-47H in 1962
R4D-5S
R4D-5 for use as a special ASW trainer; redesignated SC-47H in 1962
R4D-5Z
R4D-5 for use as a VIP transport; redesignated VC-47H in 1962
R4D-6
157 C-47Bs transferred to USN; redesignated C-47J in 1962
R4D-6L, Q, R, S, and Z
Variants as the R4D-5 series; redesignated LC-47J, EC-47J, TC-47J, SC-47J, and VC-47J respectively in 1962
R4D-7
44 TC-47Bs transferred from USAF for use as a navigational trainer; redesignated TC-47K in 1962
R4D-8
R4D-5 and R4D-6 remanufactured aircraft with stretched fuselage, Wright R-1820 engines, fitted with modified wings and redesigned tail surfaces; redesignated C-117D in 1962
R4D-8L
R4D-8 converted for Antarctic use, redesignated LC-117D in 1962
R4D-8T
R4D-8 converted as crew trainers, redesignated TC-117D in 1962
R4D-8Z
R4D-8 converted as a staff transport, redesignated VC-117D in 1962
Dakota I
RAF designation for the C-47 and R4D-1.
Dakota II
RAF designation for nine C-53 Skytroopers received under the lend lease scheme. Unlike the majority of RAF Dakotas, these aircraft were therefore dedicated troop transports, lacking the wide cargo doors and reinforced floor of the C-47.
Dakota III
RAF designation for the C-47A.
Dakota IV
RAF designation for the C-47B.
Airspeed AS.61
Conversion of Dakota I aircraft
Airspeed AS.62
Conversion of Dakota II aircraft
Airspeed AS.63
Conversion of Dakota III aircraft
Lisonev Li-2:
Russian licence-built version.
Showa L2D:
Japanese licensed built (at least until start of hostilities) version.
---
Sources:
Gunston, Bill -
The Encyclodepia of the Worlds Combat aircraft
, 1976, Chartwell Books, Inc., New York
Wikipedia
---
U.S.A.A.F. RESOURCE CENTER
>
TRANSPORTS
>
SKYTRAIN
> >
PREVIOUS PAGE
---