---
U.S.A.A.F. RESOURCE CENTER
>
USAAF ACES & LEGENDS
>
PREVIOUS PAGE
---
HENRY W. BROWN
---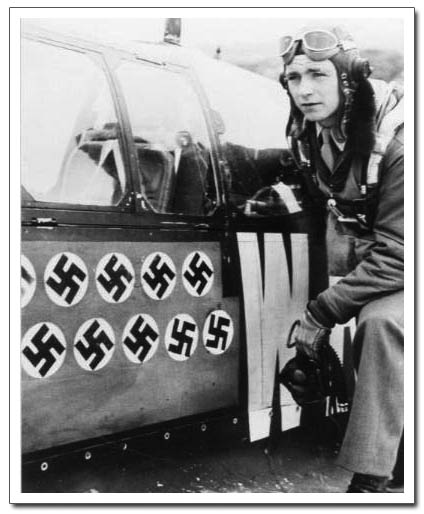 ---
Born: January 25, 1923.
Birthplace: Dallas, TX.


---

Rank at Retirement: Colonel
Unit(s):
– 355th Fighter Group
— 354th Fighter Squadron
Theatre(s): ETO
Decoration:
– DSC, SS, DFCx5, AMx19, PH
– Croix de Guerre
Victories:
– 14.2 Aerial (+3 damaged)
– 14.5 Ground (+10 damaged)
Total Sorties: N/A

Aircraft Flown:
– P-47D-2RE, 42-74703
WR-Z 'Baby'

– P-51B-10, 42-106448
WR-Z 'Hun Hunter~Texas'

– P-51D-5, 44-13305
WR-Z 'Hun Hunter'
---
Henry William Brown joined USA Reserves December 1941, graduated from Flight School at Spence Field, GA as a Flight Officer in March 1943. Joined the 354FS/355th FG at Steeple Morden, England in November, 1943 and promoted to Lieutenant in January, 1944. He became the Group's 5th ace on 24, April, 1944 and led the 355th in total air/ground scores on May 13 at the start of the 8thAF campaign against German oil industry.

When Brown returned from stateside leave in late August he was promoted to Captain in September and went on a 30 day rampage, destroying 8 on the ground and 7 in the air to become the 8th AF leading top scorer. He was the first 8th AF pilot to destroy 6 on the ground, on September On October 3, 1944 Brown was finally stopped by German flak at Nordlingen A/D. Major Charles Lenfest attempted the 354FS' second Piggy Back rescue of Captain Brown but got stuck in the mud - leaving two of the 354FS/355FG aces in German hands as POW. Lenfest successfully escaped in April, 1945.

Brown remained 355FG top ace, top scorer and was acclaimed to have best eyes in the group. He was the second most decorated pilot in the 355th FG - second only to Colonel Claiborne Kinnard, Jr.

Following WWII, Brown stayed in AF, obtained degree at University of Omaha in 1960, was head of F-111 program at Nellis AFB, then commanded 48 TFW of F-111's before retiring as Colonel in 1974.

---
Sources:
Profile compiled by Bill Marshall - Photos courtesy Bill Marshall.
---
---
U.S.A.A.F. RESOURCE CENTER
>
USAAF ACES & LEGENDS
>
PREVIOUS PAGE
---