---
U.S.A.A.F. RESOURCE CENTER
>
BOMBERS
>
B-32 DOMINATOR
>
PREVIOUS PAGE
---
CONSOLIDATED B-32 DOMINATOR
Variants
XB-32
Company Designation Model 33, three built, on first aircraft: Wright R-3350-13 (inboard) and Wright R-3350-21 (outboard) engines, three-bladed propeller, rounded, glassed nose, first two aircraft had a twin tail configuration. Second prototype was pressurized and had remotely controlled retractable gun turrets in the dorsal ventral positions, with a manned tail "stinger." Second and third prototypes had numerous tail variations installed, including a B-29 tail installation. First flown 7 September 1942.
B-32-1-CF
Model 34 flight testing aircraft first flown 5 August 1944. Wright R-3350-23 engines. First two aircraft initially had modified B-29 tails installed. Installation of armament, single rudder tabs, radar bombing equipment (AN/APQ-5B and AN/APQ-13) and long range navigation equipment, 10 built.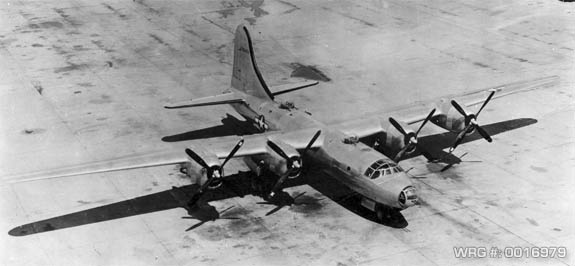 Consolidated B-32-1-CF Dominator/42-108471.
[Source: USAF Photo]

B-32-5-CF
Twin rudder tabs made standard. Last 11 aircraft converted to TB-32-5-CF with deletion of all armament (openings faired over), deletion of radar bombing equipment, and deletion of long range navigation equipment, 15 built.
TB-32-10-CF
Redesigned bombardier's entrance door, replacement of SCR-269-G Radio compass with AN/ARN-7 set, installation of engine fire extinguishers, 25 built.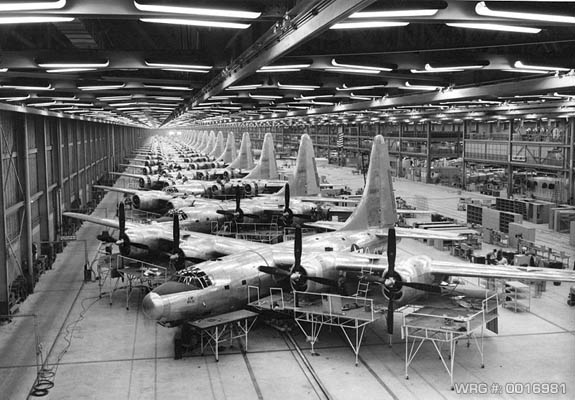 Consolidated TB-32 production line.
[Source: USAF Photo]

TB-32-15-CF
Empennage de-icer boots, four built.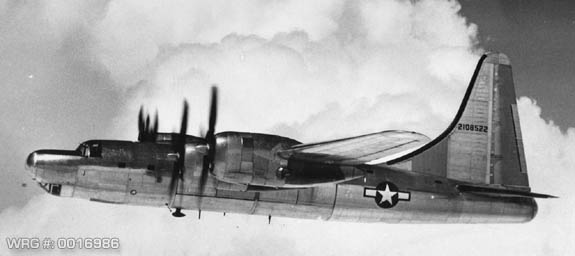 TB-32-15-CF Dominator based at at Hickam Field, HI
[Source: USAF Photo]
B-32-20-CF
Combat equipped aircraft. Pressurization system removed, scanning blister installed in rear fuselage, 21 built.
B-32-21-CF
One B-32-20-CF converted to paratroop conversion. All bombing equipment removed and benches installed in rear bomb bay and rear fuselage.
B-32-25-CF
Modified fuel system to allow auxiliary tanks in the bomb bay. AN/APN-9 LORAN, 25 built.
B-32-30-CF
Variant with a stabilized Sperry A-17A nose turret, installation of countermeasure equipment (AN/APQ-2, AN/APT-1 and AN/APT-2) and improved APQ-13A radar bombing equipment. Seven built, last three aircraft flown directly to storage and scrapped.
B-32-35-CF
Seven produced with increased ammunition. Flown directly to storage and scrapped.
B-32-40-CF
Ten built and flown directly to storage and then scrapped
B-32-45-CF/50-CF
Thirty-Seven under construction. Partially assembled machines were stripped of all their government-furnished equipment and engines and were scrapped on site by the contractor.
B-32-1CO Three aircraft the same as the B-32-20-CF but assembled by Consolidated – San Diego. 1 accepted - remaining two flown directly to storage and scrapped.
300 B-32s ordered, 118 delivered, 130 flyable, 170 cancelled, orders for a further 1,099 B-32-CFs and 499 B-32-COs were cancelled after VJ-Day.
Source:
Wikipedia
---
U.S.A.A.F. RESOURCE CENTER
>
BOMBERS
>
B-32 DOMINATOR
>
PREVIOUS PAGE
---