---
U.S.A.A.F. RESOURCE CENTER
>
BOMBERS
>
LIBERATOR
>
PREVIOUS PAGE
---
B-24 LIBERATOR
Other Operators
---
Chinese Nationalist Air Force
Approximately 48 B-24Ms were provided by the U.S. to the Chinese Nationalists Airforce after WW2 and were used during the Chinese Civil War. The PLAAF had two B-24Ms captured from the Chinese Nationalists during the Chinese Civil War and operated until 1952.


B-24M Liberator of the Chinese Nationalist Air Force
[Source: Unknown]
Czechoslovakia Air Forces
The Czech Air Force in exile operated two squadrons of B-24 Liberators.
Royal Australian Air Force
While Australian pilots flew Liberators in other theatres of war, the aircraft was introduced into service in the Royal Australian Air Force (RAAF) in 1944, after the American commander of the Far East Air Forces (FEAF) General George C. Kenney suggested that seven heavy bomber squadrons be raised to supplement the efforts of the 380th Bombardment Group of the USAAF. The USAAF helped in the procurement of the aircraft for the RAAF and training of the Australian aircrew members. Seven flying squadrons, an operational training unit and two independent flights were equipped with the aircraft by the end of World War II in August 1945.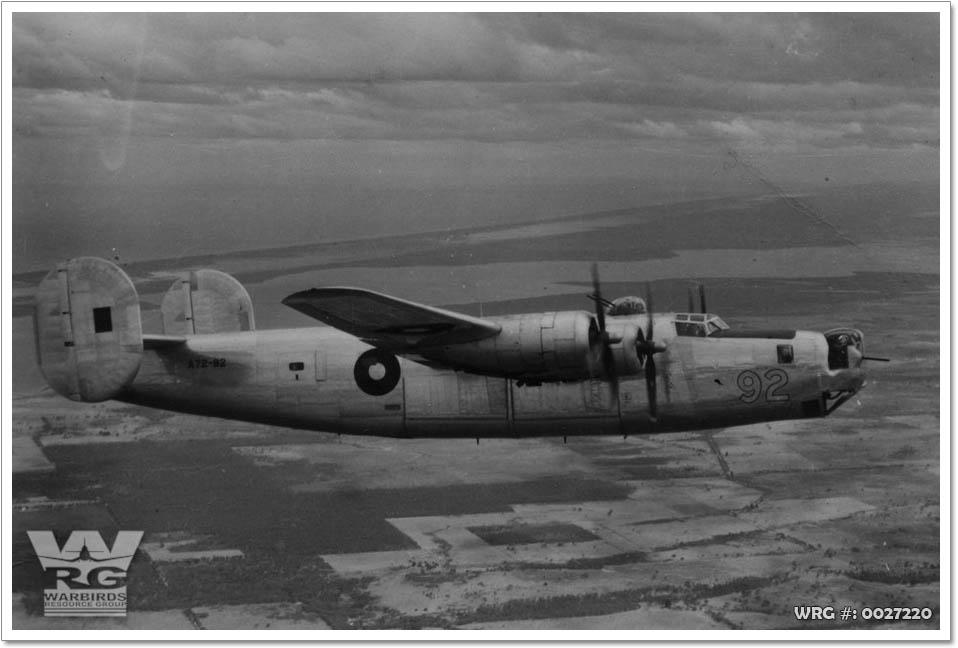 RAAF B-24L-10-CO Liberator/A72-92 of 21 Squadron
[Source: Unknown]
The RAAF Liberators saw service in the South West Pacific theatre of World War II. Flying mainly from bases in the Northern Territory, Queensland and Western Australia the aircraft conducted bombing raids against Japanese positions, ships and strategic targets in New Guinea, Borneo and the Netherlands East Indies. In addition, the small number of Liberators operated by No. 200 Flight played an important role in supporting covert operations conducted by the Allied Intelligence Bureau; and other Liberators were converted to VIP transports. A total of 287 B-24D, B-24J, B-24L and B-24M aircraft were supplied to the RAAF, of which 33 were lost in action with more than 200 Australians killed. Following the Japanese surrender the RAAF's Liberators participated in flying former prisoners of war and other personnel back to Australia. Liberators remained in service until 1948, when they were replaced by Avro Lincolns.
Royal Canadian Air Force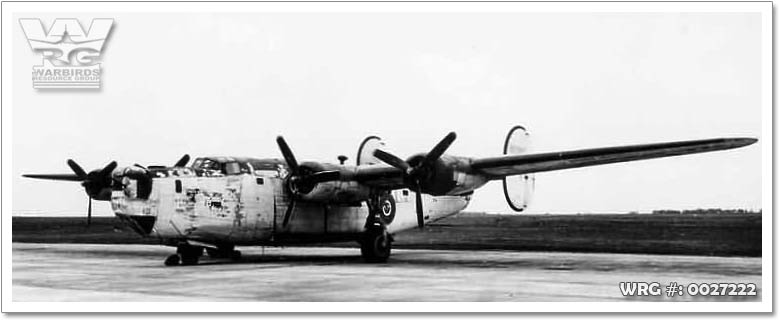 Royal Canadian Air Force B-24 Liberator
[Source: Unknown]
Indian Air Force
When India gained independence in 1947, between 37 and 42 Liberators were resurrected by HAL and gave service with No.5, No.6 and No.16 Squadrons until their retirement in 1968.
Luftwaffe
Three B-24s were captured and then operated by the German secret operations unit KG 200, which also tested, evaluated and sometimes clandestinely operated captured enemy aircraft during World War II.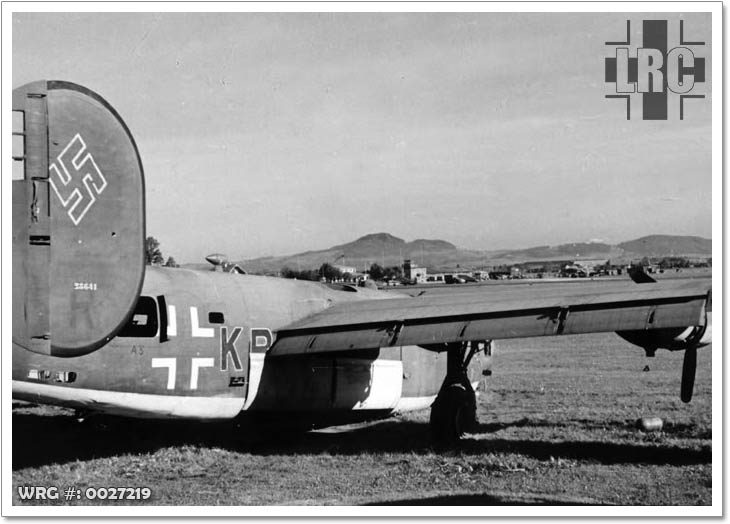 B-24 Liberator captured by the Luftwaffe
[Source: Unknown]
One of these was captured at Venegono, Italy on March 29, 1944. It was used on penetration missions in RAF bomber streams at night in Luftwaffe markings. On a ferry flight from Hildesheim to Bavaria on April 6, 1945 it was shot down - by German anti-aircraft fire.
South African Air Force
Two squadrons of the South African Air Force (SAAF) also flew B-24s: 31 and 34 Squadrons under No 2 Wing SAAF based at Foggia, Italy. These two squadrons engaged in relief flights to Warsaw and Kraków in Poland to support the Polish Uprising against Nazi Occupation.
Soviet Union
Only one B-24 was officially delivered to the USSR according to the Lend-Lease agreements, stranded in Yakutsk while flying a government mission to the Soviet Union in November 1942. In addition, 73 Liberators of various models that had force-landed on European airfields were recovered and 30 of them were repaired and used by the 45th BAD.
Turkish Air Force
Eleven B-24s made an emergency landing in Turkey coming from bombing of Ploesti within Operation Tidal Wave. All of them were interned by Turkey and five of these B-24s were repaired and served in the Turkish Air Force.


Turkish Air Force B-24 Liberator
[Source: Unknown]
---
Sources:
Gunston, Bill -
The Encyclodepia of the Worlds Combat aircraft
, 1976, Chartwell Books, Inc., New York
Wikipedia
---
U.S.A.A.F. RESOURCE CENTER
>
BOMBERS
>
LIBERATOR
>
PREVIOUS PAGE
---