---
U.S.A.A.F. RESOURCE CENTER
>
BOMBERS
>
LIBERATOR
>
PREVIOUS PAGE
---
B-24 LIBERATOR
U.S. Navy Variants
---
PB4Y-1
B-24s were also used by the U.S. Navy and U.S. Marine Corps for ASW, anti-ship patrol, and photographic reconnaissance in the Pacific Theater, and by the U.S. Coast Guard for patrol and SAR. Naval B-24s were redesignated PB4Y-1, meaning the fourth patrol bomber design built by Consolidated Aircraft. Navy PB4Y-1s assigned to Atlantic ASW and all Coast Guard PB4Y-1s had the ventral turret replaced by a retractable radome. Also, most naval aircraft had an Erco ball turret installed in the nose position, replacing the glass nose and other styles of turret.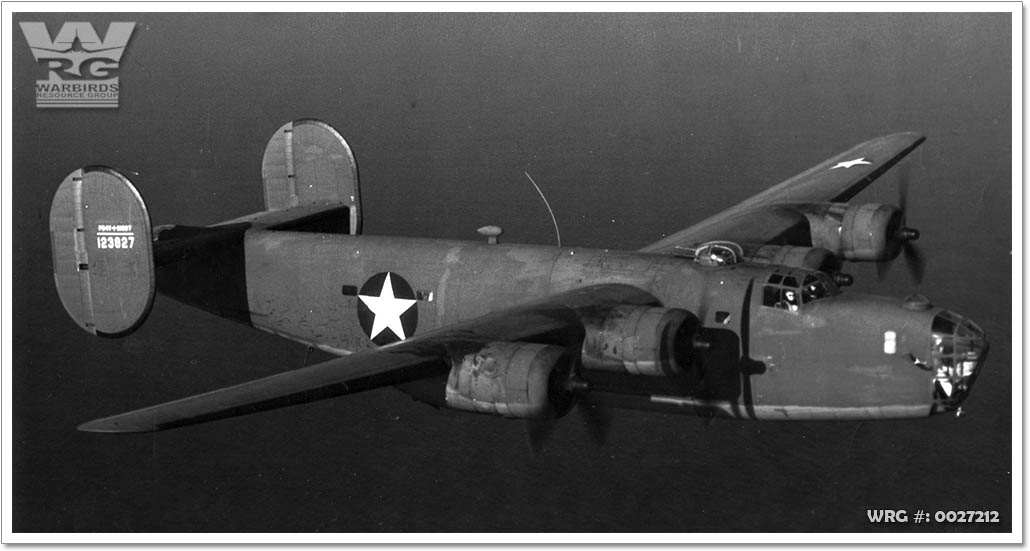 B-24D-7-CO Liberator/41-23827 to USN as PB4Y-1/Bu. 31927.
[Source: USFG]
U.S. Navy designation applied to 976 navalized B-24D, J, L and M models built at Consolidated's San Diego factory, as well as one North American-built B-24G. Later aircraft were equipped with an ERCO bow turret.
PB4Y-1P
Photographic reconnaissance variant developed from the PB4Y-1.
PB4Y-2 Privateer
The PB4Y-2 Privateer was derived directly from the successful PB4Y-1 Liberator. This type of patrol plane was considered to be quite successful and a fully navalized design was deemed advantageous. Consolidated Aircraft developed a purpose-built long-range patrol bomber in 1943, designated it as the PB4Y-2. While similar in appearence, the PB4Y-2 is visually distinguishable from the B-24 and PB4Y-1 by having a single vertical stabilizer rather than a twin tail, and teardrop-shaped waist gun blisters, much like those on Consolidated's own PBY Catalina flying boat.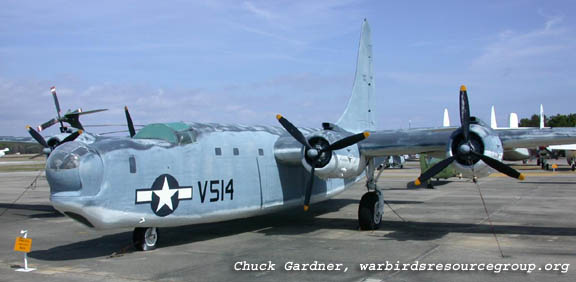 PB4Y-2 Privateer/Bu. 66261 on display at National Museum of Naval Aviation.
[Source: Chuck Gardner/Warbirds Resource Group]
P5Y
Proposed twin-engined patrol version of PB4Y-1. Unbuilt.
RY-1
U.S. Navy designation for the C-87A.
RY-2
U.S. Navy designation for the C-87.
RY-3
Transport variant of the PB4Y-2.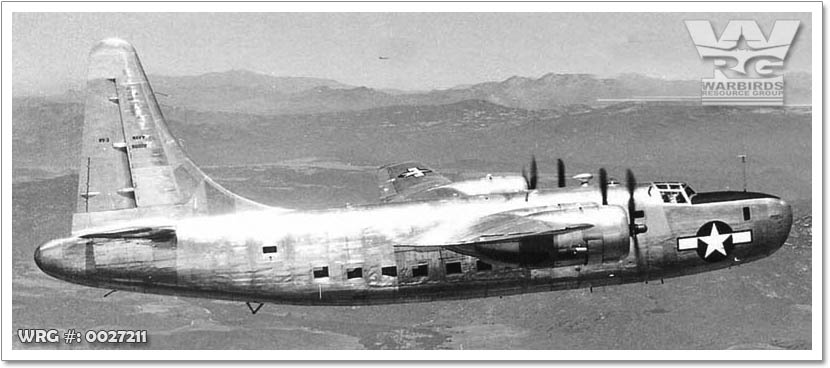 Consolidated RY-3.
[Source: USFG]
R2Y
Liberator Liner built using a new fuselage for the US Navy as an airliner with 48 seats
---
Sources:
Gunston, Bill -
The Encyclodepia of the Worlds Combat aircraft
, 1976, Chartwell Books, Inc., New York
Wikipedia
---
U.S.A.A.F. RESOURCE CENTER
>
BOMBERS
>
LIBERATOR
>
PREVIOUS PAGE
---