---
U.S.A.A.F. RESOURCE CENTER
>
BOMBERS
>
LIBERATOR
>
PREVIOUS PAGE
---
B-24 LIBERATOR
U.S. Army Air Force Variants
---
XB-24
Single prototype ordered by Army Air Corps on 30 March 1939. Powered by four Pratt & Whitney R-1830-33 Twin Wasps rated at 1,200 horsepower (890 kW) for takeoff and 1,000 horsepower (750 kW) at 14,500 feet (4,400 m). Bombload of eight 1,000 lb (450 kg) bombs, with defensive armament of three 0.5 in (12.7 mm) and four 0.30 in (7.62 mm) machine guns. First flew 29 December 1939. Later converted to XB-24B.
YB-24/LB-30A Pre-production prototypes
Six examples were sold to Great Britain directly as designated LB-30A. US funds and serial numbers were deferred to the B-24D production. The seventh (40-702) remained in U.S. Service as the sole YB-24 for service test. (Total: 7)
B-24
Ordered on 27 April 1939, less than 30 days after the XB-24 was ordered and before its completion. A number of minor modifications were made: elimination of leading edge slots, addition of de-icing boots. (Total: 1 conversion of YB-24.)
B-24A/LB-30B
Ordered in 1939, the B-24A was the first production model. Due to the need for long range aircraft, the B-24A was ordered before any version of the B-24 flew. The main improvement over the XB-24 was improved aerodynamics, which led to better performance. Nine as transports transferred to Ferrying Command. Twenty (20) sold directly to Great Britain as LB-30B. Deferred US funds and serial numbers allocated to future B-24D production. (Total: 29 LB-30B; 9 B-24A)
XB-24B
A newly funded conversion of the XB-24 after it failed to reach its projected top speed. The Pratt & Whitney R-1830-33 radials rated at 1,000 hp (750 kW) it carried were replaced with R-1830-41 turbo-supercharged radials rated at 1,200 hp (890 kW), increasing its top speed by 37 mph (60 km/h). The engine cowlings were made elliptical to accommodate the addition of the turbo-superchargers. The XB-24B version also lacked the engine slots of the original. It was re-serial numbered. (Total: one converted XB-24) : XB-24B 39-680 was converted into a luxury airliner for Consairway. The conversion included gutting the interior, cutting new windows and dividing the interior into compartments with individual and bench seating, and two-tier Pullman-style sleeping berths. It featured generous trim - possibly for sound-proofing - an in-flight galley with refrigerator and hot plates in bare metal (probably stainless steel) with lighting and services for the main deck controlled by a panel over the main passenger door, but photographs of the conversion dated 19 April 1945 show no visible seat belts or other passenger safety arrangements.
B-24C
New production funded from deferred funds after LB-30A to Britain. Used the engine package prototyped in the XB-24B and the new fuselage of the LB-30. The tail air gunner position was improved by adding a hydraulically powered Consolidated A-6 turret with twin .50 caliber (12.7 mm) machine guns; a Martin powered dorsal turret was added to the forward fuselage. One (#84) converted to prototype the "three in nose" armament for the B-24D. FY funds and serial numbers transferred from B-24A. (Total: nine)
B-24D
First model produced on a large scale; ordered from 1940 to 1942, as a B-24C with better engines (R-1830-43 supercharged engines). The D model was initially equipped with a remotely operated and periscopically sighted Bendix belly turret, as the first examples of the B-17E Flying Fortress and some early models of the B-25 Mitchell medium bomber had used, but this proved unsatisfactory in service and was discontinued after the 287th aircraft. Production aircraft reverted to the earlier manually operated "tunnel" mounting with a single .50 caliber (12.7 mm) machine. The tunnel gun was eventually replaced by the Sperry ball turret, which had also been adopted by the later B-17E Fortresses, but made retractable for the Liberator when not in use as the ventral area of its fuselage was very close to the ground on landing. In late B-24Ds, "cheek" guns mounted on either side of the forward nose, just behind the framed "greenhouse" nose glazing were added. (Total: 2,696: 2,381 Consolidated, San Diego; 305 Consolidated, Fort Worth; 10 Douglas, Tulsa, Oklahoma).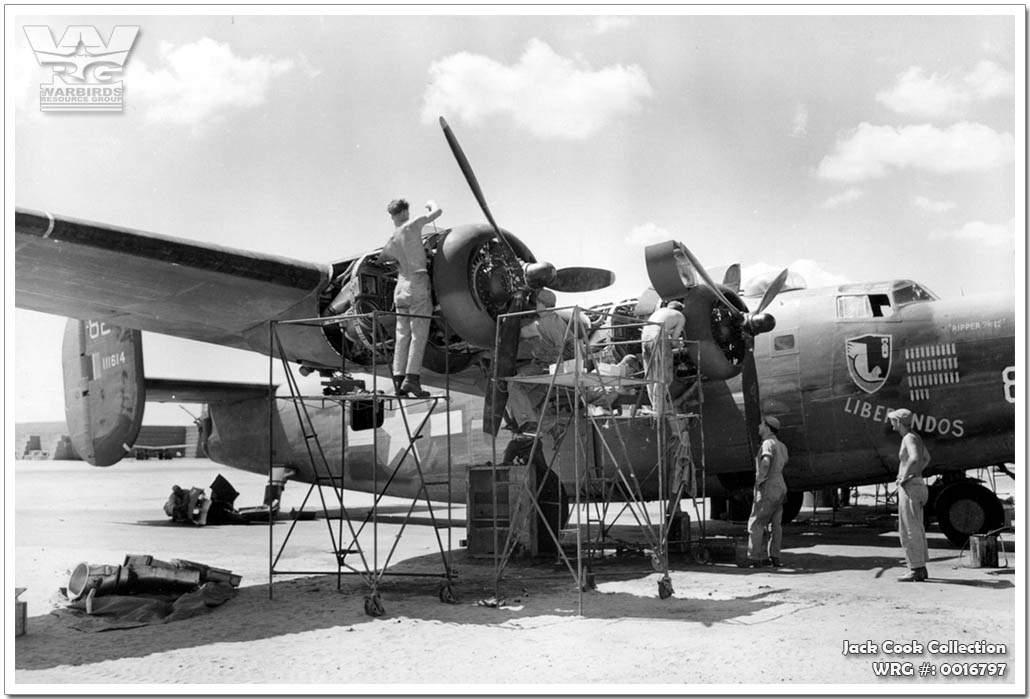 B-24D Liberator/41-11614 "Ripper the 1st" of the 515th BS/376th BG.
[Source: Jack Cook Collection]
B-24E
A slight alteration of the B-24D built by Ford, using R-1830-65 engines. Unlike the B-24D, the B-24E retained the tunnel gun in the belly. The USAAF used the B-24Es primarily as training aircraft since this series and other technology as were the aircraft being produced by Consolidated / San Diego (CO). Ford also built sub-assemblies for Douglas and Convair Fort Worth; these sub-assemblies were identical to Ford-built B-24Es, except that they used the same engines as the B-24D (R-1830-43 radials). These sub-assemblies were called KD (knock down) ships and were trucked from Willow Run to the Southwest for the final assembly . (Total: 801)
XB-24F
A prototype made to test thermal de-icers instead of the standard inflatable rubber "boots". (Total: one converted B-24D)
B-24G
Designation for B-24D aircraft built by North American Aviation pursuant to a 1942 contract. Equipped with Sperry ball turret and three .50 caliber (12.7 mm) machine guns in nose. (Total: 25)
B-24G-1
as B-24G but with A-6 nose turret. Most B-24G aircraft were delivered to the 15th Air Force in Italy. (Total: 405)
B-24H
Because of obvious vulnerability of the B-24 to head-on attack with the earlier, 24-panel "greenhouse" nose glazing, the B-24H design incorporated an electrically powered Emerson A-15 nose turret above the bombardier's position, somewhat similar to where the Frazer-Nash FN5 nose turret on the Avro Lancaster was placed. Approximately 50 other airframe changes were made, including a redesigned bombardier compartment possessing a glazed three-panel bombsight window unit replacing the "greenhouse" nose design. The tail turret was given larger windows for better visibility and the Martin A-3 dorsal turret received an enlarged "high hat" dome. The waist gunner positions were enclosed with Plexiglas windows and laterally offset (as the later B-17G's waist positions had been) to reduce mutual interference between the two waist gunners during battle. Most H model aircraft were built by Ford at the Willow Run factory. (Total: 3,100)
B-24J
The B-24J was very similar to the B-24H, but shortages of the Emerson nose turret required use of a modified, hydraulically powered Consolidated A-6 turret in most J model aircraft built at Consolidated's San Diego and Fort Worth factories. The B-24J featured an improved autopilot (type C-1) and a bombsight of the M-1 series. B-24H sub-assemblies made by Ford and constructed by other companies and any model with a C-1 or M-1 retrofit, were all designated B-24J. The J model was the only version to be built by all five factories involved in B-24 production. (Total: 6,678)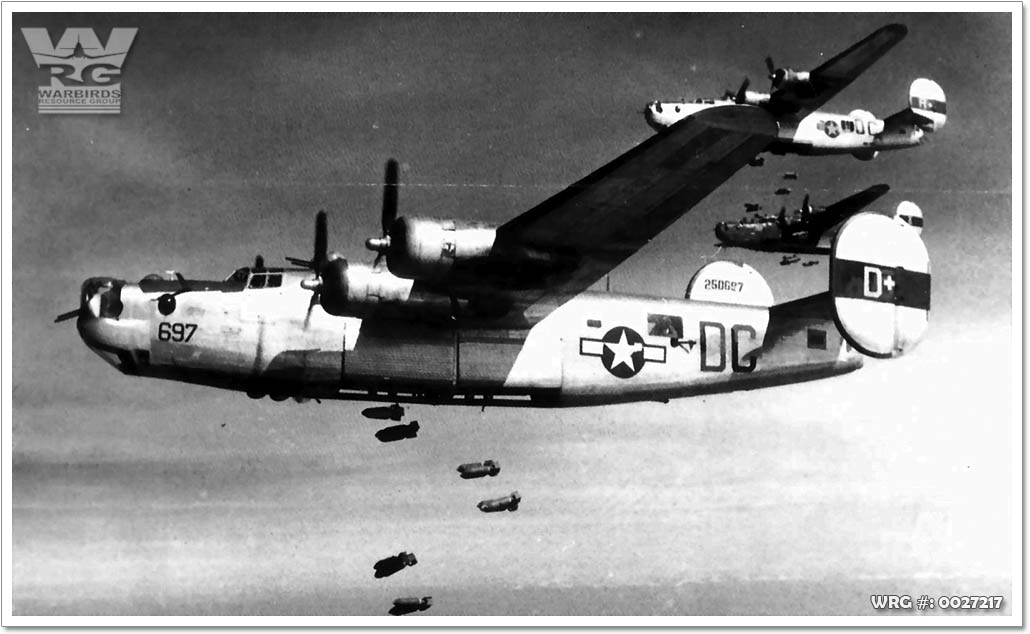 Ford built B-24J-1-FO Liberator/42-50627.
[Source: USAF Photo]
XB-24K
Developed from the B-24ST, with the B-23 Dragon empennage replaced by the tail of a Douglas C-54 Skymaster. The improved performance and handling of the B-24ST and XB-24K led to the decision to incorporate a single tail in the PB4Y-2 and B-24N. (Total: one converted B-24D)
B-24L
Because of the excessively high gross weight of the B-24J, the Army pushed for a lighter version. In the B-24L, the Sperry ball turret was replaced by a floor ring mount with two .50 caliber (12.7 mm) machine guns, and the A-6B tail turret by an M-6A. Later aircraft were delivered from the factory without tail armament. An A-6B, M-6A, or a manually operated twin .50 caliber (12.7 mm) mounting was then installed at a depot before arrival at operational units. The L model was built only at Willow Run and Consolidated's San Diego factory. (Total: 1,667)
B-24M
An enhancement of the B-24L with further weight-saving devices. The B-24M used a more lightweight version of the A-6B tail turret; the waist gunner positions were left open, and the retractable Sperry ventral ball turret was reintroduced. For better visibility from the flight deck, the windshield in Ford-built aircraft was replaced by a version with less framing from Block 20 onward. The B-24M became the last production model of the B-24; a number of the B-24s built flew only the course between the factory and the scrapheap. (Total: 2,593)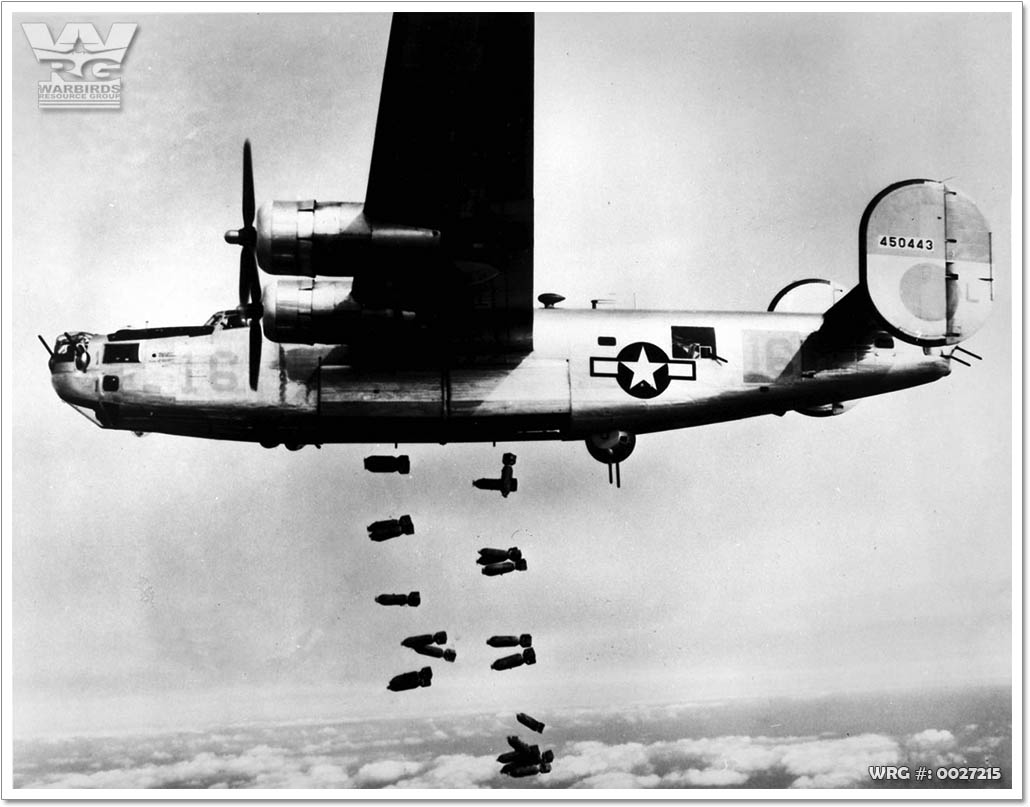 B-24M Liberator/44-50443 of the 451st BG releases its bombs on
the railyards at Mühldorf, Germany, March 19, 1945.
[Source: USAF Photo]
XB-24N
A redesign of the B-24J, made to accommodate a single tail. It also featured an Emerson 128 ball turret in the nose and a stationary tail gunner's position. While 5,168 B-24Ns were ordered, the end of the war resulted in cancellation of all contracts before production could begin. Its single tail was said to be the inspiration for the PB4Y-2 Privateer's similar single fin/rudder tail design.(Total: one)
YB-24N
Pre-production service test version of the XB-24N. (Total: seven)
XB-24P
A modified B-24D, used by Sperry Gyroscope Company to test airborne fire control systems. (Total: one converted B-24D)
XB-24Q
A General Electric conversion of the B-24L. Used to test a radar-controlled tail turret intended for use in the Boeing B-47 Stratojet. (Total: one converted B-24L)
XB-41
Because there were no fighters capable of escorting bomber formations on deep strike missions early in World War II, the Army authorized tests for heavily armed bombers to act as "gunship" escorts for bombing missions, which inspired both the B-17 derived YB-40 Flying Fortress gunship and its Liberator-derived XB-41 counterpart. The XB-41 had fourteen .50 caliber (12.7 mm) machine guns, including a Bendix chin turret and a second Martin A-3 turret on the upper fuselage. A single aircraft was completed in 1942. Performance changed drastically with the addition of more turrets. The escorts were also unable to keep up with bomber formations once the bombs had been dropped. The results of 1943 testing were very negative and the project was quickly canceled. (Total: one converted B-24D)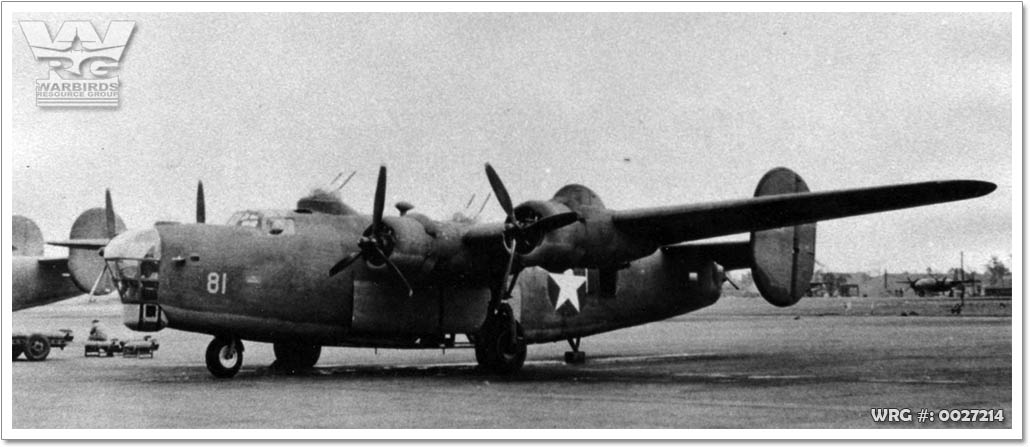 Consolidated XB-41.
[Source: USAF Photo]
B-24ST
An experimental aircraft, The B-24ST (for Single Tail, an unofficial designation applied by Ford) was made by Ford by fitting a Douglas B-23 Dragon empennage onto a B-24D airframe. The aircraft was more stable and had better handling than other models. It was used as the basis of the XB-24K.
AT-22 or TB-24
C-87 used for flight engineer training.
RB-24L: Developed for training B-29 gunners on an identical remote gun system
installed on a B-24L.
TB-24L: As with the RB-24L, but with additional radar equipment.
C-87 Liberator Express
Passenger transports with accommodation for 20 passengers.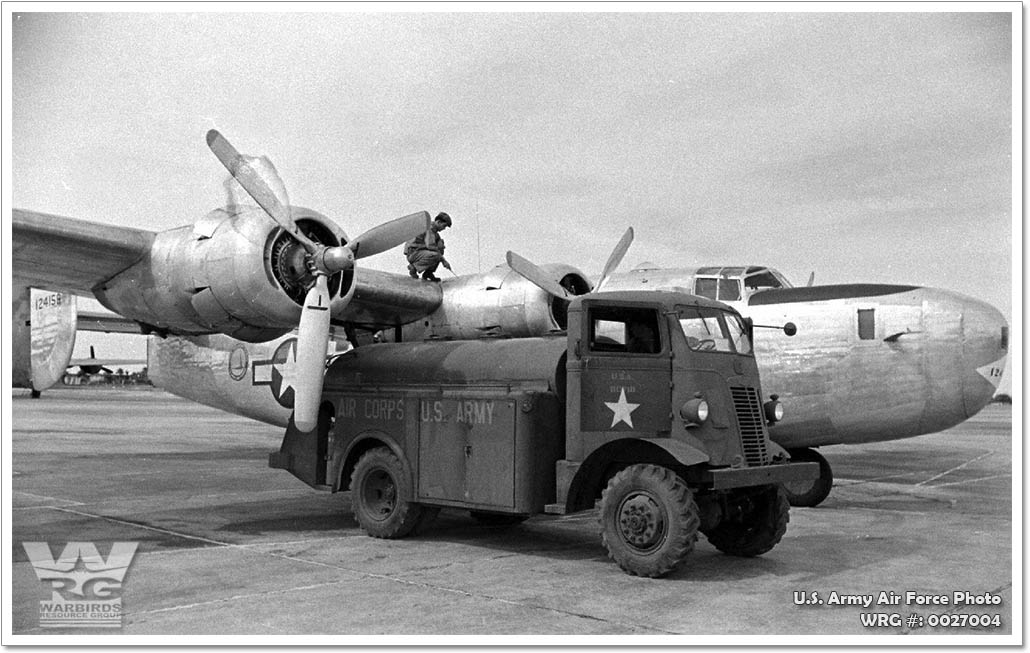 C-87A-CF Liberator Express/41-24159/MSN 954.
[Source: USAAF Photo]
C-87A:
VIP transports with R-1830-45 instead of -43 engines and sleep
accommodations for 16 passengers.
C-87B:
Projected armed transport variant with nose guns, dorsal turret, and
ventral tunnel gun; never produced.
C-87C:
U.S. Army Air Force/Air Force designation for the RY-3.
XC-109/C-109
The C-109 was a dedicated fuel transport version of the B-24 conceived as a support aircraft for Boeing B-29 Superfortress operations in central China. Unlike the C-87, the C-109 was not built on the assembly line, but rather was converted from existing B-24 bomber production; to save weight, the glass nose, armament, turret fairings and bombardment equipment were removed. Several storage tanks were added, allowing a C-109 to carry almost 2,905 gal (11,000 L) of fuel weighing over 22,000 pounds (10,000 kg).

Consolidated C-109.
[Source: USAF Photo]
Plans originally called for 2,000 C-109s to support 10 groups of B-29s (approximately 400) in China, but the capture of the Mariana Islands provided a far more easily resupplied location for raids on mainland Japan, and the plans were greatly scaled back. Only 218 C-109s were actually converted. After the transfer of the B-29s, the C-109s were reassigned to the Air Transport Command. According to the history of the U.S. Army Air Forces in World War II, at least one squadron was assigned to the IX Troop Carrier Command in Europe to transport gasoline to advancing ground and air forces on the Continent after the Normandy invasion.
However, whereas a combat-loaded B-24 could safely take off with room to spare from a 6,000 ft (1,800 m) runway, a loaded C-109 required every foot of such a runway to break ground, and crashes on takeoff were not uncommon. The aircraft demonstrated unstable flight characteristics with all storage tanks filled, and proved very difficult to land fully loaded at airfields above 6,000 ft (1,800 m) MSL in elevation, such as those around Chengdu. After it was discovered that these problems could be alleviated by flying with the forward storage tank empty, this practice became fairly routine, enhancing aircrew safety at the cost of some fuel-carrying capacity. Many C-109s were lost in flying the Hump airlift to China.
B-24 bombers were also extensively used in the Pacific area after the end of World War II to transport cargo and supplies during the rebuilding of Japan, China, and the Philippines.
XF-7
Photographic reconnaissance variant developed from the B-24D.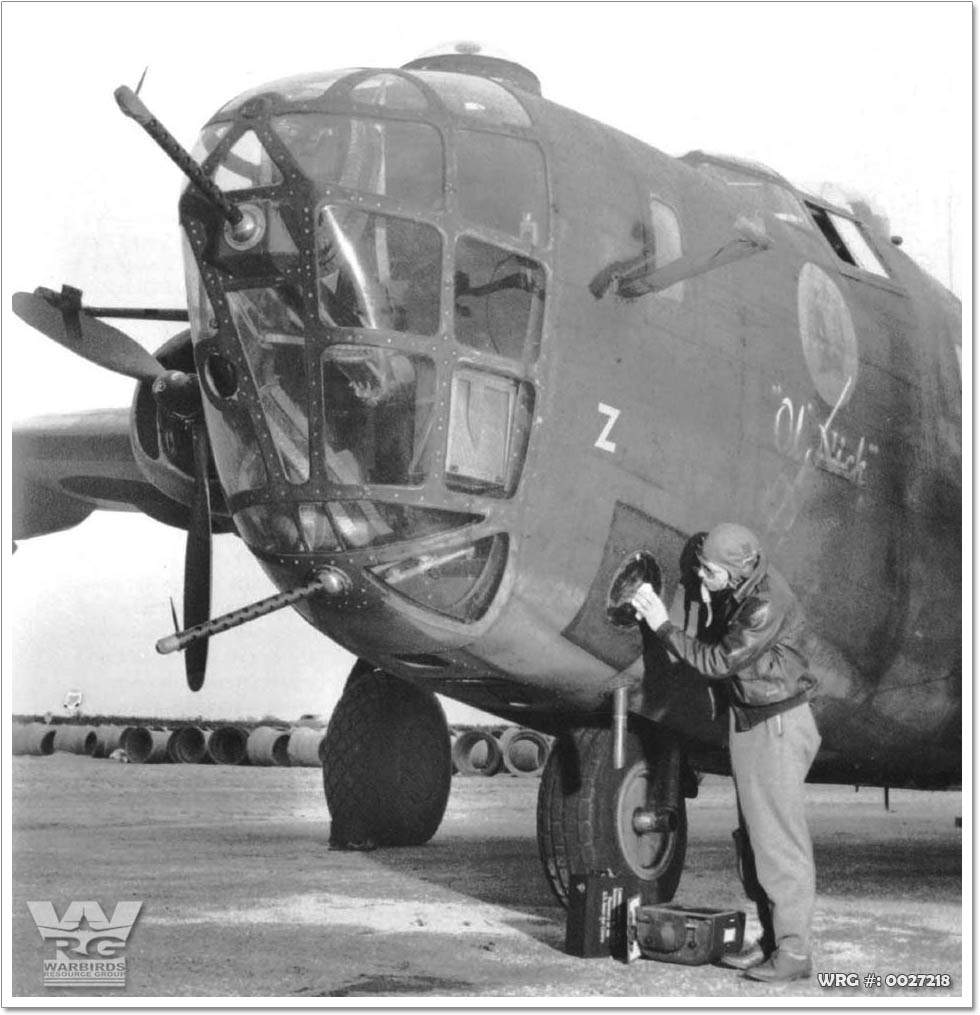 Consolidated XF-7
[Source: USAF Photo]
F-7
Photographic reconnaissance variant developed from the B-24H; -FO block.
F-7A
Photographic reconnaissance variant developed from the B-24J; three cameras in the nose and three in the bomb bay.
F-7B
Photographic reconnaissance variant developed from the B-24J; six cameras in the bomb bay.
BQ-8
A number of worn-out B-24D and B-24Js were converted as radio-controlled flying bombs to attack German targets. Joseph P. Kennedy, Jr. was killed in a BQ-8 during Operation Anvil.
---
Sources:
Gunston, Bill -
The Encyclodepia of the Worlds Combat aircraft
, 1976, Chartwell Books, Inc., New York
Wikipedia
---
U.S.A.A.F. RESOURCE CENTER
>
BOMBERS
>
LIBERATOR
>
PREVIOUS PAGE
---