---
U.S.A.A.F. RESOURCE CENTER
>
BOMBERS
>
FLYING FORTRESS
>
VARIANTS
>
PREVIOUS PAGE
---
BOEING B-17 FLYING FORTRESS
Variants - C-108 Flying Fortress
The first C-108 built (designated XC-108) was a B-17E (41-2593) converted to a V.I.P. transport for General Douglas MacArthur in 1943. With the exception of the nose and tail turrets, all armament was removed, as was all armor. The interior of the plane was made into a flying office for MacArthur, with extra windows, cooking facilities, and living space. To facilitate entry and exit, a drop-down door with steps was installed in the rear fuselage. A similar conversion as in XC-108 was made on a B-17F-40-VE (42-6036).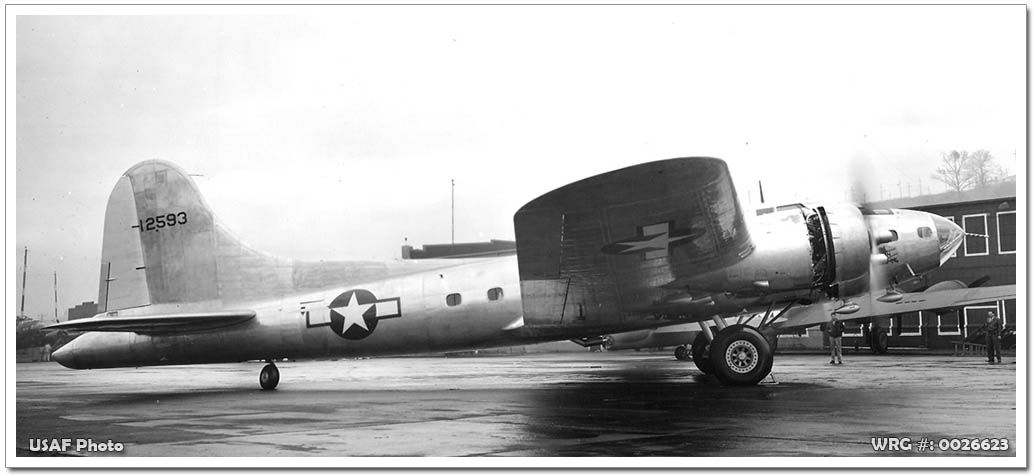 Boeing XC-108 Flying Fortress/41-2593.
[Source: USAF Photo]
Between August 1943 and March 1944, another B-17E (41-2595) was converted to a cargo aircraft and designated XC-108A. Hoping to convert obsolete bombers into cargo aircraft, the United States Army Air Forces initiated a remanufacturing station at Wright-Patterson Air Force Base. The plane was stripped of armament, armor, and other military equipment. Crew locations were shifted, and the nose was modified to provide space for cargo and/or personnel. The cockpit was accessed via the crawlway under it or through the hinged solid nose cone that had replaced the original glazed bombardier station. To increase cargo space, several bulkheads were removed and the bomb bay doors were sealed closed. This allowed much of the fuselage volume to be used to carry cargo or personnel.
A B-17F 42-30190 was converted (and given designation XC-108B) to tanker service. As in the XC-108A, it was devoid of armor and weapons, and the fuselage was modified to make space for its cargo. The fuselage was filled with fuel tanks.
Converted Aircraft:
• 41-2593 - A B-17E converted for use as a VIP transport for General Douglas MacArthur
in 1943 and designated XC-108.
• 41-2595 - A B-17E converted for use as a cargo transport designated XC-108A.
• 42-6036 - A B-17F converted for use as a VIP transport, similar to 41-2593,
designated YC-108.
• 42-30190 - A B-17F converted for use as a tanker and designated XC-108B.

---
Sources:
Wikipedia
---
U.S.A.A.F. RESOURCE CENTER
>
BOMBERS
>
FLYING FORTRESS
>
VARIANTS
>
PREVIOUS PAGE
---