---
U.S.A.A.F. RESOURCE CENTER
>
BOMBERS
>
FLYING FORTRESS
>
VARIANTS
>
PREVIOUS PAGE
---
BOEING B-17 FLYING FORTRESS
Variants - B-17G
Generally considered the definitive B-17 design, all changes made in the B-17F production run were incorporated into the final version. These included a Bendix remotely operated chin turret, an innovation derived from the unsuccessful YB-40 escort version, bringing defensive armament to 13 .50 caliber (half-inch or 12.7 mm) machine guns, with the starboard "cheek" machine gun mount moved one "window station" rearwards - and the portside mount placed forward, just behind the bombardier's Plexiglas nose edge, as a result of the needed stowage space for the chin turret's starboard interior-mounted, upward-pivoting control yoke when not in use. For late production blocks of the G-series, a revised tail gun position (referred to as the "Cheyenne" configuration after the modification center where it was introduced) in which the guns were mounted in a remotely operated turret. Some 8,680 were built, and dozens were converted for several different uses:
CB-17G: Troop transport version, capable of carrying 64 troops. 25 Built.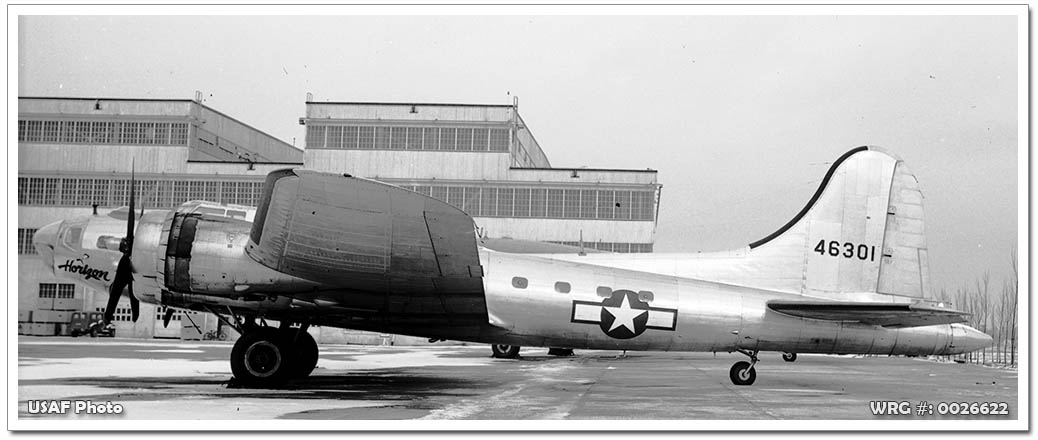 Boeing CB-17G-50-DL Flying Fortress/44-6301, at Patterson Field, OH on January 1, 1946.
[Source: USAF Photo]
DB-17G:
Drone variant.
JB-17G: Engine test-bed.
QB-17L: Target drone.
QB-17N: Target drone.
RB-17G: Reconnaissance variant.
SB-17G: Rescue version, later redesignated B-17H. Featured A-1 lifeboat under fuselage. After World War II, armament on the B-17Hs was removed; it was reinstated when the Korean War began.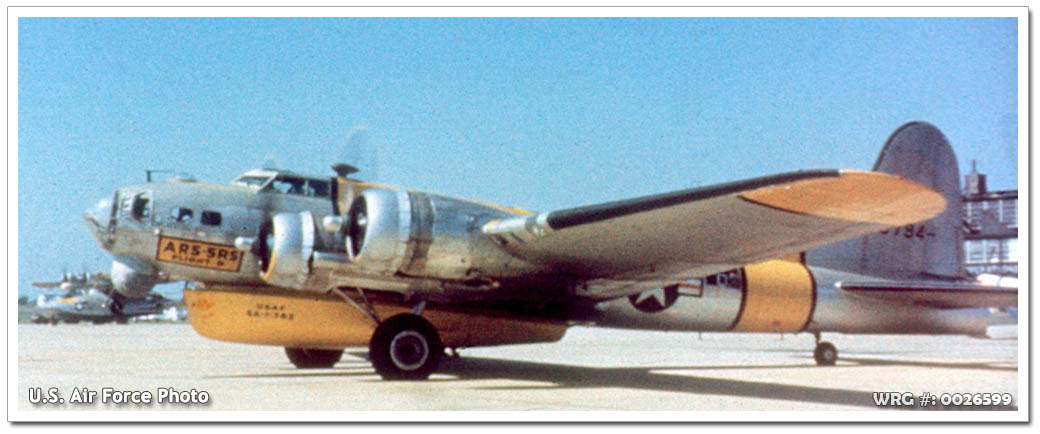 A U.S. Air Force Air Rescue Service Boeing SB-17G Flying Fortress of the 5th Rescue Squadron
before takeoff for the next rescue mission during the Korean War.
Note the Consolidated OA-10A Catalina (PBY) in the background.
National Museum of the U.S. Air Force photo 100617-F-1234S-008
TB-17G:
Special duty training version.
VB-17G: VIP transport.
PB-1: This designation was given to one B-17F and one B-17G. They were used by the U.S. Navy for various test projects.
PB-1G: This designation was given to 17 B-17Gs used by U.S. Coast Guard as air-sea rescue aircraft.
PB-1W: This designation was given to 31 B-17Gs used by the U.S. Navy as the first airborne early warning aircraft/ AWACS.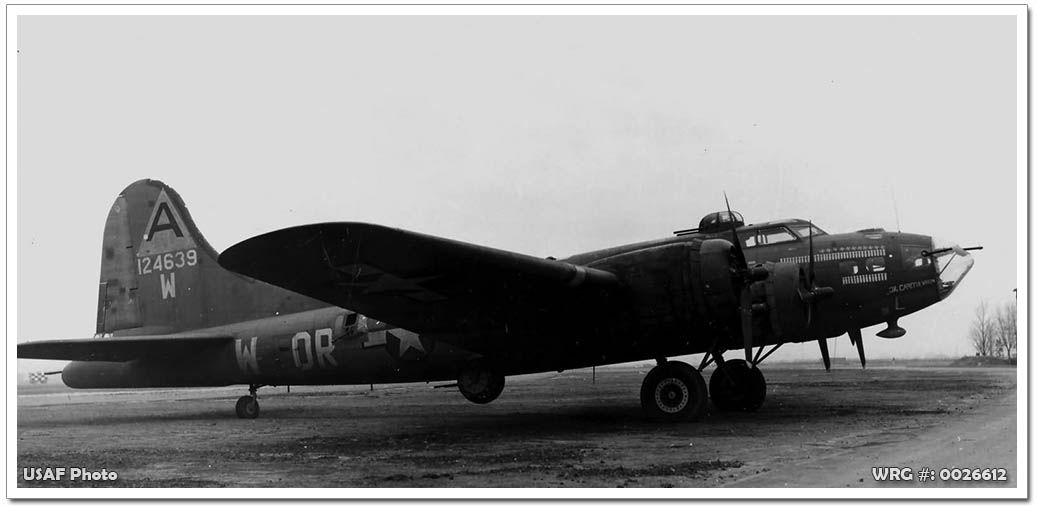 B-17F Flying Fortress/41-24639 of the 91st BG/322nd BS.
[Source: USAF Photo]
First Flight: August 16, 1943
Produced: 8,680 (-BO x 4,035/-DL x 2,395/-VE x 2,250)
---
Sources:
Wikipedia
---
U.S.A.A.F. RESOURCE CENTER
>
BOMBERS
>
FLYING FORTRESS
>
VARIANTS
>
PREVIOUS PAGE
---