---
U.S.A.A.F. RESOURCE CENTER
>
BOMBERS
>
FLYING FORTRESS
>
VARIANTS
>
PREVIOUS PAGE
---
BOEING B-17 FLYING FORTRESS
Variants - B-17E/Fortress IIA
The B-17E (299-O) was an extensive redesign of that used in previous models up to the B-17D. The most obvious change was a redesigned vertical stabilizer, originally developed for the Boeing 307 by George S. Schairer. The new fin had a distinctive shape for the time, with the other end of the fuselage retaining the well-framed, ten panel bombardier's nose glazing from the B-series design.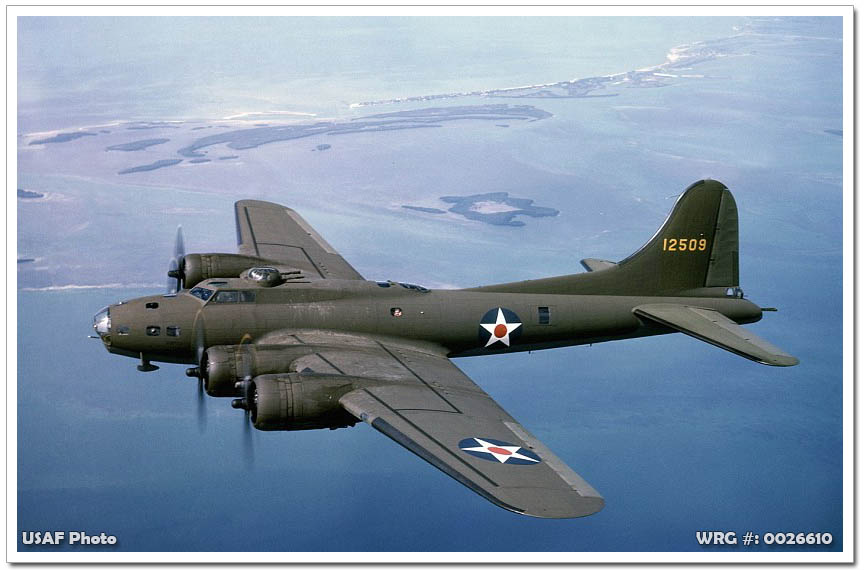 Boeing B-17E Flying Fortress.
[Source: USAF Photo]
Because experience had shown that the plane would be vulnerable to attack from behind, both a tail gunner's position and powered fully traversable dorsal turret behind the cockpit, each armed with a pair of "light-barrel" Browning AN/M2 .50 cal. machine guns, were added to the B-17E design. Until this modification, crews had had to devise elaborate maneuvers to deal with a direct attack from behind, including jerking the aircraft laterally, allowing the waist gunners to alternate shots at enemy fighters. The configuration with 3-window box would also appear on the B-29, and also adopted by Soviet bombers as late as the Tupolev Tu-16 Badger, and in different form on the B-52. The teardrop-shaped sliding panels of the waist gunners were replaced by larger rectangular windows, directly across the fuselage from each other, for better visibility. In the initial fifth of the production run, the ventral bathtub gun emplacement of the C and D versions was replaced by a remote-sighted Bendix turret, very similar to the unit placed on the B-25B Mitchell medium bomber of the same period, which proved to be a disappointment in usability, resulting in the remaining E-series aircraft being fitted with a Sperry ball turret, to be used for all succeeding B-17 versions.
A total of 512 were built — possibly from the July 1940-dated order from the USAAC for B-17s being for that specific number of airframes — making the B-17E the first mass-produced version of the B-17. One of these was later converted to the XB-38 Flying Fortress. Since production this size was too large for Boeing alone to handle, it was assisted by the Vega division of Lockheed and Douglas. Boeing also built a new plant, and Douglas added one specifically for production of the B-17.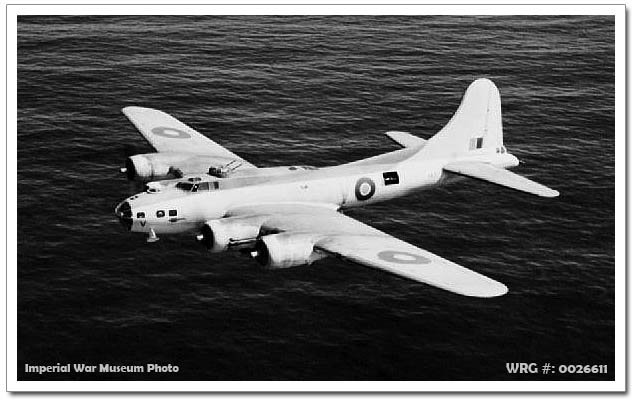 A Royal Air Force Coastal Command Boeing Fortress IIA (s/n FK212) of No. 220 Squadron RAF based at Benbecula in the Outer Hebrides, in flight over the Atlantic Ocean in May 1943.
[Source: Imperial War Museum Photo]
In the middle of 1942, 45 B-17Es were transferred to the RAF, where they served under the designation Fortress IIA. Likely because of the shortcomings of the Fortress I (B-17C), the RAF decided not to use the Fortress IIA as a daylight high-altitude bomber, the role for which it had been designed. Rather, they were transferred to the Coastal Command for anti-submarine patrol.
First Flight: September 5, 1941
Produced: 512

---
Sources:
Wikipedia
---
U.S.A.A.F. RESOURCE CENTER
>
BOMBERS
>
FLYING FORTRESS
>
VARIANTS
>
PREVIOUS PAGE
---