---
U.S.A.A.F. RESOURCE CENTER
>
BOMBERS
>
FLYING FORTRESS
>
VARIANTS
>
PREVIOUS PAGE
---
BOEING B-17 FLYING FORTRESS
Variants - B-17B
The B-17B (299M) was the first production model of the B-17 and was essentially a B-17A with a larger rudder, larger flaps, and a redesigned nose and 1,200 hp (895 kW) R-1820-51 engines. The small gun turret in the upper nose blister was replaced with a .30 in (7.62 mm) machine gun, its barrel run through a flexible ball socket; the separate bombardier's window was replaced with a shorter-depth, ten-panel, well framed "glass nose" for bomb-aiming, used through to the E-series airframes. During Army Air Corps service, its bulged machine gun blisters were replaced with the more aerodynamic flush side windows used through to the B-17D subtype.
In the interior of the plane, crew members were rearranged. Many internal systems were revised. Most notable of these was a switch from pneumatic to hydraulic brakes.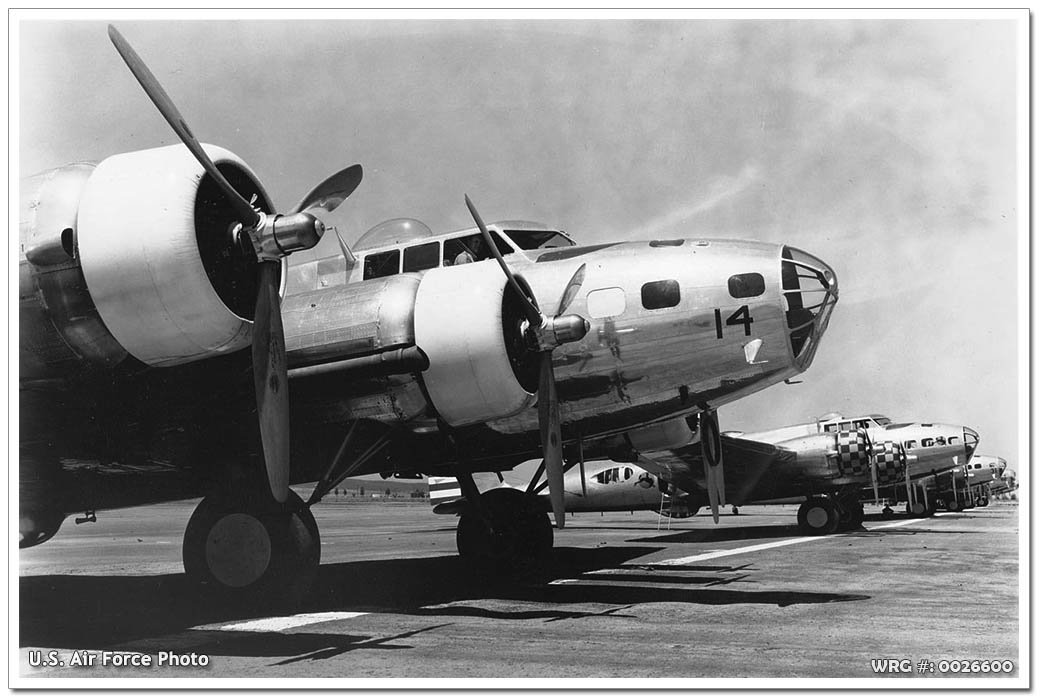 B-17B Flying Fortress.
In October 1942 all planes of the B-17B designation were redesignated RB-17B, R- indicating 'restricted'. The RB-17B was used for training, transport, messenger, and liaison duties; it was in effect a designation of obsolescence.
The "B" series made its maiden flight on June 27, 1939. 39 were built in a single production run, but Army Air Corps serial numbers were scattered over several batches. This was because of limited funding: the Army Air Corps could only buy a few B-17Bs at a time.
First Flight: June 27, 1939
Produced: 39
---
Sources:
Wikipedia
---
U.S.A.A.F. RESOURCE CENTER
>
BOMBERS
>
FLYING FORTRESS
>
VARIANTS
>
PREVIOUS PAGE
---