---
U.S.A.A.F. RESOURCE CENTER
>
BOMBERS
>
FLYING FORTRESS
>
PREVIOUS PAGE
---
BOEING B-17 FLYING FORTRESS
Postwar Usage
U.S. Air Force
Following the end of World War II, the B-17 was quickly phased out of use as a bomber and the Army Air Forces retired most of its fleet. Flight crews ferried the bombers back across the Atlantic to the United States where the majority were sold for scrap and melted down, although significant numbers remained in use in second-line roles such as VIP transports, air-sea rescue and photo-reconnaissance. Strategic Air Command (SAC), established in 1946, used reconnaissance B-17s (at first called F-9 [F for Fotorecon], later RB-17) until 1949. With the disestablishment of the U.S. Army Air Forces and the establishment of an independent U.S. Air Force in 1947, most extant B-17s were transferred to USAF.
The USAF Air Rescue Service of the Military Air Transport Service (MATS) operated B-17s as so-called "Dumbo" air-sea rescue aircraft. Work on using B-17s to carry airborne lifeboats had begun in 1943, but they entered service in the European theater only in February 1945, also being used to provide search and rescue support for B-29 raids against Japan. About 130 B-17s were converted to the air-sea rescue role, at first designated B-17H and later SB-17G. Some SB-17s had their defensive guns removed, while others retained their guns to allow use close to combat areas. The SB-17 served through the Korean War, remaining in service with USAF until the mid-1950s.

SB-17 Flying Fortress.
[Source: USAF Photo]
In 1946, surplus B-17s were chosen as drone aircraft for atmospheric sampling during the Operation Crossroads atomic bomb tests, being able to fly close to or even through the mushroom clouds without endangering a crew. This led to more widespread conversion of B-17s as drones and drone control aircraft, both for further use in atomic testing and as targets for testing surface-to-air and air-to-air missiles. One hundred and seven B-17s were converted to drones. The last operational mission flown by a USAF Fortress was conducted on 6 August 1959, when a DB-17P, serial 44-83684 directed a QB-17G, out of Holloman Air Force Base, New Mexico, as a target for an AIM-4 Falcon air-to-air missile fired from a McDonnell F-101 Voodoo. A retirement ceremony was held several days later at Holloman AFB, after which 44-83684 was retired.
U.S. Navy and Coast Guard
Under project Cadillac II, an AN/APS-20 radar was fitted onto the B-17G, making the – PB-1W one of the first AWACS.
During the last year of World War II and shortly thereafter, the United States Navy acquired 48 ex-USAAF B-17s for patrol and air-sea rescue work. The first two ex-USAAF B-17s, a B-17F (later modified to B-17G standard) and a B-17G were obtained by the Navy for various development programs. At first, these aircraft operated under their original USAAF designations, but on 31 July 1945 they were assigned the naval aircraft designation PB-1, a designation which had originally been used in 1925 for the Boeing Model 50 experimental flying boat.
Thirty-two B-17Gs were used by the Navy under the designation PB-1W, the suffix -W indicating an airborne early warning role. A large radome for an S-band AN/APS-20 search radar was fitted underneath the fuselage and additional internal fuel tanks were added for longer range, with the provision for additional underwing fuel tanks. Originally, the B-17 was also chosen because of its heavy defensive armament, but this was later deleted. These aircraft were painted dark blue, a standard Navy paint scheme which had been adopted in late 1944. The PB-1W eventually evolved into an early warning aircraft by virtue of its APS-20 search radar. PB-1Ws continued in USN service until 1955, gradually being phased out in favor of the Lockheed WV-2 (known in the USAF as the EC-121, a designation adopted by USN in 1962), a military version of the Lockheed 1049 Constellation commercial airliner.
In July 1945, 16 B-17s were transferred to the Coast Guard via the Navy; these aircraft were initially assigned U.S. Navy Bureau Numbers (BuNo), but were delivered to the Coast Guard designated as PB-1Gs beginning in July 1946. Coast Guard PB-1Gs were stationed at a number of bases in the U.S. and Newfoundland, with five at Coast Guard Air Station Elizabeth City, North Carolina, two at CGAS San Francisco, two at NAS Argentia, Newfoundland, one at CGAS Kodiak, Alaska, and one in Washington state. They were used primarily for air-sea rescue, but were also used for iceberg patrol duties and for photo mapping. Air-sea rescue PB-1Gs, often nicknamed as Dumbo patrol aircraft, usually carried a droppable lifeboat underneath the fuselage and the chin turret was often replaced by a radome. The Coast Guard PB-1Gs served throughout the 1950s, the last example not being withdrawn from service until 14 October 1959.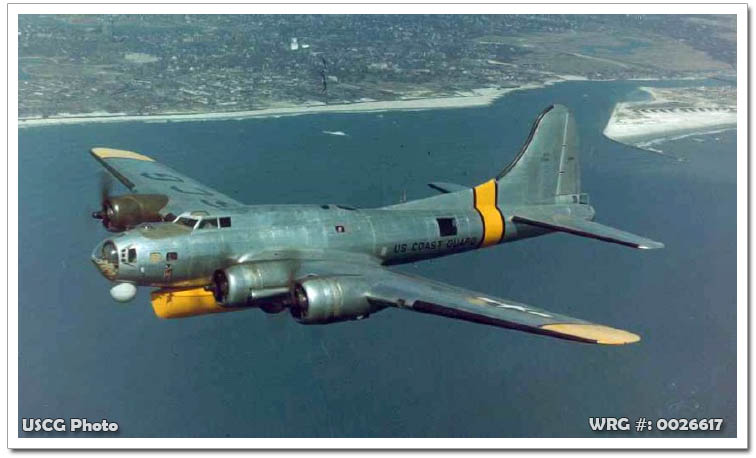 PB-1G Flying Fortress.
[Source: USCG Photo]
Special operations
A number of B-17s were used by the CIA front companies Civil Air Transport, Air America and Intermountain Aviation for special missions. These included B-17G 44-85531, registered as N809Z. These aircraft were primarily used for agent drop missions over the People's Republic of China, flying from Taiwan, with Taiwanese crews. Four B-17s were shot down in these operations.
In 1957 the surviving B-17s had been stripped of all weapons and painted black. One of these Taiwan-based B-17s was flown to Clark Air Base in the Philippines in mid-September, assigned for covert missions into Tibet.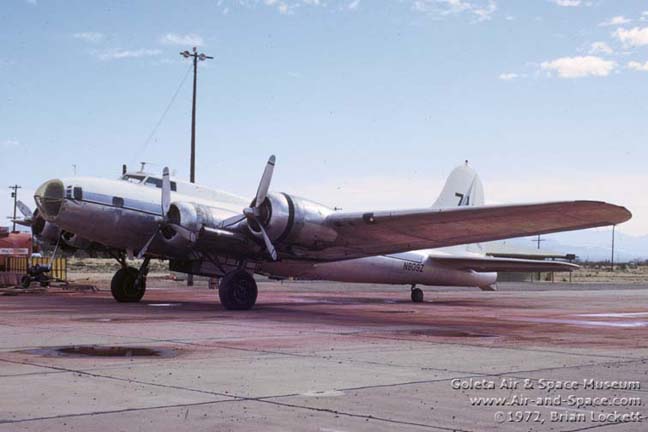 B-17 Flying Fortress/44-85531/N809Z.
[Source: Brian Lockett]
On 28 May 1962, N809Z, piloted by Connie Seigrist and Douglas Price, flew Major James Smith, USAF and Lieutenant Leonard A. LeSchack, USNR to the abandoned Soviet arctic ice station NP 8, as Operation Coldfeet. Smith and LeSchack parachuted from the B-17 and searched the station for several days. On 1 June, Seigrist and Price returned and picked up Smith and LeSchack using a Fulton Skyhook system installed on the B-17. N809Z was used to perform a Skyhook pick up in the James Bond movie Thunderball in 1965. This aircraft, now restored to its original B-17G configuration, is on display in the Evergreen Aviation & Space Museum in McMinnville, Oregon.
---
Sources:
Wikipedia
---
U.S.A.A.F. RESOURCE CENTER
>
BOMBERS
>
FLYING FORTRESS
>
PREVIOUS PAGE
---