---
U.S.A.A.F. RESOURCE CENTER
>
BOMBERS
>
FLYING FORTRESS
>
PREVIOUS PAGE
---
BOEING B-17 FLYING FORTRESS
Captured/Interned Aircraft
Luftwaffe-captured B-17s
During World War II, after crash-landing or being forced down, approximately 40 B-17s were captured and refurbished, with about a dozen put back into the air. Given German Balkenkreuz national markings on their wings and fuselage sides, and "Hakenkreuz" swastika tail fin-flashes, the captured B-17s were used to determine the B-17's vulnerabilities and to train German interceptor pilots in attack tactics. Others, with the cover designations Dornier Do 200 and Do 288, were used as long-range transports by the Kampfgeschwader 200 special duties unit, carrying out agent drops and supplying secret airstrips in the Middle East and North Africa. They were chosen specifically for these missions as being more suitable for this role than other available German aircraft; they never attempted to deceive the Allies and always wore full Luftwaffe markings. One B-17 of KG200, bearing the Luftwaffe's KG 200 Geschwaderkennung (combat wing code) markings A3+FB, was interned by Spain when it landed at Valencia airfield, 27 June 1944, remaining there for the rest of the war. It has been alleged that some B-17s kept their Allied markings and were used by the Luftwaffe in attempts to infiltrate B-17 bombing formations and report on their positions and altitudes. According to these allegations, the practice was initially successful, but Army Air Force combat aircrews quickly developed and established standard procedures to first warn off, and then fire upon any "stranger" trying to join a group's formation.

Soviet-interned B-17s
The U.S. did not offer B-17s to the Soviet Union as part of its war materiel assistance program, but at least 73 aircraft were acquired by the Soviet Air Force. These aircraft had landed with mechanical trouble during the shuttle bombing raids over Germany or had been damaged by a Luftwaffe raid in Poltava. The Soviets restored 23 to flying condition and concentrated them in the 890th bomber regiment of the 45th bomber division, but they never saw combat. In 1946 the regiment was assigned to the Kazan factory to aid in the Soviet effort to reproduce the more advanced Boeing B-29 as the Tupolev Tu-4.
Swiss-interned B-17s
During the war, the Allied bomber offensive sometimes took U.S. or British bombers into Swiss airspace, either damaged craft seeking safety or on rare occasions bombing Swiss cities by accident. Swiss aircraft would attempt to intercept and force individual aircraft to land, interning their crews; one Swiss pilot was killed, shot down by a U. S. bomber crew in September 1944. From then on, red and white neutrality bands were added to the wings of Swiss aircraft to stop accidental attacks by Allied aircraft.
Official Swiss records identify 6,501 airspace violations during the course of the war, with 198 foreign aircraft landing on Swiss territory and 56 aircraft crashing there. In October 1943 the Swiss interned Boeing B-17F-25-VE, tail number 25841, and her U.S. flight crew after the Flying Fortress developed engine trouble and was forced to land following its bombing raid over Germany. The aircraft was then turned over to the Swiss Air Force, who then flew the bomber until the end of the war, using other interned but non-flyable B-17s for spare parts. The bomber was repainted a dark olive drab, but retained its light gray-painted under surfaces. It carried Swiss national white cross insignia in red squares on both sides of its rudder, fuselage sides, and the underside wings, with white crosses in red roundels atop both upper wings. As on its gray under surfaces, the B-17F also carried light gray flash letters "RD" and "I" on either side of the Swiss national insignia.
Japanese-captured B-17s
Three damaged B-17s, one "D" model and two "E" models, were rebuilt to flying status by Japanese technicians and mechanics; the parts used were stripped from captured B-17 wrecks in both the Philippines and the Netherlands East Indies. The three bombers, containing captured top secret Norden Bombsights, were then flown to Japan where they underwent extensive technical evaluation by the Imperial Japanese Army Air Force's Air Technical Research Laboratory (Koku Gijutsu Kenkyujo). The "D" model was later deemed an obsolete design and the two "E" models were used to develop B-17 air combat counter-tactics; they were also used as enemy aircraft in several Japanese propaganda films. One of the captured "E" flying fortresses was photographed and code named "Tachikawa 105" after its wing span was measured; U. S. aerial photo recon analysts never identified it as a captured B-17 until after the war. No traces of these captured Flying Fortresses were found in Japan by Allied occupation forces; they were assumed scrapped late in the war for their vital war materials.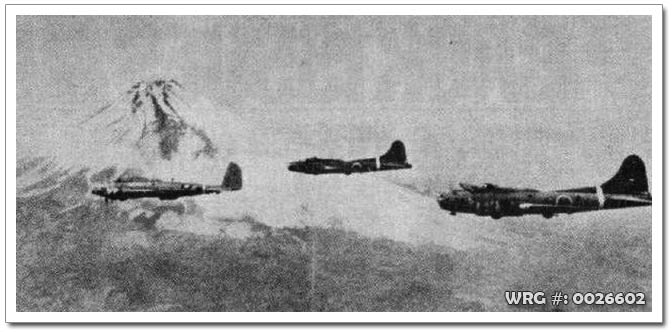 ---
Sources:
Gunston, Bill -
The Encyclodepia of the Worlds Combat aircraft
, 1976, Chartwell Books, Inc., New York
Wikipedia
---
U.S.A.A.F. RESOURCE CENTER
>
BOMBERS
>
FLYING FORTRESS
>
PREVIOUS PAGE
---