---
U.S.A.A.F. RESOURCE CENTER
>
USAAF ACES & LEGENDS
>
PREVIOUS PAGE
---
MORTON D. "Mogin" MAGOFFIN
---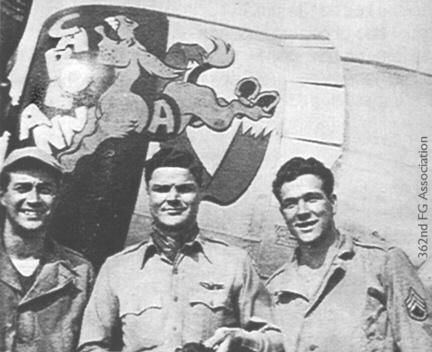 ---
Rank:
Colonel
Unit(s):
9th Air Force
– 362nd Fighter Group, CO
— "Mogin's Maulers"
Theatre(s): ETO
Decoration:
– Distingushed Service Cross
– Silver Star
– Distinguished Flying Cross
– Air Medal w/16 OLC
– Purple Heart
– Belgian Croix de Guerre
– French Croix de Guerre

Victories: 5
Total Sorties: N/A
Aircraft Flown:
– P-47D Thunderbolt "CAROL ANN"
– P-47D Thunderbolt "CAROL ANN II"
— SN: 42-26628, E4*M


---

Place Of Birth: N/A
Date Of Birth: N/A
Education:
U.S. Military Academy at West Point
U.S. Army Air Corps Flying School at Kelly Field,Texas
– Graduated "First in Class in Pursuit Aviation", 1938.
---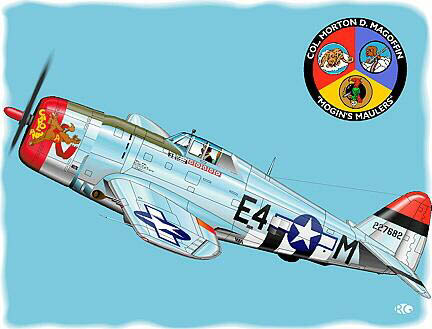 ---
Service:
1st Pursuit Group at Selfridge Field, Michigan
15th Pursuit Group at Wheeler Field near Pearl Harbor, Hawaii - Dec. 7, 1941
Fighter Replacement Pilot Training Staff, III FC at Tampa, Florida - Magoffin contacted the I FC to form his own organisation. Served temporarily with the 359th FG. Activated and assigned Command of the 362nd FG, Mar. 1, 1943 and saw the Group training at Westover Field, Bradley Field, Groton Air Field and Mitchell Field through the end of 1943. Arrived under VIII FC at Wormingford, Essex, England and later to Maidenstone, Kent, England.
Magoffin flew operational (training) missions while attached to the 355th FG, his 362nd FG becoming operational escorting B-24 heavy bombers over the Pas de Calais on February 8, 1944. Lt. Col. F. Gabreski of the 56th FG led the 362nd on its first five missions.
Col. Magoffin was credited with the 362nd's first claim, a "Probable" Bf/Me 109 over Germany on Feb. 10, 1944. 362nd later under IX FC. Post-Invasion, the 362nd FG moved to continental A-12 at Caen, France. Came under XIX TAC in support of Gen. George S. Patton's Third Army. While leading the 378th FS, Aug. 10, 1944, Magoffin's P-47 was hit by flak - Severely wounded, Magoffin bailed-out, was captured and hospitalized by the Germans at Etain, France and later in Paris - was released from captivity when the Allies took Paris.
Returning to the USA, after recovering from injuries, Col. Magoffin served with Air Training Command in California and North Carolina. In Alaska, Magoffin broke his back in a jet flame-out crash. Served at the Air War College, the Pentagon, the Far East and Mather Field until his lingering injuries forced an early retirement.
Remarks:
FROM "MAGOFFIN'S OFFICERS' GUIDE"
Rule #6. No drinking can be tolerated during duty hours or prior to any flying duty.
If you must have a bottle during the day, then come around and get it over the head.
Col. Magoffin is the "Mogin" in "Mogin's Maulers"

---
Source: Artwork courtesy of Rocky Gooch. Photo courtesy of the 362nd Fighter Group Association.
---
U.S.A.A.F. RESOURCE CENTER
>
USAAF ACES & LEGENDS
>
PREVIOUS PAGE
---