---
U.S. NAVAL AVIATION RESOURCE CENTER
>
BOMBERS
>
PREVIOUS PAGE
---
VOUGHT SB2U VINDICATOR
Operational History
U.S. Navy
Vindicators served on four carriers, USS Lexington, USS Saratoga, USS Ranger, and USS Wasp between December 1937 and September 1942. Air Group Nine, destined for USS Essex, trained in Vindicators aboard the auxiliary carrier USS Charger but transitioned to the SBD Dauntless before Essex joined the war.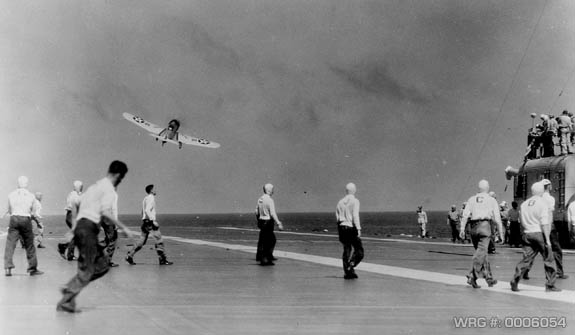 Personnel make their way across the flight deck of the carrier U.S.S. Lexington moments after an SB2U Vindicator of VB 2 launched from the ship on November 3, 1940
(Source: U.S. Navy)
U.S. Marine Corps
VMSB-131 and VMSB-241 were the only two USMC squadrons that fielded the Marine-specific SB2U-3 between March 1941 and September 1943. VMSB-241's Vindicators saw combat at the Battle of Midway in June 1942.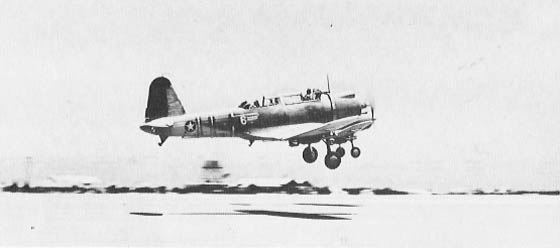 Two Vought SB2U-3 Vindicator of Marine scout bomber squadron VMSB-241 take off from Midway's Eastern Island on a training flight between 27 May and 4 June 1942. Plane No. 6 in the foreground (BuNo 2045) was flown on 4 June 1942 by 2nd Lt James H. Marmande with PFC Edby Colvin as gunner. This plane was flown in the morning attack against the Japanese and disappeared on the night of 4/5 June about 16 km (10 mi) from Midway while returning from another strike. (Source: U.S. Navy)
French Marine Nationale
Based on the SB2U-2, the V-156-F incorporated specific French equipment. Briefly after the deliveries started in July 1939, V-156-F crews were trained for carrier operations aboard Béarn, but when the war broke out the old carrier was declared too slow for operational service. As a result V-156-F-equipped units, escadrilles AB 1 and AB 3, were based ashore when the Battle of France started. AB 1 sustained heavy losses while attacking bridges and German ground targets in Northern France, while AB 3's V-156-Fs were briefly engaged against the Italians. By the time of the Armistice, there were only a handful of remaining Voughts in French hands, and the type was phased out of service.
Royal Navy
Chesapeakes were obtained by the Fleet Air Arm in July 1941, and used to equip a reformed 811 Naval Air Squadron whose crews referred to it as the "cheesecake." The squadron was intended to use them for anti-submarine patrols and was earmarked for the escort carrier HMS Archer.
By the end of October that year, it had been decided that the Chesapeakes were under-powered for the planned duties and would not be able to lift a sensible warload from the small escort carriers. Accordingly, they were withdrawn and 811 NAS was re-equipped with the Fairey Swordfish.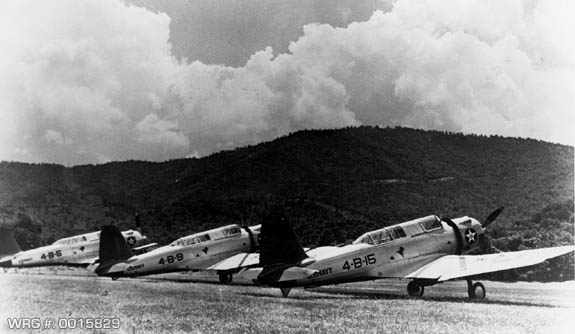 SB2U Vindicators of VB 4 on a grass strip at
White Sulphur Springs, West Virginia, on July 11, 1940.
(Source: U.S. Navy)
Around 170 of all Vindicator variants were produced, and a single example is preserved at the National Museum of Naval Aviation at NAS Pensacola.
---
Sources:
Wikipedia
---
U.S. NAVAL AVIATION RESOURCE CENTER
>
BOMBERS
>
VINDICATOR
>
PREVIOUS PAGE
---