---
U.S. NAVAL AVIATION RESOURCE CENTER
>
BOMBERS
>
VINDICATOR
>
PREVIOUS PAGE
---
VOUGHT SB2U VINDICATOR
Design & Development
In 1934, the U.S. Navy issued a requirement for a new Scout Bomber for carrier use, and received proposals from six manufacturers. The specification was issued in two parts, one for a monoplane, and one for a biplane. Vought submitted designs in both categories, which would become the XSB2U-1 and XSB3U-1 respectively. The biplane was considered alongside the monoplane design as a "hedge" against the U.S. Navy's reluctance to pursue the modern configuration.
The XSB2U-1 was of conventional low-wing tailwheel monoplane configuration, with the pilot and tail gunner seated in tandem under a long greenhouse-style canopy. Its only remarkable design feature was a propeller with reversible pitch, allowing it to be used to brake the aircraft during a dive bombing attack.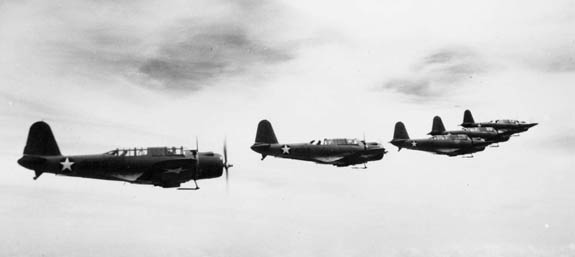 SB2U Vindicators of VS-41 in flight over the Atlantic on September 7, 1942
(Source: U.S. Navy)
The SB2U was evaluated against the Brewster XSBA-1, Curtiss XSBC-3, Great Lakes XB2G-1, Grumman XSBF-1 and Northrop XBT-1. All but the Great Lakes and Grumman submissions were ordered into production. Designated XSBA-1, one prototype was ordered on 15 October 1934 and was delivered on 15 April 1936. Used for operational evaluation, its successful completion of trials led to further orders.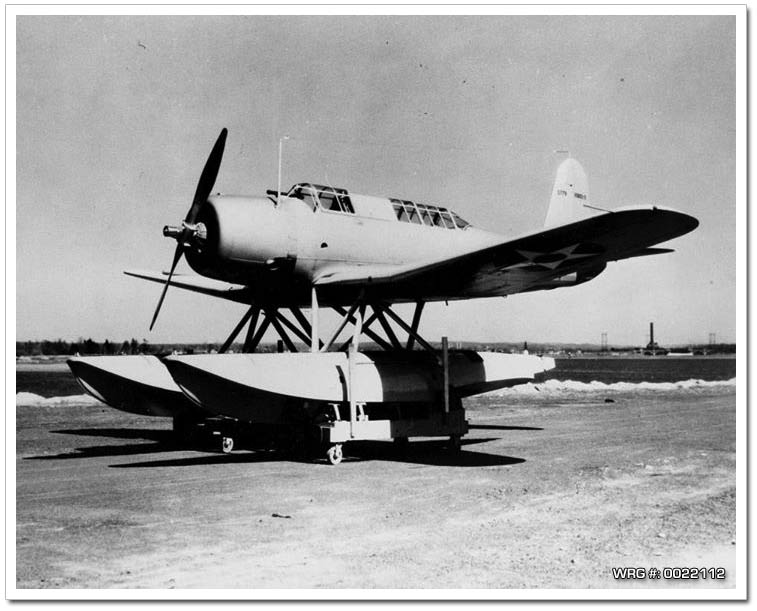 XSB2U-3 Vindicator on floats, April 5, 1939
(Source: U.S. Navy)
---
Sources:
Wikipedia
---
U.S. NAVAL AVIATION RESOURCE CENTER
>
BOMBERS
>
VINDICATOR
>
PREVIOUS PAGE
---