---
U.S. NAVAL AVIATION RESOURCE CENTER
>
FLYING BOATS
>
TRADEWIND
>
PREVIOUS PAGE
---
CONVAIR R3Y TRADEWIND
Operational History
The R3Y set a transcontinental seaplane record of 403 mph in 1954 by utilizing the speed of high-altitude jetstream winds. This record still stands.
After service trials the aircraft were delivered to US Navy transport squadron VR-2 on 31 March 1956. Problems with the engine/propeller combination led to the ending of Tradewind operations and the unit was disbanded on 16 April 1958.
The six R3Y-2s were converted into four-point in-flight tankers using the probe-and-drogue method. In September 1956 one example was the first aircraft to successfully refuel four others simultaneously in flight in 1956, refuelling four Grumman F9F Cougars.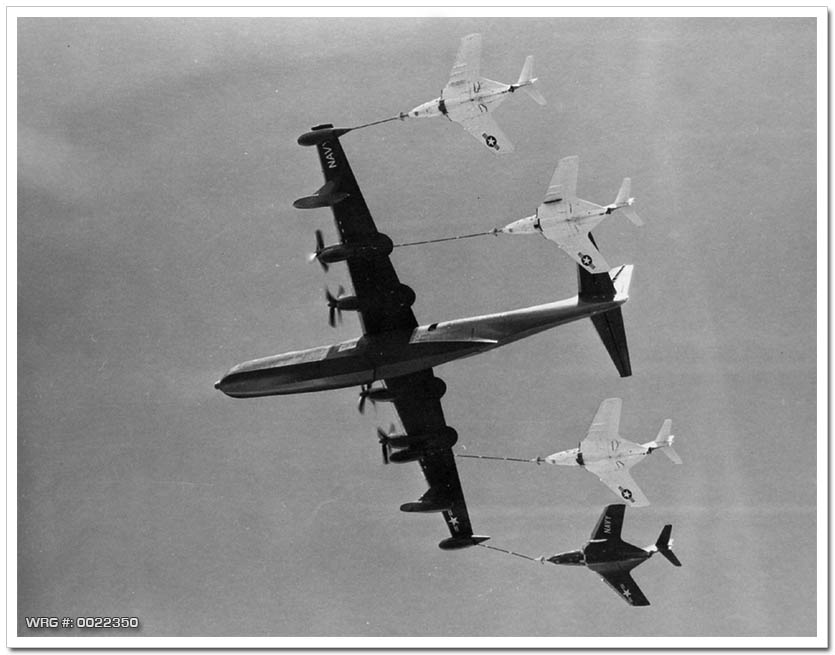 R3Y-2 Tradewind refuels a record four fighters in flight, 1956.
[Source: U.S. Navy via Mark Allen Collection]
The program was halted after thirteen aircraft were built, the reason being the unreliability of the Allison T-40 turboprops. The crash of one of the two XP5Y-1 aircraft was judged due to catastrophic engine failure; when little progress was being made with the engine problems, the Navy halted the program. Subsequently three more aircraft were lost through engine failures, and the Navy gave up on the T-40 and aircraft powered by it. All the P5Y and R3Y aircraft were grounded in 1958 and subsequently broken up.
Source:
Wikipedia

---
U.S. NAVAL AVIATION RESOURCE CENTER
>
FLYING BOATS
>
TRADEWIND
>
PREVIOUS PAGE
---