---
U.S. NAVAL AVIATION RESOURCE CENTER > SEAPLANES & FLYING BOATS > SO3C SEAMEW > PREVIOUS PAGE

---
CURTISS SO3C SEAMEW
Operational History
Royal Navy
A number of the SO3C-1s, not a floatplane, but a fixed undercarriage version, were ordered by the Royal Navy Fleet Air Arm under the terms of Lend-Lease. In RN service the SO3C was given the designation "Seamew", a name used again in the 1950s for the Short Seamew. Crews gave it the more appropriate name "Sea Cow".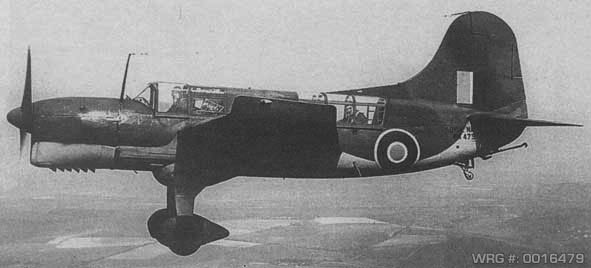 Curtiss Seamew Mk. I
[Source: Unknown]

Lettice Curtis, in her book Forgotten Pilots: Story of the Air Transport Auxiliary, 1939-45
, stated 'that although its standard fuel tanks held 300 gallons, it would only just take off with the eighty gallons' fixed as the maximum for Air Transport Auxiliary trips. In addition the tail needed to be raised before becoming airborne, as 'it was possible to take-off in an attitude from which it was both impossible to recover and in which there was no aileron control'. The final comment from this experienced pilot was 'it is hard to imagine how, even in wartime, such an aircraft could have been a ccepted from the factory, let alone given valuable cargo space across the Atlantic'.

The first batch for the RN was to have a centreline bomb rack and arrestor gear. Later versions, known as the Seamew Mk.I, were the SO3-2C variant. 250 Seamews were allocated and some 100 actually delivered, the last batch was refused in favour of additional Vought Kingfishers. Deliveries to the RN started in January 1944. It was declared obsolete in September the same year and completey removed from service in 1945.

The SO3-1K was to have been taken into service as the Queen Seamew, but an order of 30 was cancelled.

Seamews served with No. 744 NAS and No. 745 NAS at RCAF Yarmouth, Nova Scotia Canada, and with No. 755 NAS based in Hampshire, UK.

---
Sources:
Wikipedia
---
U.S. NAVAL AVIATION RESOURCE CENTER > SEAPLANES & FLYING BOATS > SO3C SEAMEW > PREVIOUS PAGE

---
---