---
U.S. NAVAL AVIATION RESOURCE CENTER
>
BOMBERS
>
HELLDIVER
>
PREVIOUS PAGE
---
CURTISS SBC HELLDIVER
Design & Development
In 1932, the U.S. Navy gave Curtiss a contract to design a parasol two-seat monoplane with retractable undercarriage and powered by a Wright R-1510 Whirlwind, intended to be used as a carrier-based fighter. The resulting aircraft, designated the XF12C-1, flew in 1933. Its chosen role was changed first to a scout, and then to a scout-bomber (being redesignated XS4C-1 and XSBC-1 respectively), but the XSBC-1's parasol wing was unsuitable for dive bombing. A revised design was produced for a biplane, with the prototype, designated the XSBC-2, first flying on December 9, 1935.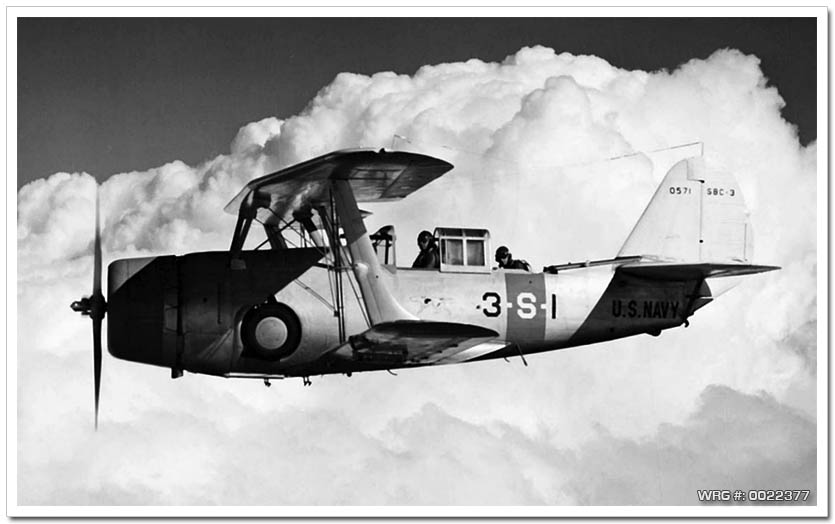 The VS-3 CO's SBC-3, assigned to USS Saratoga (CV-3), circa 1939.
[Source: U.S. Navy]
The SBC-3 the initial production model was powered by a Pratt & Whitney R-1535 Twin Wasp Junior. The SBC-3 began operational service in 1938. A total of 83 SBC-3s were built.
The SBC-4 was powered by a Wright R-1820 Cyclone. The SBC-4 entered service in 1939.
---
Source(s):
Wikipedia
Bowers, Peter M. Curtiss Aircraft, 1907-1947. London: Putnam & Company, 1979.
Swanborough, Gordon and Peter M. Bowers. United States Navy Aircraft since 1911. London: Putnam, 1976.

---
U.S. NAVAL AVIATION RESOURCE CENTER
>
BOMBERS
>
HELLDIVER
>
PREVIOUS PAGE
---