---
U.S. NAVAL AVIATION RESOURCE CENTER
>
FIGHTERS
>
PREVIOUS PAGE
---
McDONNELL FH-1 PHANTOM
---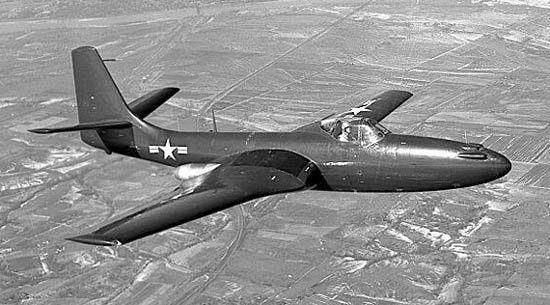 ---
The McDonnell FH-1 Phantom was a twin-engined jet fighter aircraft designed and first flown during World War II for the United States Navy. The Phantom was the first purely jet-powered aircraft to land on an American aircraft carrier and the first jet deployed by the United States Marine Corps. Although its front-line service was relatively brief, it proved the viability of carrier-based jet fighters to the leadership of the US Navy. Furthermore, it was McDonnell's first successful fighter, leading to the development of the follow-on F2H Banshee, one of the two most important naval jet fighters of the Korean War.
---
Type: Carrier based interceptor
Origin: McDonnell Aircraft Corporation
Crew: One
Model: XFD-1, FD-1 (Later FH-1)
First Flight: January 26, 1945
Production:
– 1 Prototype
– 60 production aircraft


---

POWERPLANT(S):
Model: Westinghouse WE-19XB-2B
Type: Axial-Flow turbojet
Number: Two Thrust: 1,600 lb.


---

DIMENSIONS:
Wing span: 40 ft. 9 in.
Length: 37 ft. 3 in.
Height: 14 ft. 1.5 in.
Wing Surface Area: 276 sq. ft.

WEIGHTS:
Empty: 6,156 lb.
Loaded: 8,626 lb.
Maximum Loaded: 9,531 lb.

PERFORMANCE:
Maximum Speed:
487 mph at sea level
483 mph at 20,000 ft.
Cruising Speed: 314 mph
Initial Climb Rate: 4,960 ft./min.
Service Ceiling: 43,700 ft.
Absolute Ceiling: 39,500 ft.
Normal Range: 540 miles at 250 mph
Maximum Range: 750 miles


---

ARMAMENT:
Four .50 in. machine guns in nose.

---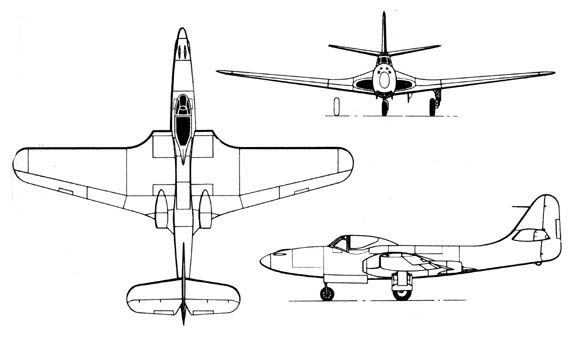 ---
Sources:
Wikipedia: McDonnell FH-1 Phantom
---
U.S. NAVAL AVIATION RESOURCE CENTER
>
FIGHTERS
>
PREVIOUS PAGE
---