---
U.S. NAVAL AVIATION RESOURCE CENTER > RECON/OBSERVATION AIRCRAFT > P4M MERCATOR > PREVIOUS PAGE

---
MARTIN P4M MERCATOR
Operational History
The US Navy chose the smaller, simpler, cheaper and better performing P2V Neptune for the maritime patrol requirement, but nineteen aircraft were ordered in 1947 for high-speed minelaying purposes. The P4M entered service with Patrol Squadron 21 (VP-21) in 1950, the squadron deploying to Port Lyautey (now Kenitra) in French Morocco. It remained in use with VP-21 until February 1953.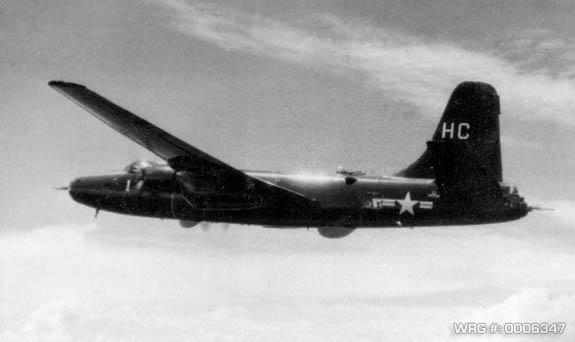 A Martin P4M-1 Mercator of patrol squadron VP-21 in 1950.
(Source: U.S. Navy)

From 1951, the 18 surviving production P4Ms were modified for the electronic reconnaissance (or SIGINT, for signals intelligence) mission as the P4M-1Q, to replace the PB4Y-2 Privateer. The crew was increased to 14 and later 16 to operate all the surveillance gear, and the aircraft was fitted with a large number of different antennas.

Starting in October 1951, electronic surveillance missions were flown from U.S. Naval Station Sangley Point in the Philippines (and, later from the Naval Air Station Iwakuni, Japan, and later Naval Air Station Atsugi, Japan, by a secretive unit that eventually gained the designation [first as Electronic Countermeasures Squadron ONE, later as Fleet Air Reconnaissance Squadron ONE (VQ-1). Long missions were flown along the coast (about 30 NM of shore) of Viet Nam, China, North Korea and the eastern Soviet Union, and were of a highly secret nature; the aircraft some times masqueraded as regular P2V Neptunes in radio communications, and often flew with false serial numbers (Bureau Numbers) painted under the tail. Operational missions were always flown at night, the dark of the moon and with no external running lights. serial numbers.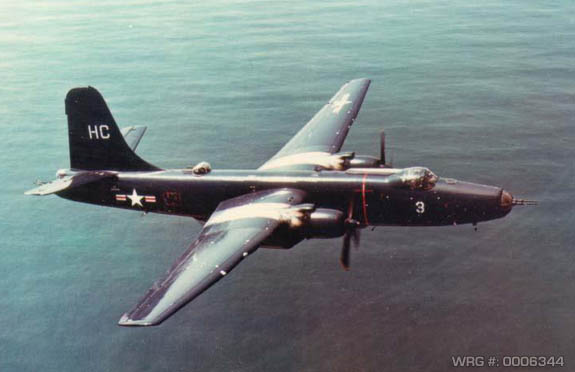 A Martin P4M-1 Mercator (Bu 142209) of patrol squadron VP-21.
(Source: U.S. Navy)

One Mercator was shot down near Shanghai by Chinese fighters on August 22, 1956, with its crew of 16 all killed. Also see New York Times August 1956. Another P4M-1Q was attacked by two North Korean MiG-17s on June 16, 1959 with heavy damage and serious injury to the tail gunner.[9] The aircraft were also operated out of Morocco by VQ-2, where one aircraft was intercepted near Ukrainian airspace by Soviet MiG's. It escaped by flying under jet power but ran out of fuel and crashed into Mediterranean Sea with the loss of all crew. Another, in 1952, ditched north of Cyprus at night, out of fuel, no power, losing ony the Aircraft Commander/pilot after they were in the water (See United States Naval Institute, Naval History, March/April 1997).

The Mercators were replaced by the EA-3B Skywarrior, which being carrier-based had a greater degree of flexibility and the larger Lockheed WV-2Q Warning Star. Final withdrawal from service was in 1960, and all of the remaining P4Ms were scrapped.
---
Sources:
Wikipedia
---
U.S. NAVAL AVIATION RESOURCE CENTER > RECON/OBSERVATION AIRCRAFT > P4M MERCATOR > PREVIOUS PAGE

---