---
U.S. NAVAL AVIATION RESOURCE CENTER
>
BOMBERS
>
MAULER GALLERY
>
PREVIOUS PAGE
---
MARTIN AM MAULER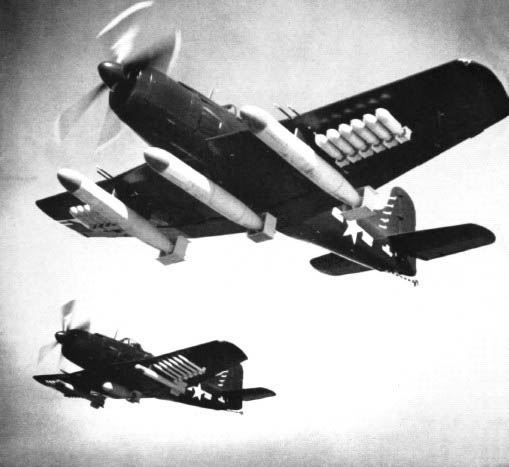 Subject: AM-1 Mauler
Location: N/A
Author: U.S. Navy
Source: NMNA
Copyright: Public Domain
WRG Ref #: 0006439

Comments:
Two Martin AM-1 Mauler attack planes in the late 1940s. The plane in the foreground is armed with bombs and three topedoes, the plane in the background is carrying twelve 12.7 cm (5 in) HVAR-rockets under the wings, two Tiny Tim rockets, and a bomb on the centerline station. Besides these impressive loads the Mauler had inferior handling characteristics and could not compete with the Douglas AD Skyraider.

---
U.S. NAVAL AVIATION RESOURCE CENTER
>
BOMBERS
>
MAULER GALLERY
>
PREVIOUS PAGE
---