---
U.S. NAVAL AVIATION RESOURCE CENTER
>
BOMBERS
>
MAULER
>
PREVIOUS PAGE
---
MARTIN AM MAULER
Design & Development
---
In the 1930s and early 1940s, the Navy differentiated between two types of carrier-borne bomber: the torpedo bomber and the dive bomber. In 1943, this distinction was abandoned, and the US Navy invited proposals for a new multi-purpose bomber. In 1944, four new designs were offered as shipborne attack aircraft: the Curtiss XBTC-1/2, Douglas XBT2D-1, Kaiser-Fleetwings XBTK-1 and the Martin XBTM-1. Martin was tasked to provide a back-up to the Curtiss design which had been selected as a replacement to their SB2C Helldiver. Due to the US Navy's concern that the Curtiss design was overly complex and that the company's production record was particularly suspect in the Helldiver development phase, Martin was instructed to create an "unexperimental" design that would be a reliable platform for the Pratt & Whitney R-4360 Wasp Major that powered both aircraft. Two prototypes were ordered from Martin on 31 May 1944.
The first XBTM-1 flew on 26 August 1944, piloted by O.E. "Pat" Tibbs, Martin's Chief Test Pilot. The second prototype soon joined the fight test unit, followed up by 16 pre-production BTM Maulers. In 1946, the aircraft designation was changed to AM-1.
The AM-1Q was developed for electronic countermeasures (ECM) duties. The fuselage fuel tank was removed to make room for the ECM operator and his equipment. Twelve aircraft were built on the main production line.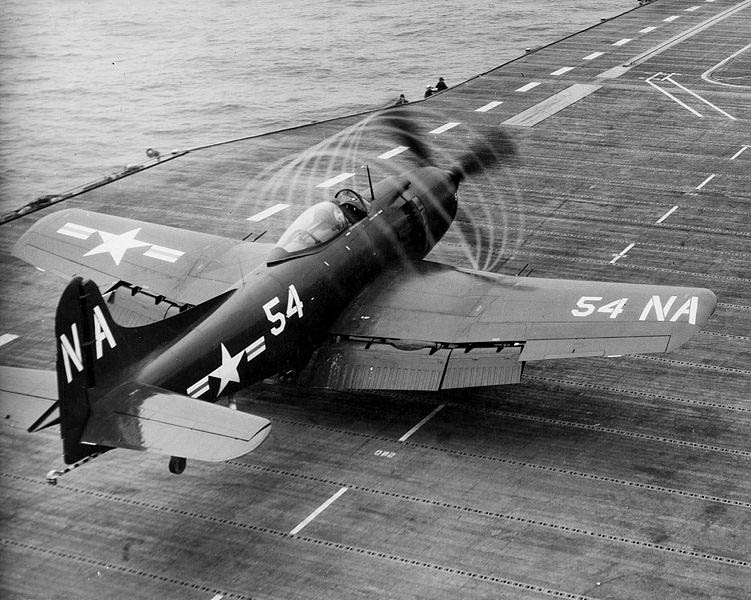 A U.S. Navy Martin AM-1Q Mauler electronic countermeasures aircraft of composite squadron VC-4 on the flight deck of the aircraft carrier USS Kearsarge (CV-33), with vapor rings from the propellor, during a qualification cruise, 25 to 29 April 1949, off Atlantic City, New Jersey (USA).
[Source: NMNA]
Sources:
Wikipedia
---
U.S. NAVAL AVIATION RESOURCE CENTER
>
BOMBERS
>
PREVIOUS PAGE
---