---
U.S. NAVAL AVIATION RESOURCE CENTER > SEAPLANES & FLYING BOATS > JRM MARS > PREVIOUS PAGE

---
MARTIN JRM MARS
Variants

XPB2M-1
Model 170 prototype long-range patrol flying boat powered by four Wright R-3350-8 piston engines, one built, converted to XPB2M-1R.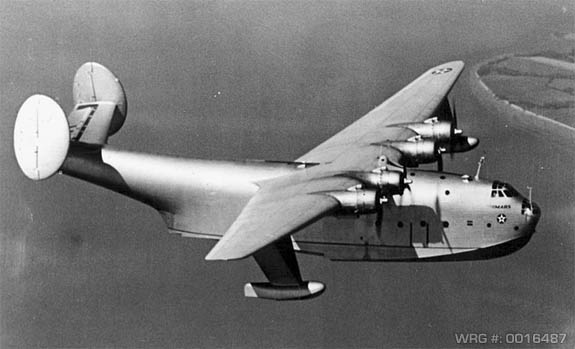 The U.S. Navy Martin XPB2M-1 Mars (Bu 1520) in flight. It first flew as a patrol bomber prototype (XPB2M-1) on 3 July 1942 and was converted to a transport (XPB2M-1R) in December 1943. It was named Old Lady and finally beached at Alameda, CA, in mid-1945, before being subsequently scrapped.
[Source: U.S. Navy Photo]

XPB2M-1R
Prototype converted in December 1943 as a prototype transport version, armament removed, installation of additional cargo hatches and cargo loading equipment, existing hatches were enlarged and the decking was reinforced.

JRM-1
Model 170A, production long range transport variant, originally 20 aircraft ordered later reduced to six. Single-tail design, and having a longer hull with fewer bulkheads and a larger maximum take-off weight. It had also been fitted with equipment for overhead cargo handling and was powered by four Wright R-3350-24WA Cyclone engines with 4-bladed propellers, five built, surviving four converted to JRM-3.

JRM-2
The last JRM-1 on order was completed as the JRM-2 with the engines changed to 3,000 hp Pratt & Whitney R4360-4T engines with 4-blade, 16 ft, 8 in diameter Curtiss Electric propellers. Gross weight increased by 20,000 lbs.

JRM-3
Model 170B, conversion of the remaining four JRM-1s re-engined with 2,400 hp Wright R3350-24WA engines turning 16 ft, 8 in Curtiss-Electric props, of which the inboard two engines were fitted with reversible-pitch devices.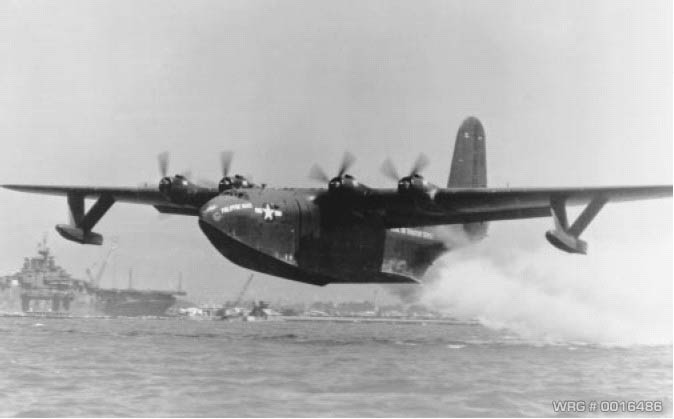 The Martin JRM-3 Philippine Mars (Bu. 76820) of transport squadron VR-2 taking off from
San Francisco Bay at NAS Alameda, CA to Honululu, Hawaii, in 1946.
[Source: U.S. Navy Photo]
---
Sources:
Wikipedia
---
U.S. NAVAL AVIATION RESOURCE CENTER > SEAPLANES & FLYING BOATS > JRM MARS > PREVIOUS PAGE

---