---
U.S. NAVAL AVIATION RESOURCE CENTER > SEAPLANES & FLYING BOATS > JRM MARS > PREVIOUS PAGE

---
MARTIN JRM MARS
Operational History

U.S. Navy service
Named the Marianas Mars, Philippine Mars, Marshall Mars, Caroline Mars, and a second Hawaii Mars, the five production Mars aircraft entered service ferrying cargo to Hawaii and the Pacific Islands. The last production airplane (the Caroline Mars) was designated JRM-2, powered by 3,000 hp (2,200 kW) Pratt & Whitney R-4360 engines, and featured a higher maximum weight and other improvements. On 4 March 1949, the Caroline Mars, set a new world passenger load record by carrying 269 people from San Diego to Alameda, CA. On 5 April 1950, the Marshall Mars was lost near Hawaii when an engine fire consumed the airplane after her crew had evacuated. The remaining "Big Four" flew record amounts of Naval cargo on the San Francisco-Honolulu route efficiently until 1956, when they were beached at NAS Alameda.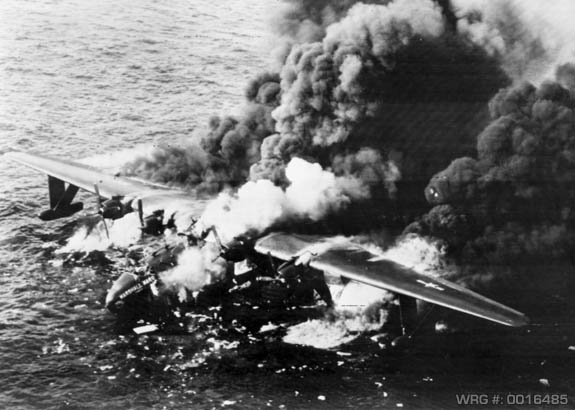 The Martin JRM-2 Marshall Mars of transport squadron VR-2 burning on the Pacific Ocean off
Honululu, Oahu, Hawaii on April 5, 1950. A fire in engine No. 2 had forced the crew to ditch.
[Source: U.S. Navy Photo]

Civilian use
In 1959, the remaining Mars were to be sold for scrap but a Canadian company, Forest Industries Flying Tankers (FIFT), was formed and bid for the four aircraft and a large spares holding. The company represented a consortium of British Columbia forest companies and the bid was accepted and the sale was completed in December 1959. The four aircraft were flown to Fairey Aviation at Victoria, British Columbia for conversion as water bombers. The conversion involved the installation of a tank in in the cargo bay and retractable pick-up scoops to allow uploading of water while the aircraft was taxiing. The scoops allowed 30 tons of water to be taken on board in 22 seconds. Later some of the hull fuel tanks were replaced with water tanks.

The Marianas Mars crashed near Northwest Bay, British Columbia on 23 June 1961 during firefighting operations; all four crewmembers were lost. Just over a year later, on 12 October 1962, the Caroline Mars was destroyed by Typhoon Freda while parked onshore. The Hawaii Mars and Philippine Mars had their conversions to water bombers accelerated and entered service in 1963.
---
Sources:
Wikipedia
---
U.S. NAVAL AVIATION RESOURCE CENTER > SEAPLANES & FLYING BOATS > JRM MARS > PREVIOUS PAGE

---