---
U.S. NAVAL AVIATION RESOURCE CENTER
>
FLYING BOATS
>
P5M MARLIN
>
PREVIOUS PAGE
---
MARTIN P5M-2 MARLIN
Design & Development
Built as evolutionary successor to the PBM Mariner, it had better engines, improved hull form, and more conventional tail. The XP5M Marlin prototypes were based on the last PBM-5 Mariners, the company designation being Model 237. It would be heavily improved again leading to the P5M-2 (Model 237B), which was redesignated SP-5B. A number of P5M-1 models were also used for training, designated TP-5A (after 1962)
The Marlin was designed as a gull-winged aircraft to place the engines and propellers high above the spray. Power was by two Wright R-3350 radial engines. The rear hull did not lift sharply from the water at the tail, instead rising up steadily, a Martin innovation; this gave the aircraft a longer base of flotation and reduced "porpoising" over waves.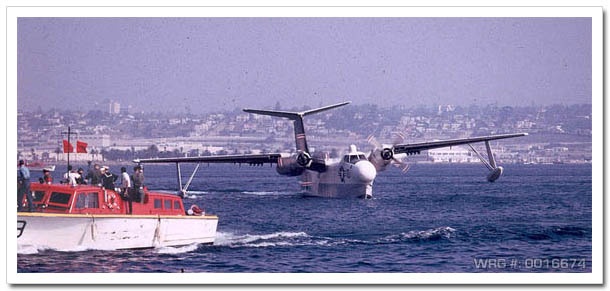 Martin SP-5B Marlin (Bu. 135533) of patrol squadron VP-40 Fighting Marlins landing
after its last operational flight in San Diego Bay on November 6, 1967.
[Source: U.S. Navy]
The prototype had nose and tail turrets with twin 20 millimeter cannon in each, as well as a dorsal turret with two .50 M2 Browning machine guns. The cockpit area was the same as the Mariner's. It first flew in 30 May 1948.
The first of 167 production P5M-1 aircraft was produced in 1951, flying on 22 June 1951. Changes from the prototype included a raised flight deck for improved visibility, the replacement of the nose turret with a large radome for the AN/APS-44 search radar, the deletion of the dorsal turret, and new, streamlined wing floats. The engine nacelles were lengthened to provide room for weapons bays in the rear.
The P5M-1 was followed by 116 P5M-2 planes. These had a T-tail to put the tail surfaces out of the spray, an AN/ASQ-8 MAD boom at the rear of the tail-tip, no tail guns (the gun position replaced by the antenna for the AN/APN-122 Doppler Navigation Set), better crew accommodation and an improved bow to reduce spray during takeoff and landing.
---
Sources:
Wikipedia
---
U.S. NAVAL AVIATION RESOURCE CENTER
>
FLYING BOATS
>
P5M MARLIN
>
PREVIOUS PAGE
---