---
U.S. NAVAL AVIATION RESOURCE CENTER
>
SEAPLANES/FLYING BOATS
>
MARINER
>
PREVIOUS PAGE
---
MARTIN PBM MARINER
Variants
XPBM-1 (Model 162)
Prototype. Powered by two 1,600 hp (1,194 kW) R-2600-6 engines.
PBM-1 (Model 162)
Initial production version. 5× .50 inch (12.7 mm) machine guns. Two R-2600-6 engines; 21 built.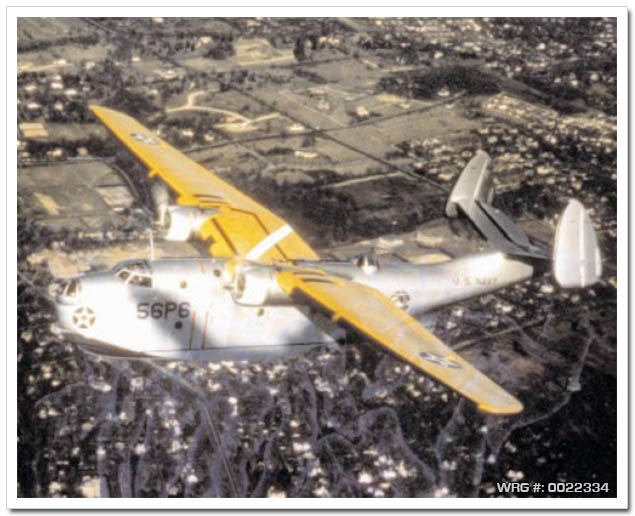 A U.S. Navy PBM-1 of Patrol Squadron 56 (VP-56) in 1940.
[Source: U.S. Navy]
XPBM-2 (Model 162)
Conversion of one PBM-1 as experimental catapult-launched long-range strategic bomber.
PBM-3 (Model 162B)
Improved version. 1,700 hp (1,270 kW) R-2600-12 engines; 32 built.
PBM-3R (Model 162B)
Unarmed transport version of PBM-3. 18 new build plus 31 converted from PBM-3.
PBM-3C (Model 162C)
Improved patrol version with twin .50 in machine guns in nose and dorsal turrets, and single guns in tail turret and waist positions. AN/APS-15 radar in radome behind cockpit; 274 built.
PBM-3B (Model 162C)
Designation for ex-RAF Mariner GR.1A after return to U.S. Navy.
PBM-3S (Model 162C)
Dedicated anti-submarine aircraft with reduced armament (2× fixed 0.50 in machine guns in nose, single machine gun in port waist position and single gun in tail turret) and increased range; 94 built as new plus 62 conversions.
PBM-3D (Model 162D)
Patrol bomber with increased power (two 1,900 hp (1,417 kW) R-2600-22s) and increased armament (twin 0.50 in machine guns in nose, dorsal and tail turrets, plus two waist guns). 259 built.
PBM-4 (Model 162E)
Proposed version with two 2,700 hp (2,015 kW) Wright R-3350 engines; unbuilt.
PBM-5 (Model 162F)
Version with 2,100 hp (1,566 kW) Pratt & Whitney R-2800 engines; 628 built.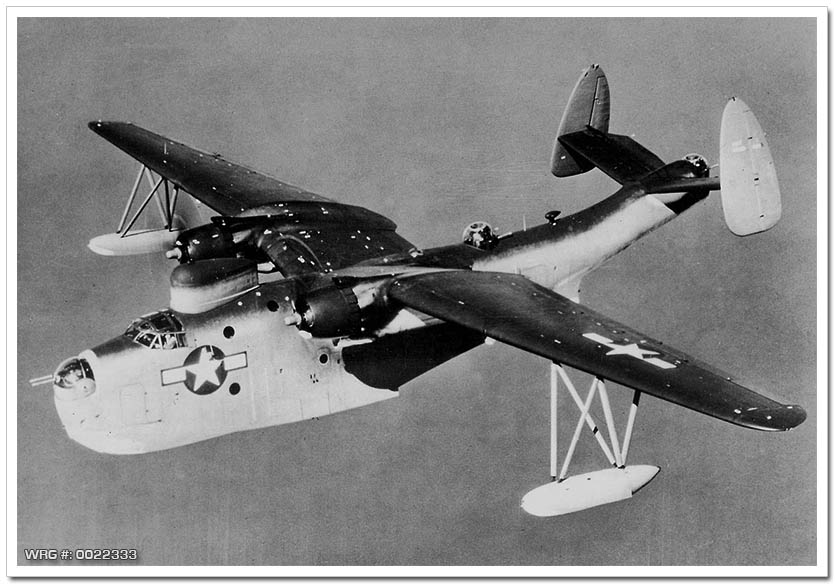 Martin PBM-5 Mariner in flight circa 1945.
[Source: U.S. Navy]
PBM-5E
Variant of PBM-5 with improved radar.
PBM-5S
Lightened anti-submarine variant of PBM-5.
PBM-5S2
Improved anti-submarine aircraft with revised radar installation.
PBM-5A (Model 162G)
Amphibian version of PBM-5, with retractable nosewheel undercarriage; 36 built plus four conversions.
Mariner I
British designation for 32 PBM-3B supplied to the Royal Air Force.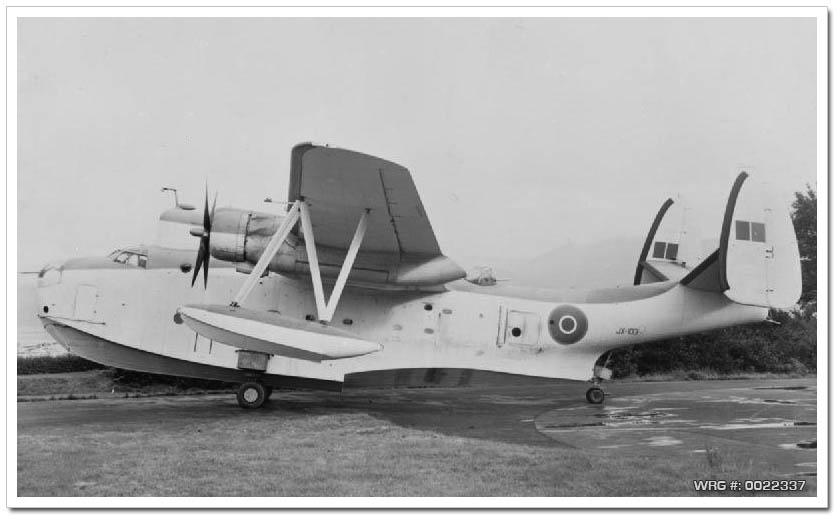 A Royal Air Force Coastal Command Martin PBM-3B Mariner I (s/n JX103)
of No. 524 Squadron at Oban, Scotland (UK), in October 1943.
[Source: Imperial War Museum]
Source:
WikiPedia
---
U.S. NAVAL AVIATION RESOURCE CENTER
>
SEAPLANES/FLYING BOATS
>
MARINER
>
PREVIOUS PAGE
---