---
U.S. NAVAL AVIATION RESOURCE CENTER
>
SEAPLANES/FLYING BOATS
>
MARINER
>
PREVIOUS PAGE
---
MARTIN PBM MARINER
Design & Development
In 1937 the Glenn L. Martin Company designed a new twin-engined flying boat, the Model 162, to succeed its earlier Martin P3M and complement the PBY Catalina. It received an order for a single prototype XPBM-1 on June 30, 1937. This was followed by an initial production order for 21 PBM-1 aircraft on December 28, 1937.
To test the PBM's layout, Martin built a ⅜ scale flying model, the Martin 162A Tadpole Clipper with a crew of one and powered by a single 120 hp (89 kW) Chevrolet engine; this was flown in December 1937. The first genuine PBM, the XPBM-1, flew on February 18, 1939.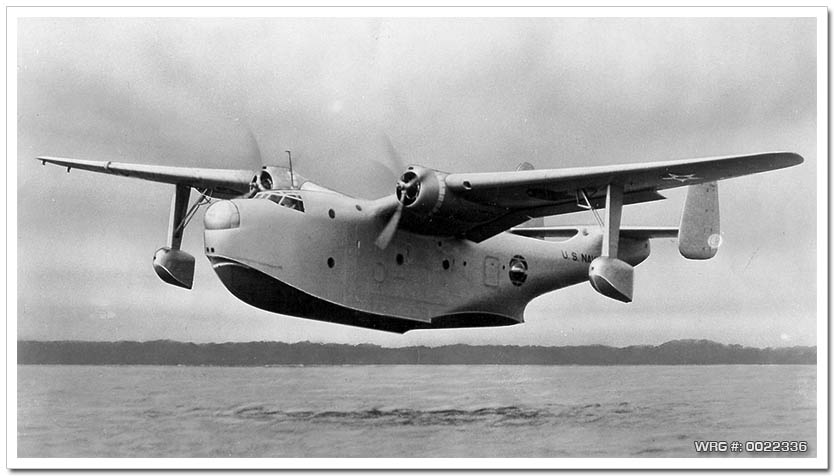 The U.S. Navy Martin XPBM-1 Mariner (Bu. 0796) in flight.
This aircraft made its first flight on February 18, 1939.
[Source: U.S. Navy]
The aircraft was fitted with five gun turrets, and bomb bays that were in the engine nacelles. The gull wing was of cantilever design, and featured clean aerodynamics with an unbraced twin tail. The PBM-1 was equipped with retractable wing landing floats that were hinged outboard, with single-strut supported floats that retracted inwards to rest beneath the wing, with the floats' keels just outboard of each of the engine nacelles. The PBM-3 had fixed floats, and the fuselage was three feet longer than that of the PBM-1.
Source:
WikiPedia

---
U.S. NAVAL AVIATION RESOURCE CENTER
>
SEAPLANES/FLYING BOATS
>
MARINER
>
PREVIOUS PAGE
---