---
U.S. NAVAL AVIATION RESOURCE CENTER
>
FIGHTERS
>
F3F
>
PREVIOUS PAGE
---
GRUMMAN F3F
Design & Development
The Navy's experience with the F2F revealed issues with stability and unfavorable spin characteristics, prompting the October 15, 1934 contract for the improved XF3F-1, placed before F2F deliveries began. The contract also required a capability for ground attack, in addition to the design's fighter role. Powered by the same Pratt & Whitney R-1535-72 Twin Wasp Junior engine as the F2F, the fuselage was lengthened and wing area increased over the earlier design. A reduction in wheel diameter allowed greater fuselage streamlining, eliminating the prominent bulge behind the cowling of the F2F.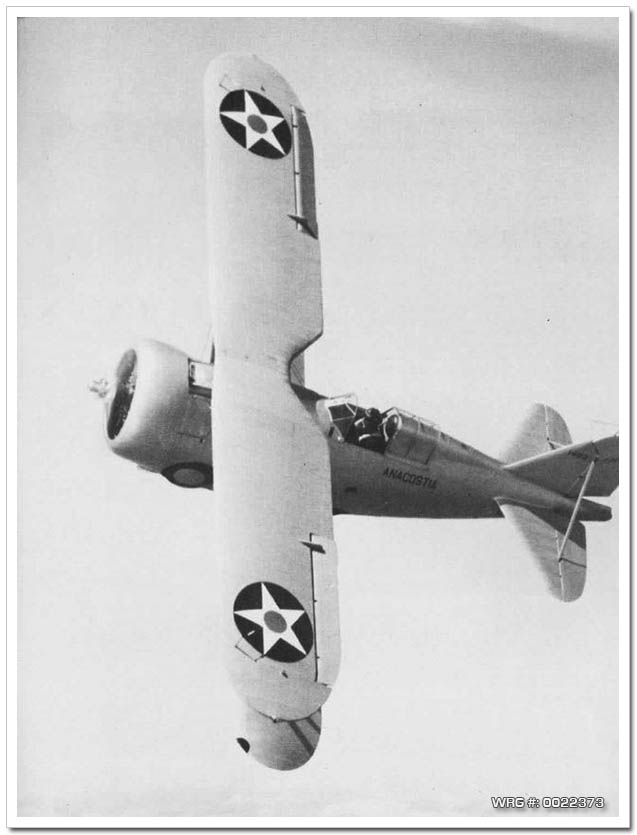 A Grumman F3F-2 assigned to Naval Air Station Anacostia, Washington D.C.
[Source: U.S. Navy]
The prototype, BuNo. 9727, was delivered and first flown on March 20, 1935 with company test pilot Jimmy Collins making three flights that day. Two days later, six dive-recovery flights took place; on the 10th, the aircraft's pullout at 8,000 ft (2,438 m) registered 14 g on the test equipment. The aircraft broke up in midair, crashing in a cemetery and killing Collins. A second, strengthened prototype was built, but it crashed on May 9th of the same year following the pilot's bailout during an unsuccessful spin recovery. The second prototype was rebuilt in three weeks, flying on June 20, 1935. An order for 54 F3F-1 fighters was placed on August 24th of that year, following the conclusion of the flight test program.
---
Sources:
Wikipedia
---
U.S. NAVAL AVIATION RESOURCE CENTER
>
FIGHTERS
>
F3F
>
PREVIOUS PAGE
---