---
U.S. NAVAL AVIATION RESOURCE CENTER
>
FIGHTERS
>
PANTHER
>
PREVIOUS PAGE
---
GRUMMAN F9F PANTHER
Variants
XF9F-2
The first two prototypes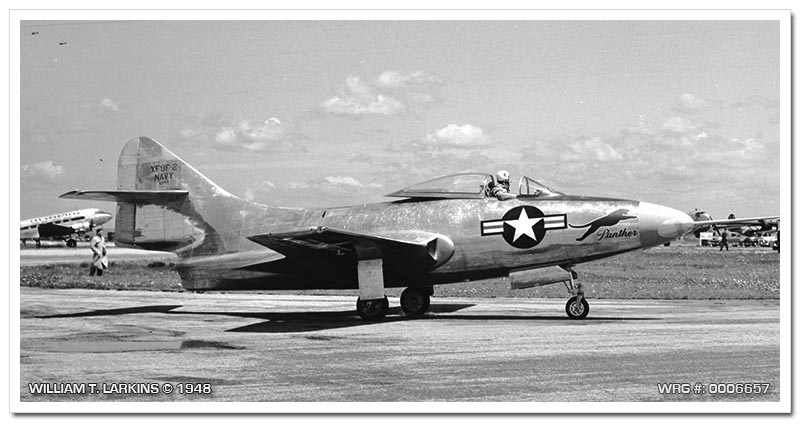 Grumman XF9F-2 (Bu. 122477) At Floyd Bennett Field, May 15, 1948.
[Source: William T. Larkins]
XF9F-3
The third prototype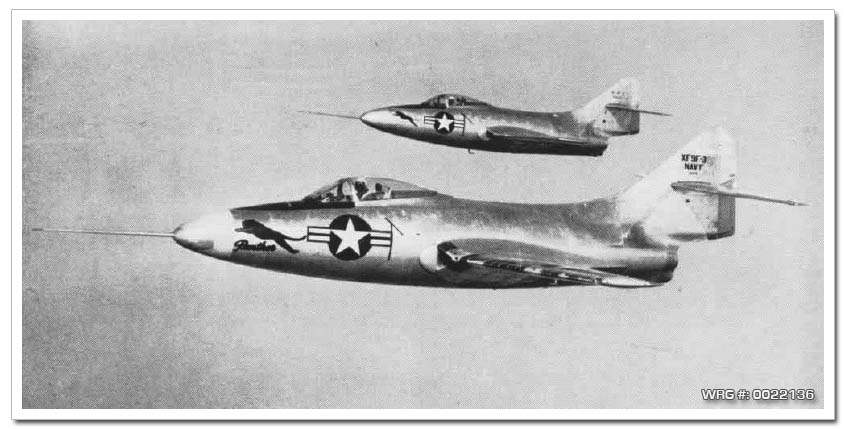 The XF9F-2 and XF9F-3 prototypes in 1948. Two Grumman F9F Panther prototypes in flight in 1948. The aircraft closer to the camera is the XF9F-3 (BuNo 122476), having an Allison J33-A-8 engine, the further plane is a XF9F-2, powered by a Pratt & Whitney J42-P-6 engine (a licence-built Rolly-Royce Nene).
[Source: U.S. Navy]
F9F-2
First production version, powered by Pratt & Whitney J42 engine.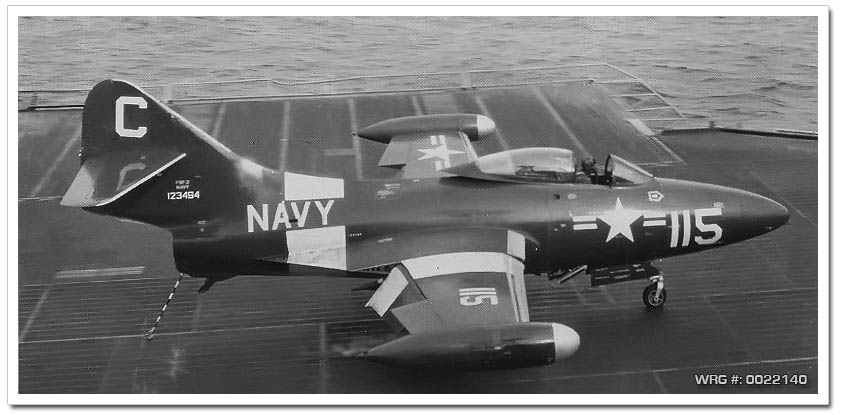 F9F-2 Panther (Bu. 123494) of VF-21 Mach Busters on the USS Midway (CVB-41) in 1952.
[Source: U.S. Navy]
F9F-2B
Version fitted with underwing racks for bombs and rockets. All F9F-2s were eventually so modified, and the B designation was dropped.
F9F-2P
Unarmed photographic reconnaissance version used in Korea.
F9F-3
Allison J33 powered version produced as insurance against the failure of the J42, 54 built. All converted to J42 power later.
XF9F-4
Prototype used in the development of the F9F-4.
F9F-4
Version with longer fuselage with greater fuel load and powered by J33 engine. Most re-engined with J42s. F9F-4s were the first aircraft to successfully employ blown air, extracted from between the engine's compressor and combustion chambers, to energize the slot flaps, thus achieving a decrease in stalling speed of 9 kn for takeoff and 7 kn on power approach for landing.
F9F-5
Variant of F9F-4, but powered by Pratt & Whitney J48 engine, 616 built.
F9F-5P
Unarmed photo-reconnaissance version, 36 built, longer nose.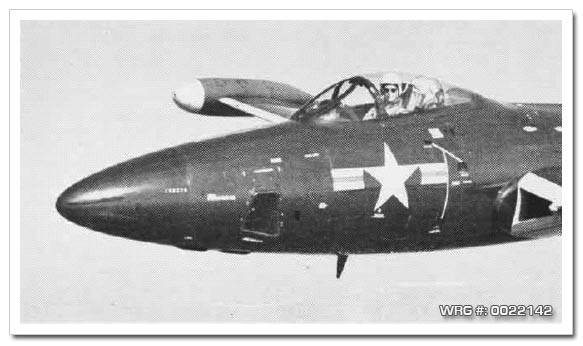 Grumman F9F-5P Panther.
[Source: U.S. Navy]
F9F-5K
After the F9F Panther was withdrawn operational service, a number of F9F-5s were converted into unmanned target drone aircraft.
F9F-5KD
As drone directors for the F9F-5K drones. Redesignated DF-9E in 1962.
---
Sources:
Wikipedia: Grumman F9F Panther
---
U.S. NAVAL AVIATION RESOURCE CENTER
>
FIGHTERS
>
PANTHER
>
PREVIOUS PAGE
---