---
U.S. NAVAL AVIATION RESOURCE CENTER
>
FIGHTERS
>
PANTHER
>
PREVIOUS PAGE
---
GRUMMAN F9F PANTHER
Operational History
US Navy
F9F-2s, F9F-3s and F9F-5s served with distinction in the Korean War, downing two Yak-9s and five Mikoyan-Gurevich MiG-15s with a loss of one F9F. On 3 July 1950, LT (j.g.) Leonard H. Plog of U.S. Navy's VF-51 flying an F9F-3 scored the first air victory of the war by shooting down a Yak-9. The first MiG-15 downed was on 9 November 1950 by U.S. Navy Lieutenant Commander William (Bill) Amen of VF-111 "Sundowners" Squadron flying an F9F-2B. Two more were downed on 18 November 1950 , and the other two were downed on the 18 November 1952. The type was the primary Navy jet fighter and ground-attack plane in the Korean conflict.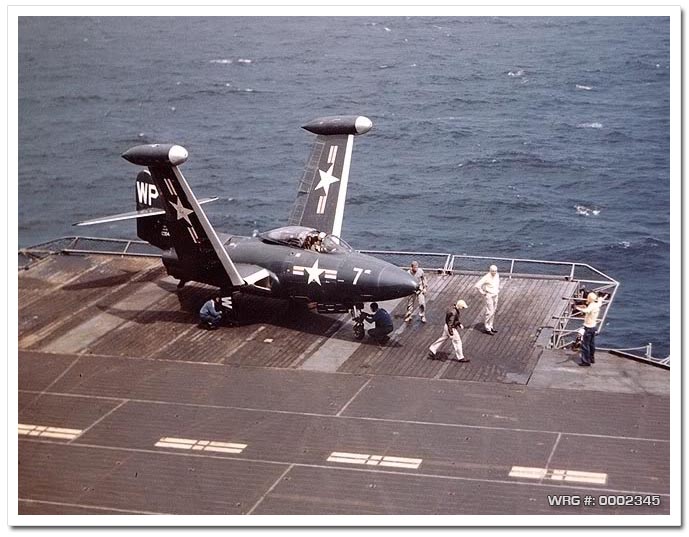 A Grumman F9F-2 Panther of Marine fighter squadron VMF-223 Bulldogs on the deck edge elevator of the aircraft carrier USS Franklin D. Roosevelt (CVB-42) in the early 1950s.
[Source: Robbie Stuart Collection]
Panthers were withdrawn from front-line service in 1956, but remained in training roles and with Reserve units until 1958, some continuing to serve in small numbers into the 1960s.
Argentine Navy
The only foreign buyer of the Panther was the Argentine Navy, who bought 24 ex-USN aircraft in 1958. The catapults on the then only Argentine carrier, ARA Independencia (V-1), were considered not powerful enough to launch the F9F, so the aircraft were land-based.
The Argentine Panthers were involved in the general mobilization during the 1965 border clash between Argentina and Chile but no combat occurred. They were taken out of service in 1969 due to the lack of spare parts and replaced with A-4Q Skyhawks.
---
Sources:
Wikipedia: Grumman F9F Panther
---
U.S. NAVAL AVIATION RESOURCE CENTER
>
FIGHTERS
>
PANTHER
>
PREVIOUS PAGE
---