---
U.S. NAVAL AVIATION RESOURCE CENTER
>
FIGHTERS
>
PANTHER
>
PREVIOUS PAGE
---
GRUMMAN F9F PANTHER
Design and Development
Development studies at the Grumman company for jet-powered fighter aircraft began near the end of World War II as the first jet engines emerged. In a competition for a jet-powered night fighter for the United States navy, the Douglas XF3D-1 was selected over Grumman Aircraft Engineering Corporation's G-75 two-seat, four-Westinghouse J30-powered design, with Douglas being issued a contract on 3 April 1946. The U.S. Navy's Bureau of Aeronautics (BuAer) also issued a contract to Grumman for two Model G-75 experimental aircraft on 11 April 1946, being given the Navy designation XF9F-1, in case the Skyknight ran into problems. Grumman soon realized the G-75 was a losing design but had been working on a completely different, single-engine day fighter known as the Grumman G-79. Due to some interesting bureaucracy, BuAer did not cancel the G-75 (XF9F-1) contract but changed the wording to include three entirely different G-79 prototypes. The G-79 became the Grumman F9F Panther.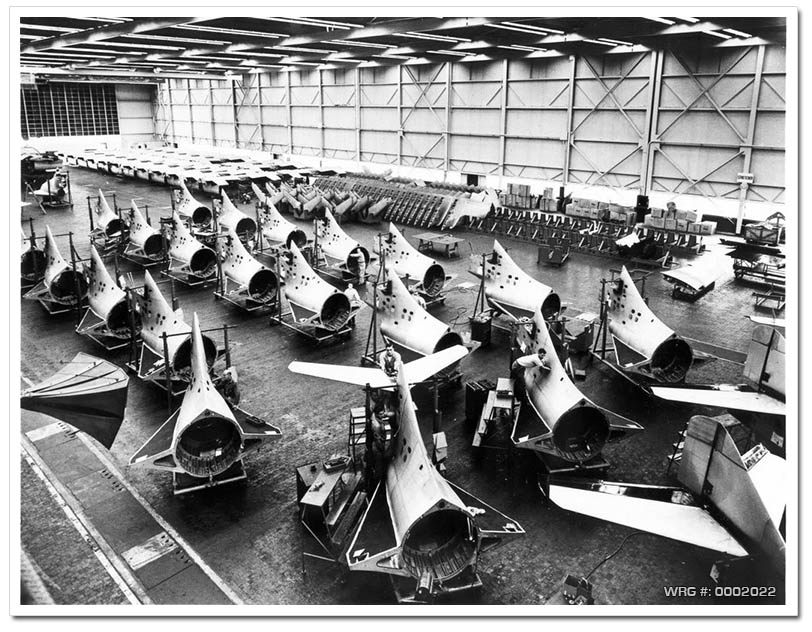 F9F-2 Panther production line.
[Source: Grumman Archives]
The prototype Panther, piloted by test pilot Corky Meyer, first flew on 24 November 1947. American engines available at the time included the Allison J33 and Westinghouse J34, but these were not considered sufficiently reliable, so the Navy specified the imported Rolls-Royce Nene turbojet, which was also more powerful at 5,000 lb. of thrust. Production aircraft would have a Nene engine built under license by Pratt & Whitney as the J42. Since there was insufficient space within the wings and fuselage for fuel for the thirsty jet, permanently mounted wingtip fuel tanks were added, which incidentally improved the fighter's rate of roll.[4] It was cleared for flight from aircraft carriers in September 1949. During the development phase, Grumman decided to change the Panther's engine, selecting the Pratt & Whitney J48-P-2, a license built version of the Rolls-Royce RB.44 Tay. The other engine that had been tested was the Allison J33-A-16. The armament was a quartet of 20 mm guns, the Navy having already switched to this caliber (as opposed to the USAAF/USAF which continued to use 12.7 mm M2/M3 guns). As well, the Panther soon was armed with underwing air-to-ground rockets and up to 2,000 lb (910 kg) of bombs.
From 1946, a swept-wing version was considered and after concerns about the Panther's inferiority to its MiG opponents in Korea, a conversion of the Panther (Design 93) resulted in a swept-wing derivative of the Panther, the F9F Cougar, which retained the Panther's designation number.
---
Sources:
Wikipedia: Grumman F9F Panther
---
U.S. NAVAL AVIATION RESOURCE CENTER
>
FIGHTERS
>
PANTHER
>
PREVIOUS PAGE
---