---
U.S. NAVAL AVIATION RESOURCE CENTER
>
FIGHTERS
>
PREVIOUS PAGE
---
GRUMMAN F9F COUGAR
---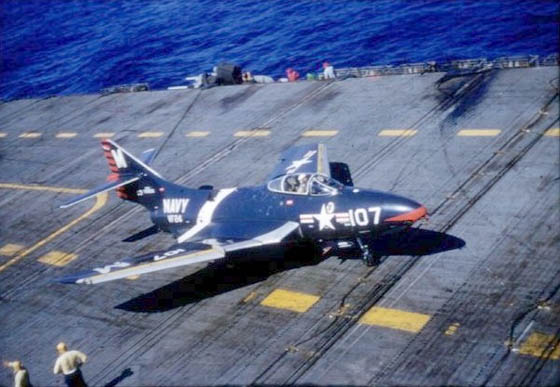 A Grumman F9F-6 Cougar fighter of fighter squadron VF-24 Corsairs after having just landed aboard the aircraft carrier USS Essex (CVA-9) in the summer of 1955. (Source: U.S. Navy)
---
The Grumman F9F Cougar (redesignated the F-9 Cougar under the 1962 joint service aircraft designation system) was an aircraft carrier-based fighter aircraft for the United States Navy. Based on the earlier
F9F Panther
, the Cougar replaced the Panther's straight wing with a more modern swept wing. The Navy considered the Cougar an updated version of the Panther (despite adopting a different official name) and thus Cougars started off as F9F-6 and upwards.
Design and development
Prototypes, modified Panthers, were quickly produced and the first (XF9F-6) flew on September 20, 1951. To the surprise of the Navy (who had been cautious about adopting swept-wing fighters on the carrier deck) the Cougar was easier to fly from carriers than the Panther. The aircraft was still subsonic, but the critical Mach number was increased from 0.79 to 0.86 at sea level and to 0.895 at 35,000 feet (10,000 m), improving performance markedly. The Cougar, unlike the Panther, would not be outclassed by Russian Mikoyan-Gurevich MiG-15s, but it was too late to see Korean war service.
---
Sources:
Wikipedia: Grumman F9F Cougar
---
U.S. NAVAL AVIATION RESOURCE CENTER
>
FIGHTERS
>
PREVIOUS PAGE
---