---
U.S. NAVAL AVIATION RESOURCE CENTER > SEAPLANES & FLYING BOATS > DOUGLAS DT > PREVIOUS PAGE

---
DOUGLAS DT
Variants

DT-1
Pre-production prototypes; three built.

DT-2
Two-seat torpedo-bomber biplane, powered by a 450-hp (336-kW) Liberty V-12 piston engine; 64 built.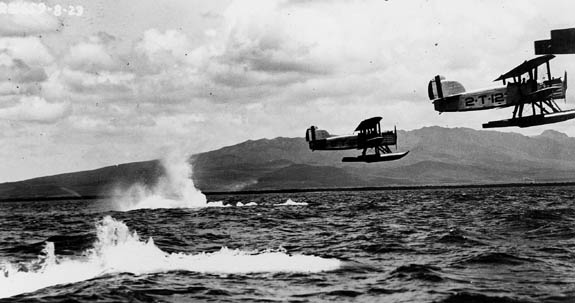 Douglas DT-2 aircraft of VT 2 moments after making a torpedo drop during fleet exercises in August 1923.
[Source: U.S. Navy Photo]

DT-3
Proposed version of the DT-2. Not built.

DT-4
Four DT-2s converted into bomber aircraft by the Naval Aircraft Factory. The aircraft were fitted with direct drive Wright T-2 V-12 engines.

DT-5
Redesignation of two DT-4s fitted with a geared 650-hp (523-kW) Wright T-2B V-12 engines.

DT-6
One DT-2 aircraft fitted with a 450-hp (336-kW) Wright P-1 radial piston engine.

DT-2B
This designation was given to one DT-2 aircraft suppiled to the Norwegian government. Seven similar aircraft were built under licence in Norway.

DTB
Export version for Peru. Four aircraft built for the Peruvian navy, fitted with 650-hp (523-kW) Wright Typhoon V-12 piston engines.

SDW-1
Redesignation of three DT-2s modified by the Dayton-Wright company.
---
Sources:
Wikipedia
---
U.S. NAVAL AVIATION RESOURCE CENTER > SEAPLANES & FLYING BOATS > DOUGLAS DT > PREVIOUS PAGE

---