---
U.S. NAVAL AVIATION RESOURCE CENTER > BOMBER/ATTACK > DEVASTATOR > PREVIOUS PAGE

---
Douglas TBD Devastator
Operational History

In the early days of the Pacific war, the TBD acquitted itself well during February and March 1942 and in the Battle of the Coral Sea, in which Devastators helped sink the Japanese aircraft carrier Sho-ho-.

Problems were discovered with the Mark XIII torpedo at this point. Many were seen to hit the target yet fail to explode; there was also a tendency to run deeper than the set depth. It took over a year for the problems to be corrected.

These problems were not fixed by the time of the Battle of Midway on 4 June 1942. Forty-one Devastators were launched from USS Hornet, USS Enterprise and USS Yorktown to attack the Japanese fleet. Their fighter escort lost contact, and the TBDs started their attacks without fighter protection. Torpedo delivery requires a long, straight-line attack run, making the aircraft vulnerable anyway, and the slow speed of the aircraft made them sitting ducks for the Mitsubishi Zeros. Only four TBDs made it back to the Enterprise, none to the Hornet or Yorktown. Worse, not a single torpedo hit its target. However, their sacrifice was not in vain; the suicidally heroic actions of the Devastator aircrews that day drew the Japanese air cover out of position just as the Japanese carriers were refueling and rearming their bombers, a window of opportunity exploited by the late-arriving SBD Dauntless dive-bombers led by Lieutenant Commander C. Wade McClusky.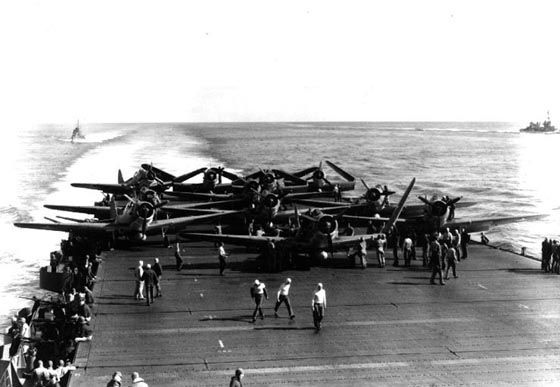 Torpedo Squadron Six (VT-6) TBD-1 aircraft are prepared
for launching on USS Enterprise (CV-6), June 4, 1942.
[Source: U.S. Navy]

The Navy immediately withdrew the TBD from front line units after Midway; in any case, there were only 39 aircraft left. They remained in service briefly in the Atlantic and in training squadrons until 1944. The last TBD in the U.S. Navy was used by the Commander of Fleet Air Activities-West Coast. When his TBD was scrapped in November 1944, there were no more. None survived the war.

In fairness to the type, the disaster of the Battle of Midway was as much due to the vulnerability of torpedo bombers against AAA fire and defending fighters. Without a fighter escort to keep off the Zeroes and distract the shipborne AAA guns, not even TBF Avengers escaped nearly as heavy losses.
---
Sources:
Wikipedia
---
U.S. NAVAL AVIATION RESOURCE CENTER > BOMBER/ATTACK > DEVASTATOR > PREVIOUS PAGE

---