---
U.S. NAVAL AVIATION RESOURCE CENTER
>
NAVAL BOMBERS
>
DOUGLAS BTD DESTROYER
>
PREVIOUS PAGE
---
DOUGLAS BTD DESTROYER
Design & Development
On June 20, 1941, the United States Navy placed an order with the Douglas Aircraft Company for two prototypes of a new two seat dive bomber to replace both the SBD Dauntless and the new SB2C Helldiver, designated XSB2D-1. The resulting aircraft, designed by a team led by Ed Heinemann, was a large single-engined mid-winged monoplane. It had a laminar flow gull-wing, and unusually for a carrier based aircraft of the time, a tricycle undercarriage. It was fitted with a bomb-bay and under-wing racks for up to 4,200 lb (1,900 kg), while defensive armament consisted of two wing mounted 20 mm (0.79 in) cannon and two remote controlled turrets, each with two .50 in (12.7 mm) machine guns.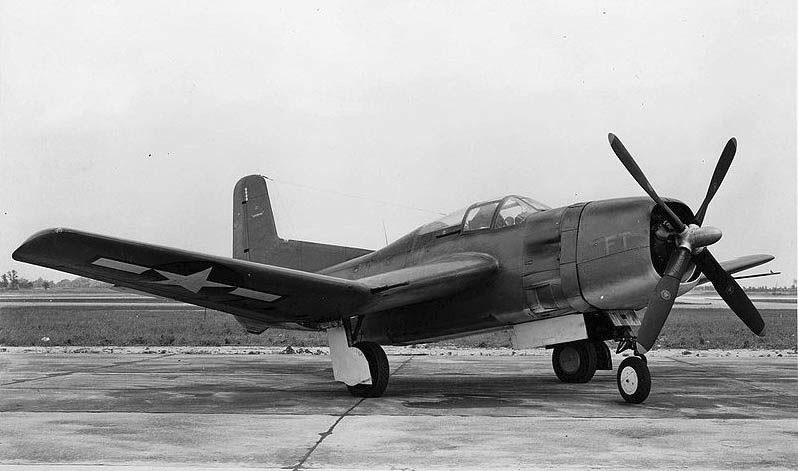 A Douglas BTD-1 Destroyer at the Naval Air Station Patuxent River, Maryland (USA), circa 1945.
[Source: NMNA]
The prototype first flew on April 8, 1943, demonstrating excellent performance, being much faster and carrying nearly double the bombload of the Helldiver, and orders for 358 SB2D-1s quickly followed. The US Navy changed its requirements, however, wanting single seat carrier based torpedo/dive bombers without defensive turrets, and Douglas re-worked the S2BD by removing the turrets and second crewman, while adding more fuel and armour, producing the BTD-1 Destroyer. The orders for S2BDs were converted to BTD-1s, with the first BTD flying on March 5, 1944.
The first production BTD-1s were completed in June 1944. By the time Japan surrendered in August 1945, only 28 aircraft had been delivered, and production was cancelled, with aircraft that had been designed from the start as single seaters, such as the Martin Mauler. None saw combat action. In any event, Heinemann and his team were already working on developing the single seat BT2D that became the A-1 Skyraider.
---
Sources:
Wikipedia
---
U.S. NAVAL AVIATION RESOURCE CENTER
>
NAVAL BOMBERS
>
DOUGLAS BTD DESTROYER
>
PREVIOUS PAGE
---
HOW CAN I
SUPPORT
THIS SITE?
(Click Here For Info)
---
---
---