---
U.S. NAVAL AVIATION RESOURCE CENTER > BOMBER/ATTACK > DAUNTLESS > PREVIOUS PAGE

---
Douglas SBD Dauntless
Design & Development

The Northrop BT-1 provided the basis for the SBD, which began manufacture in 1940. Ed Heinemann led a team of designers who considered a development with a 1,000 hp (750 kW) Wright Cyclone engine. One year earlier, both the U.S. Navy and Marine Corps had placed orders for the new dive bomber, designated the SBD-1 and SBD-2 (the latter had increased fuel capacity and different armament). The SBD-1 went to the Marine Corps in late 1940, and the SBD-2 went to the Navy in early 1941.

The next version, designated SBD-3, began manufacture in early 1941. It had increased armor, self-sealing fuel tanks, and four machine guns. The SBD-4 provided a 12-volt (up from six volt) electrical system, and a few were converted into SBD-4P reconnaissance aircraft.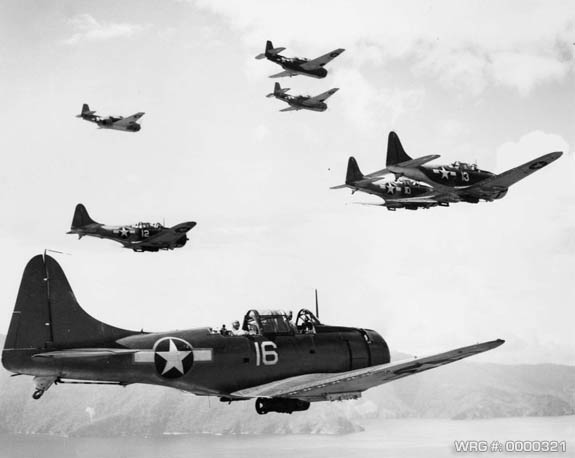 SBD Dauntless dive-bombers and TBF Avenger torpedo bombers off the carrier
U.S.S. Cabot (CVL 28) pictured in flight on October 2, 1943
[Source: U.S. Navy Photo]

The next (and most produced) version, the SBD-5, was produced mostly in the Douglas plant in Tulsa, Oklahoma. This version was equipped with a 1,200 hp (890 kW) engine and an increased ammunition supply. Over 2,400 of these were built and a few of them were shipped to the Royal Navy for evaluation. In addition to American service, the SBD experienced combat against the Japanese Army and Navy with No. 25 Squadron of the Royal New Zealand Air Forceóbut they were soon replaced with the larger, faster, heavier and land-based Vought F4U Corsair by the RNZAF.

Some SBDs were also flown by the Free French Air Force against the Nazi German Wehrmacht and Luftwaffe. SBDs were also sold to Mexico.

The final version of the Dauntless, the SBD-6, had more improvements but its production ended during the summer of 1944.

The U.S. Army had its own version of the SBD, called the A-24 Banshee that lacked the tail hook used for carrier landings and a pneumatic tire replaced the solid tail wheel. First assigned to the 27th Bombardment Group (Light) at Hunter Field, Georgia, A-24s flew in the Louisiana maneuvers of September 1941. There were three versions of the Banshee (A-24, A-24A and A-24B) flown by the Army to a very minor degree in the early stages of the war. The USAAF used 948 of the 5,937 Dauntlesses built.
---
Sources:
Wikipedia
---
U.S. NAVAL AVIATION RESOURCE CENTER > BOMBER/ATTACK > DAUNTLESS > PREVIOUS PAGE

---