---
NAVAL AVIATION RESOURCE CENTER
>
FLEET CARRIERS
>
PREVIOUS PAGE
---
U.S.S. Yorktown (CV 5)
---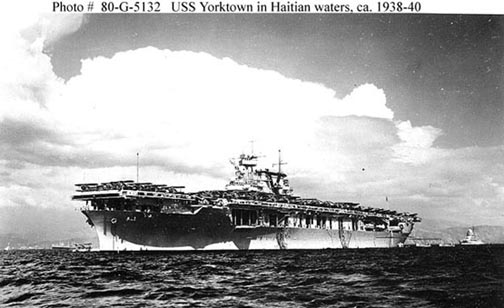 ---
Name: U.S.S. Yorktown
Number: CV 5

Class: Yorktown
Commisioned: September 30, 1937

---
Comments:
U.S.S. Yorktown
(CV-5) was an aircraft carrier commissioned in the United States Navy from 1937 until she was sunk at the Battle of Midway in June 1942. She was named after the The Battle of Yorktown in 1781 and the lead ship of the Yorktown class which was designed after lessons learned from operations with the large converted battlecruiser Lexington class and the smaller purpose-built Ranger. She represented the epitome of U.S. pre-war carrier design. Her sister ship,
U.S.S. Enterprise
is the only other member of the Yorktown class of aircraft carrier. The
Yorktown
was lost to enemy action at the Battle Of Midway, June 7, 1942.
---
·
Gallery
Sources:
Wikipedia
---
NAVAL AVIATION RESOURCE CENTER
>
FLEET CARRIERS
>
PREVIOUS PAGE
---