---
NAVAL AVIATION RESOURCE CENTER
>
FLEET CARRIERS
>
PREVIOUS PAGE
---
U.S.S. Saratoga (CV 3)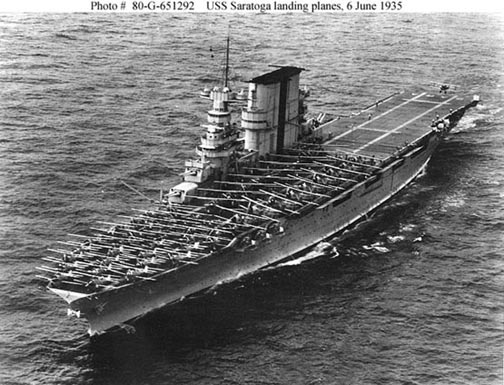 ---
Name: U.S.S. Saratoga
Number: CV 3

Class: Lexington
Commisioned: November 16, 1942

---
Comments:
USS Saratoga (CV-3) was the second aircraft carrier of the United States Navy and the fifth ship to bear her name. She was commissioned one month earlier than her sister and class leader, Lexington, which is the third actually commissioned after
Langley
and
Saratoga
. As Saratoga was visually identical to Lexington, her funnel was painted with a large black vertical stripe to assist pilots in recognizing her. This identifying mark earned her the nickname "Stripe-Stacked Sara."
Saratoga
,
Enterprise
, and
Ranger
were the only fleet aircraft carriers of the United States Navy built before the war to survive and serve throughout the U.S. involvement in World War II.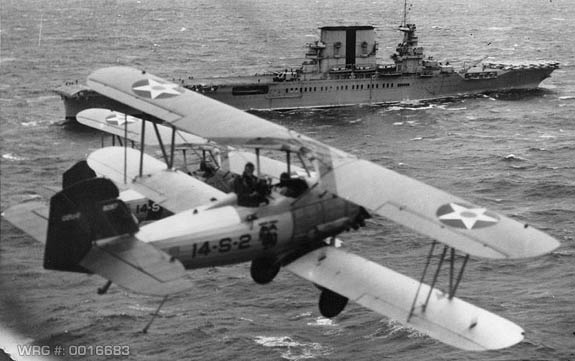 Vought O2U-2 Corsair aircraft, of Marine Corps Scouting Squadron 14 (VS-14M) fly past
USS Saratoga (CV-3) while preparing to land on board, circa 1930.
[Source: U.S. Navy Photo]
She was laid down on 25 September 1920, as Lexington class Battle Cruiser #3 by the New York Shipbuilding Corporation, at Camden, New Jersey; construction canceled and re-ordered as an aircraft carrier and reclassified CV-3 on 1 July 1922, in accordance with the Washington Naval Treaty limiting naval armaments; launched on 7 April 1925; sponsored by Mrs. Curtis D. Wilbur, wife of the Secretary of the Navy; and commissioned on 16 November 1927, Captain Harry E. Yarnell in command.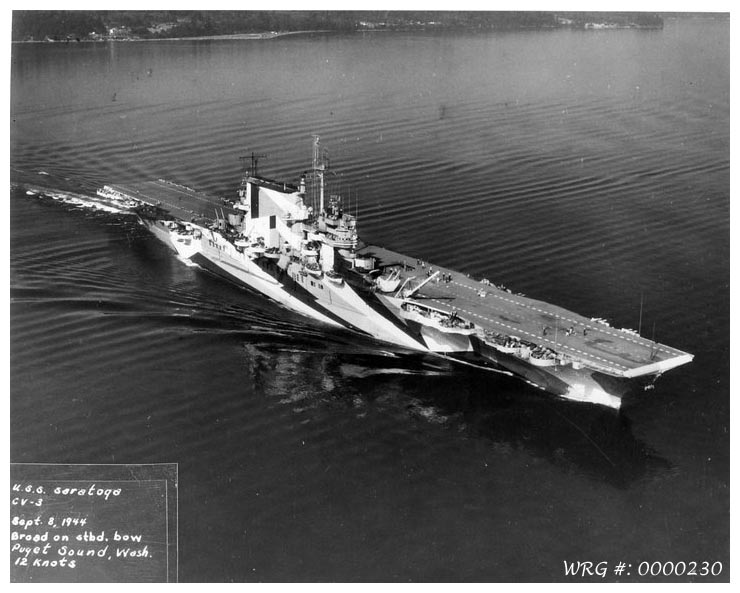 The aircraft carrier Saratoga (CV 3) pictured underway in the Puget Sound on September 8, 1944.
[Source: National Museum Of Naval Aviation]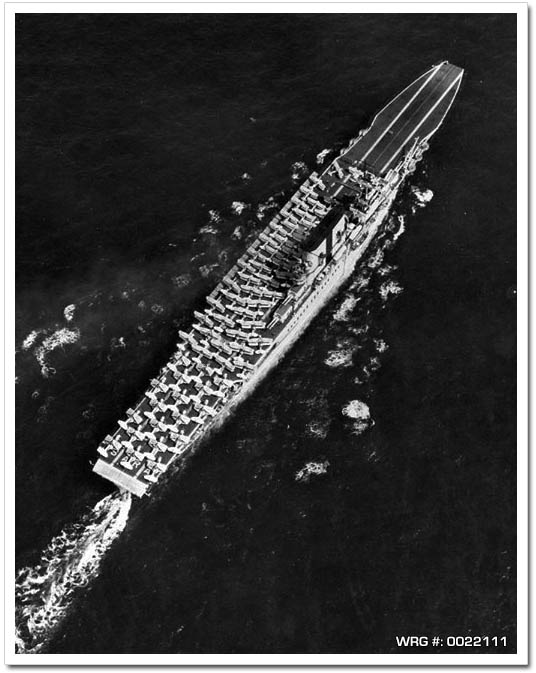 U.S.S. Saratoga (CV 3) underway on April 6, 1938.
[Source: National Museum Of Naval Aviation]
Sources:
Wikipedia
---
NAVAL AVIATION RESOURCE CENTER
>
FLEET CARRIERS
>
PREVIOUS PAGE
---