---
NAVAL AVIATION RESOURCE CENTER
>
FLEET CARRIERS
>
PREVIOUS PAGE
---
U.S.S. Franklin/CV-13
---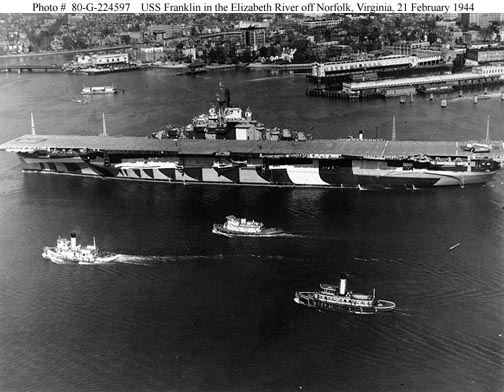 ---
Name: U.S.S. Franklin
Number: CV 13

Class: Essex
Commisioned: January 31, 1944

---
Comments:
The USS Franklin (CV/CVA/CVS-13, AVT-8), nicknamed "Big Ben," was one of 24 Essex-class aircraft carriers built during World War II for the United States Navy, and the fifth US Navy ship to bear the name. Commissioned in January 1944, she served in several campaigns in the Pacific War, earning four battle stars. She was badly damaged by a Japanese air attack in March 1945, with the loss of over 800 of her crew, becoming the most heavily damaged United States carrier to survive the war. Movie footage of the actual attack was included in the 1949 film
Task Force
starring Gary Cooper.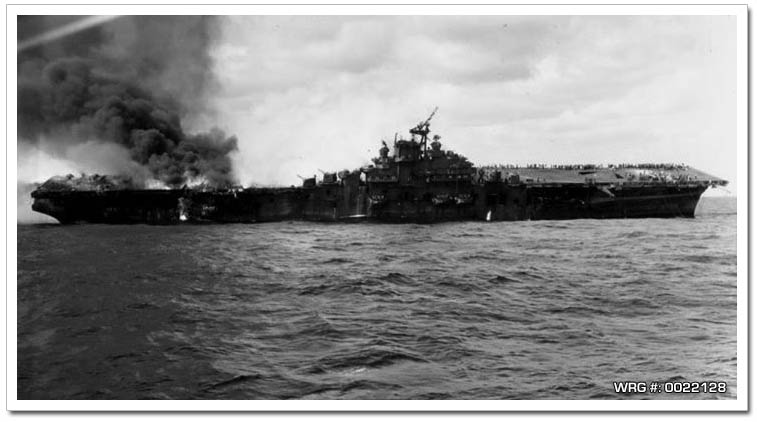 U.S.S. Franklin (CV 13) burning and listing to starboard after being bombed by Japanese planes on March 19, 1945
[Source: U.S. Navy/NMNA]
After the attack, she returned to the U.S. mainland for repairs, missing the rest of the war; she was decommissioned in 1947. While in reserve, she was reclassified as an attack carrier (CVA), then an antisubmarine carrier (CVS), and finally an aircraft transport (AVT), but was never modernized and never saw active service again. Franklin and Bunker Hill (damaged by a kamikaze) were the only Essex-class carriers not to see active service as aircraft carriers after World War II. The Franklin was sold for scrap in 1966.
Sources:
Wikipedia

---
NAVAL AVIATION RESOURCE CENTER
>
FLEET CARRIERS
>
PREVIOUS PAGE
---