---
U.S. NAVAL AVIATION RESOURCE CENTER
>
FIGHTERS
>
PREVIOUS PAGE
---
CURTISS F9C SPARROWHAWK
---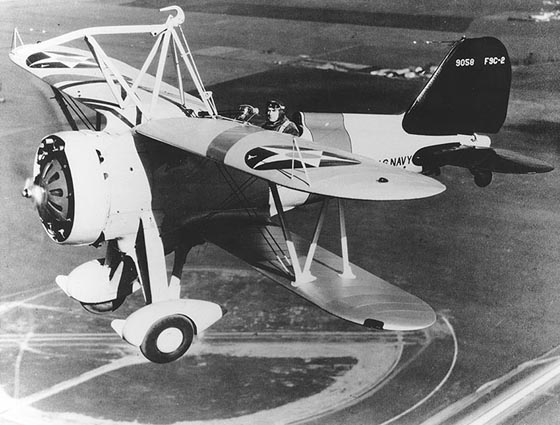 F9C Sparrowhawk Bu. 9058 in flight over Moffet Field, California in 1934.
This aircraft was lost with the USS Macon. (Source: U.S. Navy)
---
The Curtiss F9C Sparrowhawk was a light 1930s biplane fighter aircraft that was carried by the United States Navy airships USS Akron and USS Macon.
The Sparrowhawk is an example of a parasite fighter, a small airplane designed to be deployed from a larger aircraft such as an airship or bomber. At 20 feet (6m) long and with only a 25 foot (7m) wingspan, the Sparrowhawk was ideal for service in the fighter complement of large rigid-framed airships because of its small size. Although the Sparrowhawk was armed, its primary duty was reconnaissance, and it provided the airships it served with a much wider search area. The Akron was reported to have a complement of three Sparrowhawks, while the Macon was discovered at its underwater resting place with four in its hangar.
To achieve launching and recovery from the airship, a hook/anchor system was developed, dubbed by crews as "the flying trapeze". The Sparrowhawk had a hook mounting on its top wing that attached to the cross-bar of the trapeze. For launching, the biplane's hook was engaged on the trapeze inside the (internal) hangar, the trapeze was lowered clear of the hull into the (moving) airship's slipstream and, engine running, the Sparrowhawk would then disengage its hook and fall away from the airship. For recovery, the biplane would fly up underneath its mothership, moving slightly faster than the airship, and in a somewhat tricky maneuver hook onto the trapeze; the width of the trapeze cross-bar allowed a certain lateral lee-way in approach, the biplane's hook mounting had a guide rail to provide some tolerance against relative vertical motion (see photo), and engagement of the hook was automatic on positive contact between hook and trapeze. More than one attempt might have to be made before a successful engagement was achieved, for example in gusty conditions. Once the Sparrowhawk was securely caught, its engine could be safely cut and it could then be hoisted by the trapeze back within the airship's hull.
One interesting use of the Sparrowhawks was to act as "flying ballast". The airship could take off with additional ballast or fuel aboard instead of its airplanes. Once the airship was cruising, the aircraft would be flown aboard, the additional weight being supported by dynamic lift until the airship lightened.
In order to increase their scouting range while the airship was on operations, some Sparrowhawks were modified by having their landing gear removed and replaced by a fuel tank. When the airship was returning to base, the biplanes' landing gear would be replaced so that they could land independently again.
Only one Sparrowhawk survives today. It now resides in the Smithsonian Institution's National Air and Space Museum.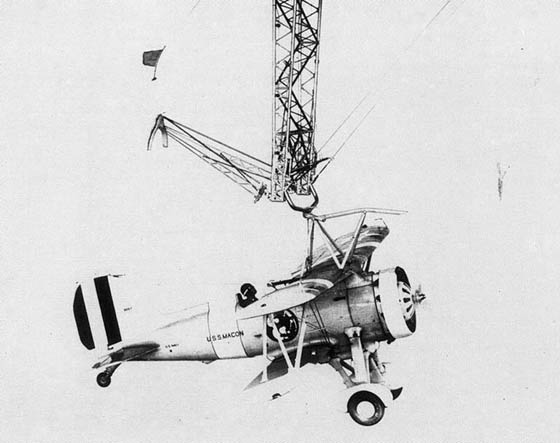 (Source: Unknown)
---
Sources:
Wikipedia: Curtiss F7C Seahawk
---
U.S. NAVAL AVIATION RESOURCE CENTER
>
FIGHTERS
>
PREVIOUS PAGE
---