---
U.S. NAVAL AVIATION RESOURCE CENTER
>
FIGHTERS
>
PREVIOUS PAGE
---
CURTISS F7C SEAHAWK
---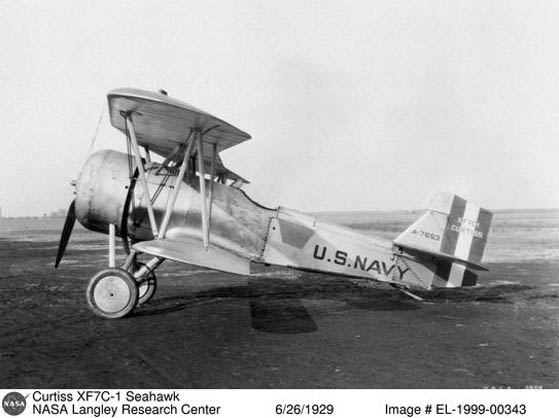 Curtiss F7C-1 Model 43. (Source: NASA/U.S. Navy)
---
The Curtiss F7C Seahawk was a carrier-capable biplane fighter aircraft of the United States Navy Marine Corps in the late 1920s and early 1930s.
Curtiss' Model 43 was their first aircraft designed expressly for the Navy, rather than a modified Army type. While clearly a descendant of the P-1 Hawk, its wings were constant-chord rather than tapered, and the upper wing had a slight sweepback. The engine was a 450 hp Pratt & Whitney R-1340-B Wasp radial. Entirely fabric-covered, the top wing was framed with spruce, while the fuselage was built from a combination of aluminum and steel tubing, sufficiently strong to serve as a dive bomber as well as a fighter.
The prototype XF7C-1 first flew on February 28, 1927. After some modification demanded by the Navy (such as the wing sweepback), 16 production aircraft F7C-1 Seahawks were built, and entered service in the USMC's VF-5M at Quantico. They continued in service until 1933.
(Source: Unknown)
---
Sources:
Wikipedia: Curtiss F7C Seahawk
---
U.S. NAVAL AVIATION RESOURCE CENTER
>
FIGHTERS
>
PREVIOUS PAGE
---