---
U.S. NAVAL AVIATION RESOURCE CENTER
>
FIGHTERS
>
CORSAIR
>
PREVIOUS PAGE
---
CHANCE-VOUGHT CORSAIR
Construction
Wings:
Low-wing cantilever monoplane with inverted "gull" type roots and the outer wing-sections set at a coarse dihedral angle. Single-spar all metal construction with spot welded smooth slom. Outer wings fold upward for stowage in the hanger deck of aircraft carriers.
Fuselage:
All-metal monocoque structure with smooth spot welded skin.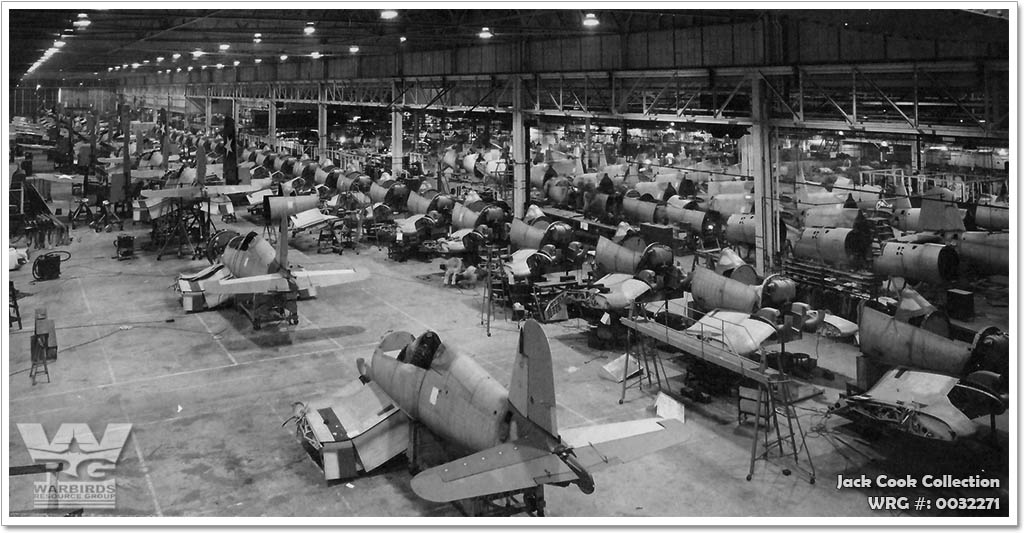 Corsair production line
[Source: Jack Cook Collection]
Tail Unit:
Cantilever monoplane type. All-Metal monocoque construction similar to that of wings. Balanced rudder. Trimming-tabs in elevators.
Landing Gear:
Retractable type. Wheels are raised backwards into underside of wings and aperatures are closed by hinged doors and strut fairings after wheels are retracted.
Power plant:
One Pratt & Whitney R-2800 double-row radial air-cooled engine. Three bladed (early models) Hamilton-Standard Hydromatic constant-speed, full-feathering airscrew. Water-injection system.
---
Sources:
Bridgman, Leonard -
Jane's All The World's Aircraft: 1943-44
, The Macmillian Company, 1945.
---
U.S. NAVAL AVIATION RESOURCE CENTER
>
FIGHTERS
>
CORSAIR
>
PREVIOUS PAGE
---